Knicks Beat Blazers on Late Derrick Rose Jumper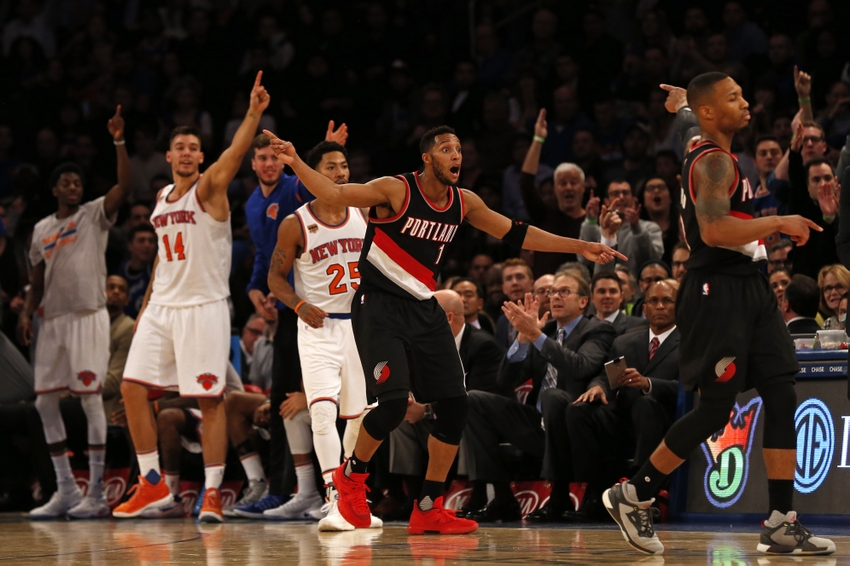 Blazers Continue to Show Improvement, but New York's Star Players Seal the Game Late
It's been quite a long time since the Trail Blazers had a close game. After a blowout win against Brooklyn on Sunday, Portland walked into Madison Square Garden and ran into the Knicks' three headed monster. Derrick Rose and Carmelo Anthony each had solid scoring games, highlighted by Rose's clutch jump shot with six seconds left. However, it was Kyrstaps Porzingas who led the way for New York with 31 points and 9 rebounds. The Latvian was hitting from three-point land and was dominant inside. His skill set is lethal to a team like Portland, which has had struggles with post defense.
The interior defense still hurt Portland despite some improvements over the past few games. Late in the game, Portland had the opportunity to secure a rebound and have a full shot clock to try and tie the game. Instead, Rose buried the Blazers for good with a fade away jumper.
Although Portland lost the game, there were plenty of positives to take away.
Hustle and Heart Beginning to Show
Ed Davis had the breakout game for Portland. His 14 points and 10 rebounds was his best game of the season so far. The Blazers wound up with five players in double figures, Damian Lillard leading the way with 22. But in terms of optimistic performances, Evan Turner put on another good show for Blazer fans.
Because of Al-Farouq Aminu's injury, Turner was in the game at crunch time and gave Portland some solid minutes. Besides settling for some jump shots (let's face it, I don't think he's ever going to be a three point threat), Turner played great defense on Anthony and Rose and bullied his way to the rim on offense with some impressive ball handling. It's exciting to see him find a rhythm with Portland. The Blazers need solid games from Turner in order to be successful. They especially need him on the defensive end guarding the star players when our guards can't.
Portland had this game, but Rose capped the victory for New York with some deja-vu MVP moves and late game heroics. If I'm Portland, I would move on quickly and focus on the progress they've made the last two games. They visit the champs in Cleveland tomorrow night, and they'll need to turn in their best game of the season in order to make tomorrow competitive.
More from Rip City Project
This article originally appeared on