Kevin Garnett expected to retire from NBA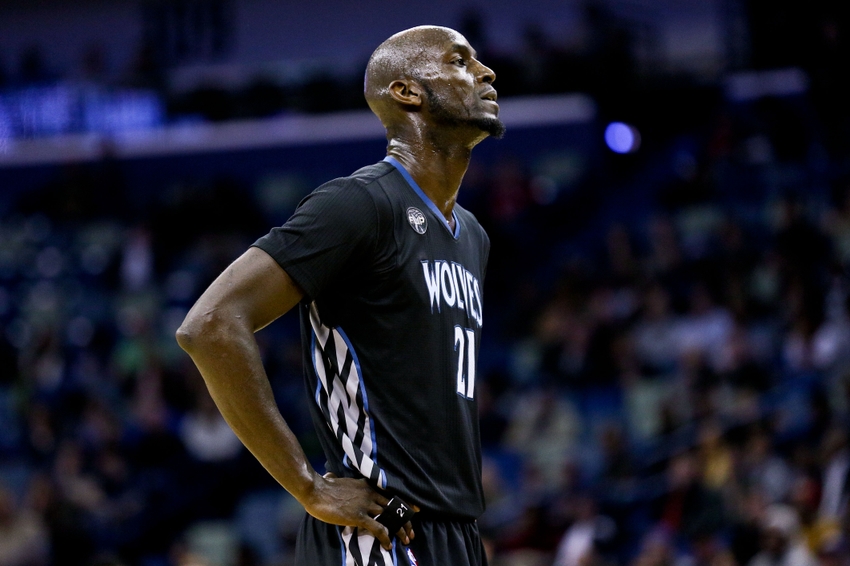 Kevin Garnett reportedly will not return to the Minnesota Timberwolves for the 2016-17 NBA season and is expected to retire from professional basketball.
It now seems that the 2015-16 NBA season saw the end of three Hall of Fame careers. Kobe Bryant announced his intentions to retire at the end of the season shortly before his final home game in his native Philadelphia. Tim Duncan quietly exited the game after the 2016 NBA Playoffs. Now Kevin Garnett will be the next NBA great to call it a career before the 2016-17 NBA season.
According to the Star Tribune, Garnett will not play for the 2016-17 Minnesota Timberwolves and is expected to announce his retirement from professional basketball in the coming days.
BREAKING: Kevin Garnett will not return to the #twolves this season. A retirement announcement expected shortly. https://t.co/ieXszzb3zQ

— Star Tribune Sports (@StribSports) September 23, 2016
Garnett is already 40 years old and may not have had a place on the up-and-coming Timberwolves team as a player-coach. He is the most distinguished player in Minnesota franchise history. Garnett is one of the top-25 players in the game and maybe the most influential defensive player in the last 15 years.
More NBA coverage from FanSided
Definitive Dunks: 30 greatest dunks in NBA history
Best NBA teams that never won a title
Power ranking all-time NBA uniforms
The Timberwolves are ushering in a new era with Tom Thibodeau as their head coach. Though Thibodeau and Garnett were a part of those great Doc Rivers' Boston Celtics teams, the Timberwolves are now in good hands with players like Karl-Anthony Towns, Andrew Wiggins, and Zach LaVine on their roster.
If this is the end for Garnett's NBA career, he will retire as 15-time NBA All-Star, a league MVP, and an NBA Champion. He will have scored over 25,000 career points, over 2,000 blocks, over 5,000 assists, and 11,000 rebounds. Garnett didn't need to return to Minnesota after six and a half seasons with the Boston Celtics and the Brooklyn Nets. Maybe he's joining the Timberwolves front office?
This article originally appeared on