Jimmy Butler Wins Eastern Conference Player of the Week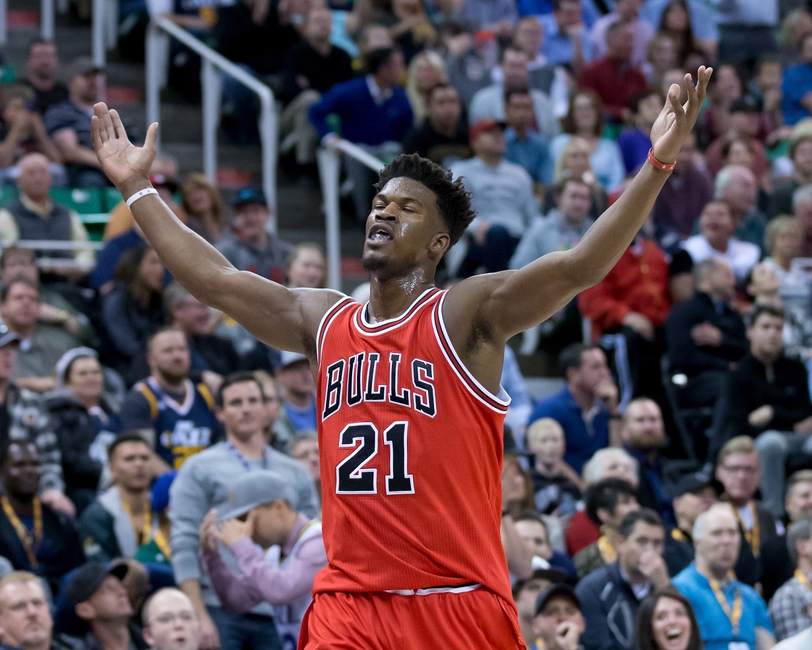 The NBA announced on Monday that Jimmy Butler has been selected as the Eastern Conference Player of the Week.
It's easy to understand why Butler was selected. He's been the centerpiece of a surprising Chicago squad that has defied critics and bloggers, staking a 3-1 start to their six-game Circus road trip.
Butler has been on a tear this season, his ascension as unexpected as the Bulls in the standings. He capped off the week with a huge 40-point game, pushing the Bulls to a huge win over the Los Angeles Lakers.
Butler is one of just a handful of players who have notched five or more 40-point games since the beginning of last season. Those other names including Russell Westbrook and Steph Curry. That's some pretty good company to keep. The 40 points he scored against Los Angeles was the first such winning effort by a Bull since Michael Jordan did it in the 1988-89 season.
The full statement from the NBA details just how great he's been in each of the games Chicago has played on their grueling road trip.
The recognition of Butler's fantastic play coincides with the Bulls recognition as once of the best teams in the Eastern Conference, in fourth place with a record of 9-5.
The most impressive piece of Butler's stat line during the four games he played in the past week – 27.3 points, 9.3 rebounds, and 3.8 assists – is that they barely move the needle above his season averages of 25.1 points and 6.6 rebounds, while actually being lower than his season assist average of 4.1.
Butler deserved the award and hopefully stands as a sign of things to come. Continued excellence from Butler will be key to the Bulls beating the Nuggets in Denver on Tuesday night. A win in that game would be a jewel in the crown of this successful road trip that already cannot finish worse than .500. Denver has been one of the hardest places for the Bulls to try and get a win over the past 20 years and you have to know that Jimmy is going to want to add that to his already great November resume.
More from Pippen Ain't Easy
This article originally appeared on