James Harden Is Off To A Historic Start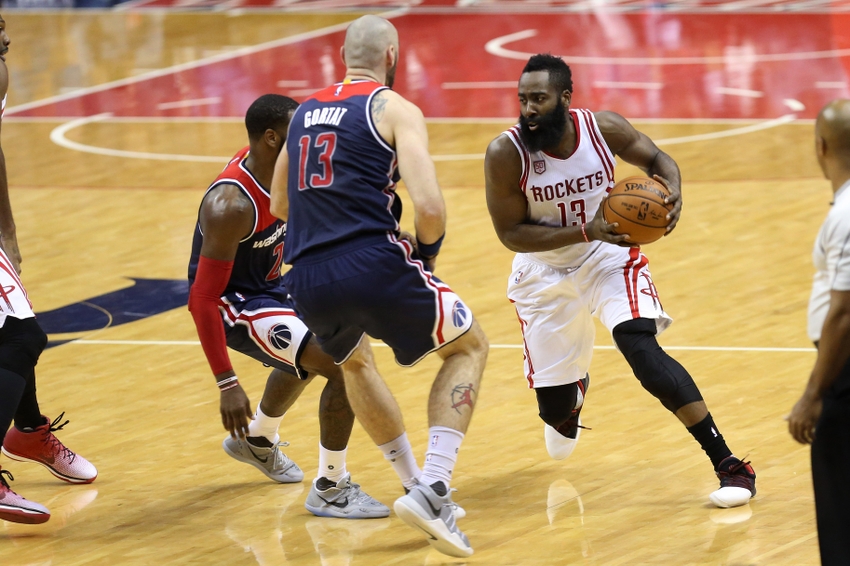 In a season full of glittering starts for stars around the NBA, nobody has been more meant more to his team than James Harden has to the Houston Rockets.
In a way, everybody knew that the marriage of James Harden and Mike D'Antoni would be a magical union, but nobody knew just how good things would be.
While the Houston Rockets were a disjointed mess last season, bereft of joy and cohesion, this year's team is a fun and energetic squad thanks to the effects that this dynamic duo bring.
A year ago, the Rockets started the season with a 4-7 record and long-time head coach and Hall of Famer Kevin McHale was dismissed as a result of their slow start.
While the Rockets were built to win now, they promoted assistant coach J.B. Bickerstaff to the top job, and Bickerstaff proved unready.
This offseason the Houston Rockets were in need of a head coach. There were coaches out there who seemed suited to the job, coaches who could crack the whip and bring the once-formidable defense of two years ago back from the ether.
Tom Thibodeau was a popular choice, somebody who could possibly bring an elite defender out of the hyper-athletic and intelligent James Harden.
The Rockets didn't go with a defensive guru. Instead, they went with Mike D'Antoni, the coach who played a part in inventing the pace-and-space game that is played today across the NBA.
At first glance, it was puzzling. The Rockets already had a potent offense thanks to the extraordinary Harden and his playmaking abilities, but it appears that doubling-down on that offense was the right move.
In fact, considering the roster the Rockets have, it may have been the only move to make.
Eric Gordon and Ryan Anderson, the Rockets' two free agent scores, are noted for their poor defense.
While Harden's defensive shortcomings are noted and overblown thanks to the scores of vines of him blowing coverages and missing assignments, he's never going to be a Defensive Player of the Year candidate.
Given this dearth of defensive-leaning players, the Rockets decided that pumping that fearsome offense up was the best move.
First on the agenda, D'Antoni removed all pretense that Harden was not in fact a point guard by default, regardless of his previous positional designation. The first order of business on Houston Rockets' media day in late September was to install Harden at point guard.
He had always run the offense and been the facilitator and distributor, but now he was a point guard in both fact and name.
The idea of Harden being Mike D'Antoni's point guard was a thrilling one since it was first introduced.
His system was the fuel that propelled Steve Nash to meteoric heights with the Phoenix Suns and it launched Linsanity when Jeremy Lin ran his offense with the New York Knicks.
James Harden is a completely different beast than Nash and Lin.
Harden possesses strength and athleticism that both players could only dream of with court vision that places him in the top handful of the NBA's best playmakers.
Harden is a natural playmaker to such a degree that D'Antoni joked (or did he?) that he'd like to see his assist average of 7.5 per game last season double this year.
Per Bleacher Report's Kevin Ding:
"Hopefully, he'll double his number of assists, and he had seven or eight [7.5] last year," D'Antoni said. "I hope he can average double that. He's one of the best passers I've been around."
Doubling that would total 15 assists per game, and nobody has ever averaged more than John Stockton's 14.5 in 1989-90 with the Utah Jazz. As Ding notes, Nash averaged 11.5 in 2004/05 and 10.5 in 2005-06.
Harden was no slouch in the assist department last year, as his 7.5 per game was sixth in the NBA.
He also averaged 29 points per game last season, good for second in the league. He shot 43.9 percent from the floor and 35.9 percent from three-point range, and he had a true shooting percentage of 59.8.
That's a stellar number, but still the lowest in his career since recording an equal percentage in 2010-11 when he was coming off the bench in his second season with the Oklahoma City Thunder.
Last season was a statistical success for Harden, but this season he's off to an astronomical start.
So far in 2016-17, Harden is averaging 31.6 points, seven rebounds and 12.7 assists per game. He's third in scoring and leads the league in assists.
Harden is shooting 50 percent from the floor and 41 percent from long range on what would be a career-high 8.7 attempts per game if carried over the entire season.
Thanks to possessing the ball with at such a high frequency with a usage rate of 33.7 percent, he's turning the ball over 5.3 times per game, but his turnover ratio (number of turnovers per 100 possessions) is just 12.7 percent.
That rate is better than that of Jeff Teague (13), John Wall (15.5) Darren Collison (18.8) and trails guys like Kyle Lowry (11.9), Russell Westbrook (12.2) and Goran Dragic (12.1) by marginal amounts.
Harden's averages of 31 points, 12 assists and seven rebounds per game, if carried out over the course of the entire season, would be the first time any player has ever assembled that stat line.
The hits keep coming in for Harden. He's had a tremendous four-game stretch, over which time he's averaging 33.3 points, 14.3 assists and seven rebounds per game, shooting 55.4 percent from the floor and 47.2 percent from three-point range.
Harden is the first player since Michael Jordan in 1988-89 to have 30 points and 10 assists in four straight games.
He already has three games of 30 points and 15 assists this season, and the entire NBA combined for three such games all of last season.
Harden is an efficient assassin around the basket. He sports a spectacular true shooting percentage of 66.5 percent and leads the NBA with an OBPM of 14.6.
While last season Harden operated almost equally out of the pick-and-roll and the iso, this season he is heavily favoring the pick-and-roll and utilizing it to devastating effect.
Harden operates out of the pick-and-roll 39 percent of the time and the Houston Rockets are scoring 1.115 points per possession when he is the ball handler. That places Harden in the 90th percentile, per Synergy.
While he can get to the rim at will out of the iso or the pick and roll, he's just as deadly as a distributor.
Also per Synergy:
James Harden leads the NBA creating 21 points per game with his passes out of the pick & roll. Chris Paul ranks 2nd at 12.6 per game.

— Synergy Sports Tech (@SynergySST) November 8, 2016
James Harden leads the NBA by a significant margin having created, assisted, or scored 68.3 points per game so far this season.

— Synergy Sports Tech (@SynergySST) November 8, 2016
Harden's ability to facilitate offense through his spot up shooters has been used to an unstoppable effect. The Rockets are scoring 1.098 points per possession when they get a spot up jumper, good for fifth in the NBA.
The Rockets pose a significant problem for any defense. While they operate as a one-headed monster, that monster happens to be one of the most potent offensive threats in the NBA, and he finally has weapons at his disposal that can convert their open looks.
The Rockets are scoring 1.198 points per possession on unguarded catch-and-shoot opportunities, and they get those chances almost every time Harden has the ball in his hands in the half court.
The Houston Rockets can't defend their way out of a wet paper bag, but thanks to the potency of this Harden-led offense, they might not need to in order to be a contender for a middle seed in the Western Conference this year.
This article originally appeared on