How Can Jordan Mickey Increase His Playing Time?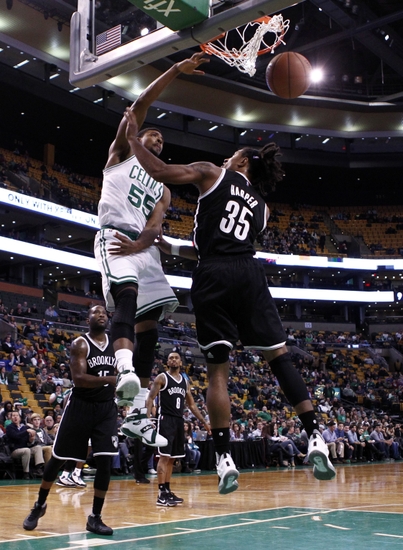 Boston Celtics power forward Jordan Mickey proved himself to be a shot-blocking wizard in his playing opportunities last season. Can he improve his offensive skill set and earn a spot in Boston's rotation this season?
When the Boston Celtics pulled away from opponents towards the conclusion of contests at TD Garden last season, not only did the notorious Gino Time captivate the crowd, but Jordan Mickey Time never failed to throw the Beantown faithful into a frenzy as well. The former LSU power forward capitalized on his scarce playing time opportunities with reckless abandon, swatting opposing player's shot attempts at a breakneck pace. All the while, he earned the admiration of those dedicated enough to remain in the balconies of the House That Red Built well after the result of the tilt had been firmly etched in stone.
More from Hardwood Houdini
Mickey racked up absurdly brilliant block numbers in the process of building an esteemed reputation among followers of the team. Per 36 minutes, he garnered 6.9 blocks, 8.2 rebounds, and 13.3 points while posting 18.0 points, 11.1 rebounds, and 9.4 blocks per 100 possessions. His block percentage stood at 15.5 percent, an astoundingly high rate of two-point attempts by opponents that were to be blocked when Mickey graced the floor.
Just to put this mind-boggling statistic in perspective, the 2015-16 block leader, Hassan Whiteside of the Miami Heat, posted a block percentage of 9.71 percent. This seems pedestrian compared to Mickey's numbers until you realize that among qualified shot-blockers, Whiteside's mark was the fifth-highest single-season percentage ever posted.
Had Mickey been eligible for the season-long statistical leaderboard, his efforts would have dwarfed the highest block percentage in NBA history of 10.81 percent, a figure that 7'7″ Manute Bol posted in 1988-89. However, looking at Mickey's per game line of 1.3 points, 0.8 rebounds, and 0.7 blocks in a meager 3.6 minutes per game showcases a much more sobering aspect of his performance last season.
While he might have been a dynamo of a rim protector in the brief opportunities that he had to shine, these chances were few and far between. Unfortunately for Mickey, there were reasons beyond simply the mere fact of the Celtics' undeniable frontcourt depth that kept him off of the floor in crunch time situations, issues that he must remedy if he hopes to make a considerable impact on the squad in 2016-17.
Mickey's efficiency on the offensive side of the ball was the most glaring predicament in his performance last season. While he turned the ball over once in 57 minutes of action, he converted on just eight of his 22 field goal attempts on the season, good for a porous percentage of 36.4. Given that his looks came from an average distance of 3.7 feet beyond the basket, this figure is certainly head-turning. 13.9 percent of his field goal attempts came from between 3-9 feet from the hoop, yet he failed to convert on a single one of them.
The fact of the matter is that if Mickey wishes to leapfrog the likes of Jonas Jerebko and Tyler Zeller for the role of a rotational frontcourt player in the eyes of head coach Brad Stevens, he will need to improve on his efficiency from the field. Both Jerebko and Zeller possess the ability to spread the floor with the three-point shot (in the case of Jerebko) or the midrange jumper (in the case of Zeller), a critical aspect of the offensive set is when much of Boston's scoring potential comes from pick-and-roll or isolation situations featuring All-Star point guard Isaiah Thomas. Despite the small sample size, Mickey simply has not proven himself as capable of being effective from beyond the paint area.
However, his emphasis on improving his offensive abilities were showcased in NBA Summer League, where he improved his field goal percentage to a stellar 56.3 percent while even knocking down a third of his attempts from beyond the three-point line.
Through five appearances in the Las Vegas Summer League, Mickey shot below 50 percent from the field on just one occasion while exploding for 18 points on an impressive 7-13 outing in a loss to the Phoenix Suns on July 10. This culminated in a superb Summer League showing overall for Mickey, who posted 9.8 points and 6.6 boards in 25.0 minutes per game. He may have posted just a single stuff per night, but we are well aware of the potential Mickey possesses in that regard.
This article originally appeared on