Houston Rockets Moving James Harden To Point Guard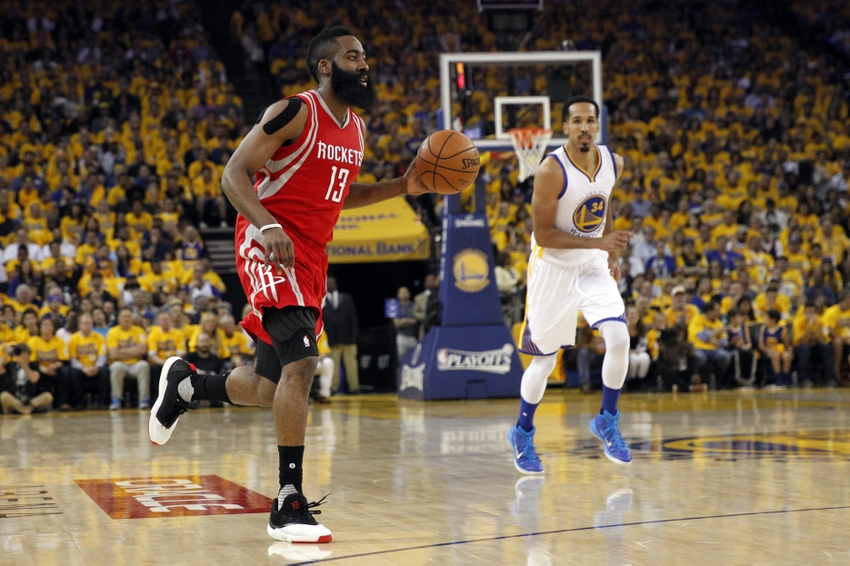 The Houston Rockets will be deploying James Harden at a new position under Mike D'Antoni this season.
The Houston Rockets will have a new look this season with Mike D'Antoni running the show. The Rockets hired D'Antoni this offseason to be the new head coach and will bring his seven seconds or less offense along with him.
While D'Antoni will be bringing a new look system along with him, the Rockets will also look different position-wise. D'Antoni said Monday morning that superstar shooting guard James Harden will be changing positions.
Under D'Antoni, Harden will be taking over as the point guard for the Rockets.
D'Antoni has decided that the best move for the Rockets will be for Harden to take over as the point guard full time.
He knows it is something people may poke fun at, saying (per ESPN.com):
"With James you make a joke he's a 'points guard' because he's going to score some points," but he believes this will be something that helps the team.
Having the ball in his hands is nothing new to Harden. Last season he had a usage rate of 32.5 and averaged 29 points per game, both career highs. He also averaged 7.5 assists per game, another career-high which ranked sixth in the NBA.
But, Harden will have some different responsibilities playing point guard and not a shooting guard. Harden will have the ball in his hands even more, but he will be asked to do things a little differently.
As a point guard, Harden will be asked to set the tempo of the team. He gets crushed often for how he plays, but now he will have a real chance to showcase his playmaking abilities and high basketball IQ.
"He's more or less responsible giving rhythm to the team, that's what a point guard does," D'Antoni said. "He's going to be on the ball and he's going to be distributing the ball and it will take some adjusting. He's got a lot more responsibilities as a point guard. A play caller, a good basketball mind, he's already telling guys we can do this we can do that."
This will be something worth keeping an eye on. With Harden having more responsibility offensively it will be interesting to see if this only increases his offensive output or he has to scale back in some areas.
D'Antoni's offensive system has been very favorable to point guards in the past. Steve Nash won multiple MVP awards playing under D'Antoni, but we also saw lesser known players have success as well.
While with the New York Knicks, D'Antoni turned Chris Duhon into a serviceable player. In their first season together with the Knicks, Duhon put up a career-high 11.1 points and 7.2 assists per game.
For someone who averaged 6.5 points and 4.4 assists per game in his career, those are strong numbers.
D'Antoni also got excellent production out of Raymond Felton later in his Knicks head coaching tenure. In 54 games with the Knicks, Felton averaged 17.1 points and nine assists per game.
Both numbers were career highs and resulted in a career-high 2010-11 season despite being traded to the Denver Nuggets as part of the Carmelo Anthony mega trade.
With the success those players experienced, the sky seems to be the limit for Harden leading this offense. He has a lot of weapons to help space the floor, as the Rockets added Eric Gordon and Ryan Anderson to a roster that already had Trevor Ariza, Corey Brewer, and Patrick Beverley.
Harden believes he can help those players and is capable of being the point guard.
"Just a lot of trust. My teammates trust in me to make the right decision whether its scoring or whether its making a play," Harden said. "We have a lot of guys who are more than capable to create and knock down shots and that's what is going to open our floor. A lot more guys are going to get open shots left and right."
Harden has a unique skill set and should continue to only blossom under D'Antoni. He has a chance to stuff the stat sheet in this scheme, as he should push for a double-double this season.
If players such as Duhon and Felton can put up career stats, imagine what Harden is capable of doing.
This article originally appeared on