Houston Rockets Class of 2016 – team yearbook edition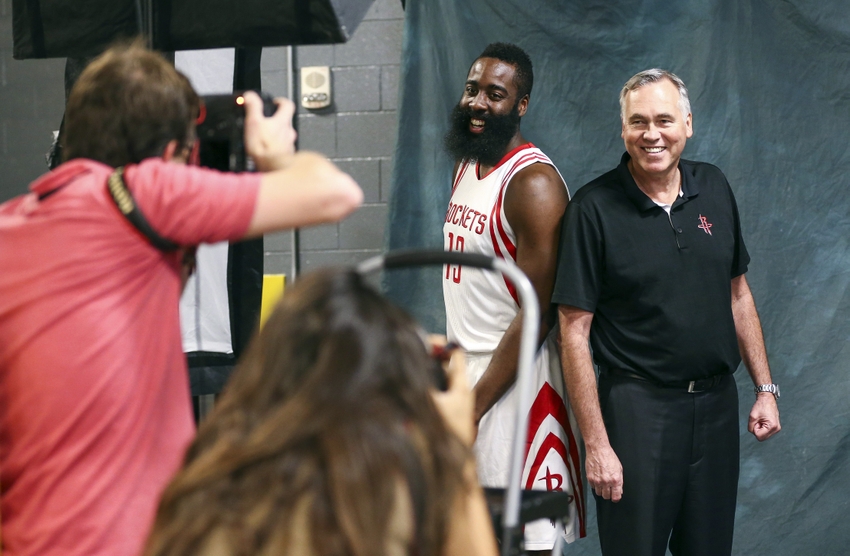 Houston Rockets held their Media Day this past weekend to photograph the new roster and hold press conferences with key staff and players. SCS serves up our 2016 Yearbook edition complete with photos and expectations.
As per usual the 2015-16 Houston Rockets Media Day was held at the Toyota Center. Obviously every roster player gets their photo snapped including training camp invites. Media day also features press conferences. These interview sessions include core roster players like James Harden and management personnel like new head coach Mike D'Antoni.
Media Day ignites the flames for the much anticipated arrival of the 2016-17 season. This summer held an active basketball schedule given the Rio Olympics. Leading up to Rio there were qualification tournaments, three separate Summer League Tournaments and the European Championships. And yet, ironically this off season has felt unbearably long.
For Clutch City fans it's safe to surmise these feelings are centered in anticipation of what the 2016-17 season holds for the Rockets. There is the desire to see new head coach D'Antoni at the helm, to witness the reassembled roster, and the hope Houston will reascend to the upper echelon.  Obviously H-Town is ready for opening night tip-off.
Over the next month training camp and preseason ball will have to suffice. For now, take a peak at the class of 2016.
Gary Payton II:
Daryl Morey jumped a few prospects who went undrafted this summer including arguably the best of the bunch in Gary Payton II.
Payton is the son of former player Gary "the Glove" Payton, so he comes with an amazing pedigree.
Intangibles such as height at his position (6'3″), reach (8'4″), passing and rebounding prowess are all traits Payton II offer. More importantly he is a solid defender with quickness and leaping ability. He'll turn 24 on December 1, which isn't an indictment, but given his shot still needs work the combination of those "weaknesses" could cast doubt on him joining the varsity team.
With the Rockets in desperate need of defense Payton II has a shot, but with the recent trade to acquire Tyler Ennis the road to the main roster just got steeper.
Isaiah Taylor:
A training camp invite who'll vie for a regular roster position with several other candidates. Rockets fan got to observe him this past summer in Vegas and for those who follow the University of Texas you'll be familiar with this prospect.
Taylor is a 6'1″ guard with career stats of 92 games including game averages of 13.6 points, 3.1 rebounds and 4.5 assists.
Like Payton II his shot at making the squad became less likely with addition of Tyler Ennis.
Bobby Brown:
In this case the guard is a former NBA player.  Bobby Brown (yet another guard) was extended an invitation to training camp.
Brown's 113 games in the Association were split among 4 teams over 2 years. In 2008-09 he played 47 games in Sacramento and 21 in Minnesota. In 2009-10 he played 22 games in New Orleans in 23 with the Clippers.
Of these locations his best performances occurred while with the New Orleans Hornets where he posted 6.6 points, 2.1 assists and shot 39.5% from the field.
Kyle Wiltjer:
Wiltjer was another pick up post Draft Night selections. He's a stretch four out of Gonzaga with a truly inspiring offensive game. His last season at Gonzaga he averaged 20.4 points, 6.3 rebounds,  shooting 49.1% percent from the floor and an impressive 43.7% percent from deep. The issue is his defense which is non-existent.
Initial reports in the Chronicle had Houston reportedly signing Wiltjer to a 3-year deal, but recent reports suggest since the Rockets used up their cap space the deals were either 2 years or 3 years with team options. What that translates to is any of the above 4 players could have clauses in their contracts to join the Rockets D-League affiliate, Rio Grande Valley Vipers or opt out clauses.
Chinanu Onuaku:
With the glut of power forwards on the roster it's likely Onuaku will go directly to the D-League. Onuaku still needs further development, especially offensively, so that feels like the right direction. Although with Michael Beasley leaving via trade, the still uncertain contract of Donatas Motiejunas and the need to get Montrezl Harrell minutes that destination is not a forgone conclusion.
Sam Dekker:
Sam Dekker is arguably the one player from last season's roster fans are most excited to see. In essence his sophomore season feels like a rookie campaign given he limited action last year. Dekker underwent back surgery resulting in him hitting the court just 3 games for a total of 6 minutes.
Perhaps the reason this writer is intrigued to see more of Dekker is his production in Vegas. The small forward demonstrated an uptick in his drives to the basket, ball handling and shooting range. Granted it was Summer League, however if Dekker improved between Vegas and now he could prove to be a x-factor.
Montrezl Harrell:
News Michael Beasley got traded was likely met with best wishes and some secret joy from Montrezl Harrell. With the acquisition of Anderson, it meant every power forward on the roster would lose some playing time. Now with Beasley 's exit coupled with with Terrence Jones departure the front court minutes are opening up. And, until the Rockets can find resolution to the Donatas Motiejunas contract drama Harrell stands to gain from D-Mo's pain.
Tyler Ennis didn't arrive in time to get his picture taken with the rest of his class, but the Canadian is most definitely part of the Rockets. Ennis arrives via the trade that sent Michael Beasley to Milwaukee.
Although Ty Lawson never became the point guard Houston hoped for Ennis may well fill those needs.   The Canadian was brilliant at Syracuse, but experienced bad luck getting stuck behind a number of  point guards both in Phoenix and Milwaukee. Furthermore Ennis suffered untimely injuries which set back his development.
This past summer while with Team Canada Ennis showed he's ready to take the next step.  I wonder if Ennis is poised to  take yet another step under the tutelage of Mike D'Antoni. Stranger things have happened and D'Antoni does have a real penchant for  developing point guards. Remember, D'Antoni was the guy behind the bench as Steve Nash won 2 MVP's, and the coach who unleashed Jeremy Lin into Linsanity.
Clint Capela:
If his Media Day photo is any indication, Capela looks to have added some muscle this off season. Capela did a sideline interview at Vegas Summer League suggesting he would be working on adding versatility to his offensive game in the off season. Additionally, Clint indicated his homework included improving his fundamentals and defense.
Entering his third season as a pro the Swiss native will see a discernible uptick in his usage this season. Further, he'll be tasked with filling the void left by Dwight Howard in the front court.
KJ McDaniels:
Like Capela, small forward KJ McDaniels also enters his third season as a pro. Unfortunately that's about where the similarities end. Since his arrival in Houston McDaniels  has never had a specific role on the team or consistent minutes.
Of all the players on the Rockets roster I'm hoping KJ is the one D'Antoni utilizes in a consistent way this season. Known for his raw physical talent, willingness to learn and high ceiling it still baffles why Houston bothered to sign him if all they were going to use him for was to foul someone.  Bottom line, the Rockets have his contract cemented for 2 more seasons (read: no options), so hopefully this season they make use of him.
Nene Hilario:
Nene enters his 15th season and first as a Houston Rocket on a one year $2.9M deal with the Rockets.
Although a step slower or more prone to injury he offers veteran experience along with the potential to excel in D'Antoni's system given he played with the fast paced Wizards last season. Whether the Brazilian born Nene can rediscover the fountain of youth will depend on his oft questioned motivation.  Hilario has tended to have his best seasons in contract years. At 34 he won't be signing another big time deal, but the opportunity to land a decent contract with multiple extra years may  be the perfect enticement.
Pablo Prigioni:
The 39 year old Argentinian point guard returns to Houston for his second stint with the Rockets. While he's likely to spend most of his time warming the bench, he'll be available for serviceable minutes and to provide relief in double digit games.
Prigioni is also a great glue guy in the locker room. In the right situations Prigioni can be an excellent utility guard. Case in point last season with the Clippers he played for close to 42 minutes on a night in Utah in a winning effort. Obviously he's best served in a back up role, but with zero ego he'll end up being a D'Antoni favorite I'm betting.
Ryan Anderson and Eric Gordon:
Oddly neither of the 2 big free agents appeared on the normal photo site, but both were featured in a video. Guessing the video will be utilized in the pre game video.  You can check out the making of the video on rockets.com. The 2 photo's below along with Harrell's on the previous page were part of the video.
As the Houston Rockets finish training camp and prepare for the preseason games all eyes will be firmly fixed on Anderson and Gordon. Whether the former Pelicans can pay equal dividends on the defensive end and stay healthy will be the biggest questions they face.
Daryl Morey enters this season with a spotlight squarely on him and his ability to take his 'analytics' and translate them into success. His missteps with Ty Lawson and decision to bring back Josh Smith still percolate within the fan base.  Factor in choices to spend big on Anderson and Gordon and Morey's future may well be determined on whether this squad can return to the upper echelon in the West.
The fact owner Leslie Alexander insisted on sitting on recruitment interviews for the new coach and free agents signaled Morey doesn't have carte blanche any longer. Which begs the question If the Rockets fail to make the playoffs is Morey's job in jeopardy?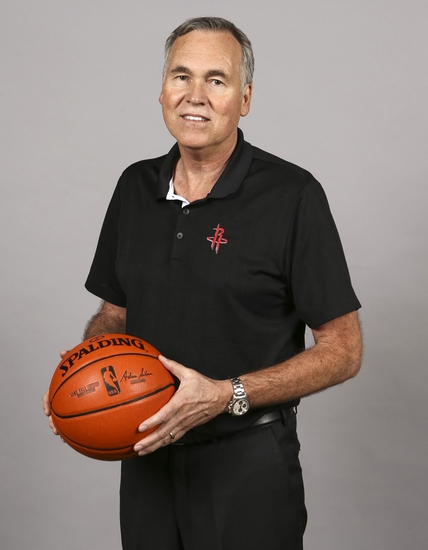 When the Rockets hired Mike D'Antoni and began recruiting offensive talents it was clear the mandate would be to return to a run and gun squad. D'Antoni has his own public relations to fix given he quit his last 2 jobs, giving the impression he quit on his team.  Hopes are teaming him with Jeff Bzdelik as the defensive coach will result in Houston returning to excelling in a 2-way game.
The coach will endeavor to propel James Harden's a step higher and return Houston to prominence. From this writers perspective the key will be how D'Antoni utilizes the Rockets bench, specifically Ennis, McDaniels and Harrell.
Corey Brewer:
Following last season's mediocre performance several Rockets return to face the music. Can they reconvene the squad with the new additions and rediscover the success they displayed two seasons ago? Or will the discontent that permeated in the locker room and off the court return?
As soon as McHale was fired Brewer was out spoken and demonstrative in his feelings . He never found his form of the 2014-15 season, nor was his smile quite as effervescent . Here's hoping he rediscovers both.
Patrick Beverley:
Though the spotlight will shine brighter on the other 3 core returnees Patrick Beverley must prove he can defend without incurring injury. Additionally with the offensive additions of Anderson and Gordon, his defensive skills will be in greater demand this season. Gordon may end up sharing the court with Harden meaning Beverley will have to fight to give D'Antoni a reason to maintain his minutes. Furthermore, with the addition of Tyler Ennis the Rockets now have a capable ball handler who could excel with the bench running a alternate pace and increasing the Rockets assists. Either way Beverley will be under greater scrutiny this season, and in need of letting his actions speak.
Trevor Ariza:
Mr Consistency returns to offer the top 2-way game play on the team.  Ariza has been the iron man on the squad these past two seasons, and other than Harden has also been the most reliable. Often tasked with defending the opponent's star he'll be in greater demand defensively this season. Considering free agents  Anderson and Gordon could join the starting five Ariza's defense will be in higher demand than ever.
James Harden:
Houston re-upped Harden's contract this off season ensuring their star knew how committed they were to his future.
While Harden  got raked over the coals for a lack of defense there are 2 schools of thought. Did Harden expend so much energy trying to score, create and also carry the majority of the play making that he left nothing in the tank defensively? Or, were his high turnovers and effortless defense simply a result of the growing friction between the team's two stars.
Dwight Howard is gone and the coach Harden wanted is at the helm. Harden's talent has never been questioned, his leadership is another matter. From the minute the season ended and 'The Beard'  became the butt of jokes earning Shaqtin a Fool's MVP  he dedicated himself to a summer of improvement both physically and as a leader.
A month prior to season start James Harden enters training camp with help in  the form of 2 major free agent signings. Harden indicates his overall game has improved and he's ready to excel in a leadership role. Now, all James Harden has to do is let his actions speak for themselves.
With the squad now fully engulfed in training camp they prepare for preseason which begins this coming Sunday at the Toyota Center.
This article originally appeared on