Houston Rockets attempt to Blaze another victory 11.27.16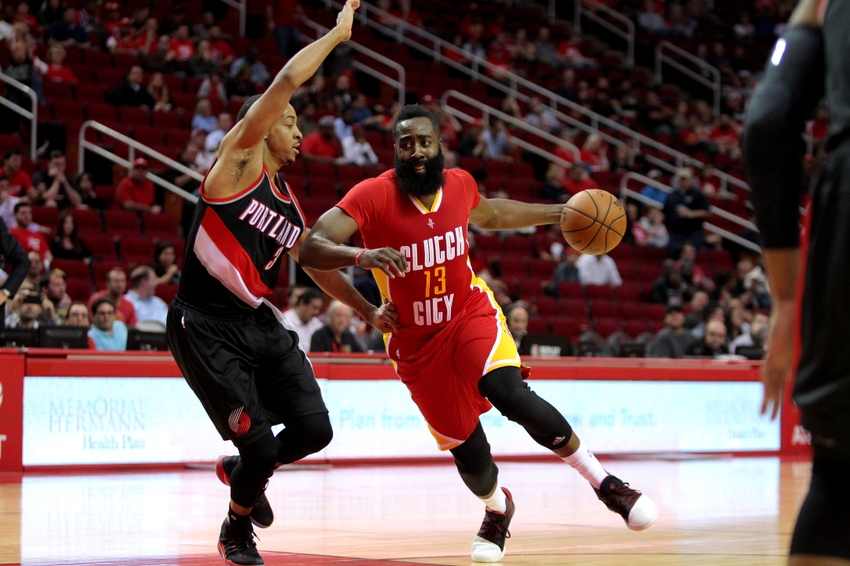 Houston Rockets follow up their recent oust of the Kings with another road game in Portland facing the Trail Blazers.
Houston Rockets began the season with their explosive offense posting several victories. Portland who've jumped out of the gate the past several seasons have been less fortunate.
And while the Rockets continue to rule the Association with their 3-ball,  this week they learned they'll need to add another component to the mix if they want to be among the top contenders. For their part the Blazers have gotten somewhat back on track with a minor tweak to their starting line-up, but their front court remains an issue.
This is the second meeting between the squads, the first occurring just 10 days ago when the Rockets came out the victors. Including that game the Rockets have won 4 of their last 5 games (lone loss to Raptors) while the Blazers are 2-4 (wins versus Nets and Pelicans).
Though the Rockets record doesn't scream 'problems' the Raptors showed Houston this week they'll need to add something else to their arsenal besides 3-point shooting. Similarly, the Blazers have discovered they need something besides their incredible backcourt to become a true contender.
Both squads continue to struggle defensively and will look to this outing to shore up that end of the court.
With that, SCS offers up the Game Day Countdown:
Draft Picks
Round 1: N/A
Round 2: Jake Layman (47)
2016 Free Agents prior to July 1, 2016:
Restricted:
Unrestricted:
Gerald Henderson
Chris Kaman
Brian Roberts
Moves made following July 1, 2016:
Incoming:
Exiting:

Re-upping:
Current Stats:
Point Guard:  James Harden – 28.3 points, 12.4  assists, 7.8 rebounds 2016 SCS Harden preview
Shooting Guard: Patrick Beverley – 8.4 points, 4.0 assists, 4.2 rebounds 8.3 points, 3.3 assists, 1.3 reboundsMedia Day Interview
Small Forward:  Trevor Ariza – 12.4 points, 2.2 assists, 5.1 rebounds, 2.1 steals, 39.3% from deep 2016 SCS Ariza preview
Power Forward: Ryan Anderson – 12.3 points, 5.6 rebounds, 40.0% three point field goal percents  Anderson Media Day
Center:  Clint Capela – 11.9 points, 8.7 rebounds, 61.3% field goal percent, 2.0 blocks  2016 SCS Capela preview
Blazers Starting 5:
Point Guard:  Damian Lillard – 28.3 points, 5.3  assists,  4.9 rebounds
Shooting Guard:  CJ McCollum 22. points, 3.4 assists, 3.8 rebounds
Small Forward:  Maurice Harkless – 12.1 points, 5.6rebounds, 37.3% from three
Power Forward:  Ed Davis – 3.7 points,  5.0 rebounds,  0.6 assists
Center:  Mason Plumlee – 9.7 points, 6.9 rebounds, 4.6 assists
Houston Rockets Bench:
Guards:
Wings:
Bigs:
Blazers Bench:
Guards: Shabazz Napier, Evan Turner
Wings: Allen Crabbe,  Pat Connaughton, Tim Quarterman
Bigs:  Festus Ezeli, Meyers Leonard, Noah Vonleh, Jake Layman
Game Specifics:
The Venue:  Moda Center, in Portland, Oregon

First Meeting of 2016: In the first game between the teams the Rockets handled the Blazers easily winning by a large margin – 126 to 109
The Tip: 9PM EST, 8:00 PM CT
TV: Root Sports in Houston
Radio: 790 AM in Houston
Walking Wounded:
Rockets: none
Blazers:
Al Farouq Aminu – calf, the foward is expected to remain out until late December. His absence from the starting line-up coincided with many of the issues the Blazers have faced.
Ezeli continues to rehab the knee, participating in limited practice sessions. In a recent update the star is said to be looking at a second opinion on his surgically repaired knee.
Focus on the backcourt: The return of Patrick Beverley has brought a consistency to the starting line-up. Still, Harden and Beverley will have their hands full with the offensive brilliance of Dame Lillard ad C.J. McCollum. While it may be impossible to contain both Mike D'Antoni will need a solid game plan to limit at least one of them, or at the very least either stop them from driving or from the field. The best case scenario would be to to hold both below their averages. That will be easier said than done.  Lillard is the key as he is tied with Harden for 4th in points scored per game.
More from Space City Scoop
Pair "3" with "D":  The Blazers rank 28th in the Association in number of threes allowed by their opponents and rank dead last for opponent field goal attempts. Still, the Rockets need to resist the temptation to just hoist up threes and not rely on their defense. Houston has to remember the team who sits directly behind them in attempted 3 pointers is Portland. That means the Blazers are just as likely to get hot and take over a game, so defense is critical.
Painting a picture: The Rockets boast a better result in the paint averaging 45.8 points per game. In comparison the Blazers score 41.9.  Houston should look to drive the ball as the Blazers allow their opponents to score 46.9 points in the paint.  Notably since the Blazers have brought Ed Davis back to the starting line-up they've played better overall, but they are missing Aminu as their multiple losses without him demonstrate.
For more details on the Blazers check out SCS  2016-17 team preview:
Want your voice heard? Join the Space City Scoop team!
Enjoy the season Red Nation and be sure to stay connected with Space City Scoop as our amazing team of writers keep you abreast of all things Houston Rockets.
This article originally appeared on