Hawks Season Countdown: Day 33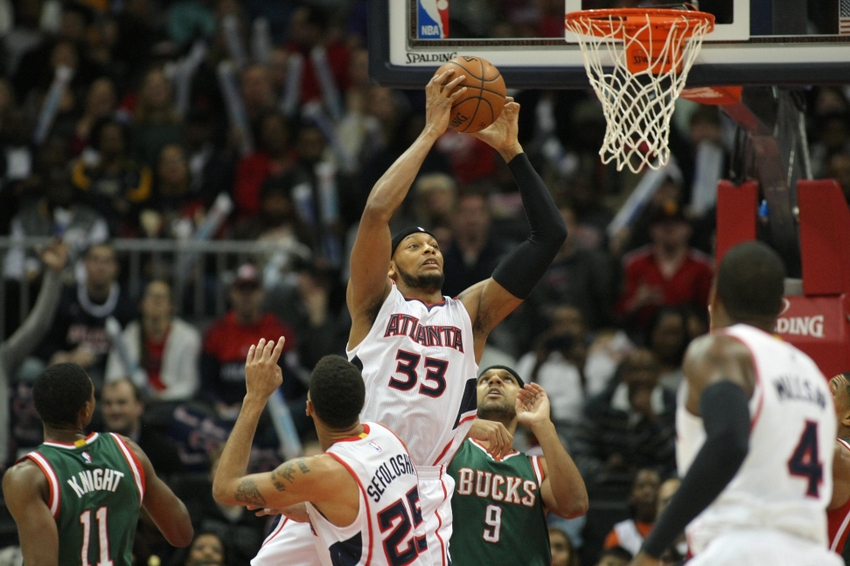 In this 2016-17 Hawks Season Countdown, we will be counting down the days leading up to the Hawks' first regular season game.
Here at Soaring Down South, we are counting down the days until the Atlanta Hawks 2016-17 season begins. We'll continue at 33 days until the regular season starts for the Hawks, with Payne a Truck, and a collection of other role players.
Who Has Worn #33 for the Hawks?
Willie Naulls (1957)
Alex Hannum (1957)
Dave Gambee (1959)
Jerry Chambers (1971)
John Wetzel (1973-1975)
Truck Robinson (1977)
Keith Herron (1979)
Jim McElroy (1980-1982)
John Pinone (1984)
Antoine Carr (1985-1988)
Duane Ferrell (1989-1994)
Tyrone Corbin (1995-1999)
Michael Bradley (2004)
Shelden Williams (2007-2008)
Randolph Morris (2009-2010)
Willie Green (2012)
Adreian Payne (2015)
Best Season By A Hawk Wearing #33
Truck Robinson (1977)
22.4 PPG, 12.8 RPG, 2.7 APG, 0.6 BPG, 1.1 SPG in 40.3 MPG
Robinson only played for the Hawks for 36 games. He used that time to showcase the skills that made him one of the most underrated players in the league's history. He used his strength and physical attributes of a power forward, along with the mobility of a small forward to impact the game on a nightly basis. The 6'7 power forward was traded to the Hawks, along with the draft pick that became Tree Rollins, from the Baltimore Bullets in January 1979. This move was the start he needed to become a star. Stuck behind Elvin Hayes, he never received the playing time he needed to showcase his unique skill-set.
Once joining the Hawks, he teamed with John Drew and Lou Hudson to create an elite scoring frontcourt, combining for over 50 points a night. This didn't equate to wins (31-51), but the Hubie Brown-coached squad was likely one of the most fun teams in the league. At the season's end, Robinson capitalized on his breakout year, and obtained a healthy contract from the New Orleans Jazz.
He was named to the All-NBA First Team at season's end, after a career-best 22.7 points per game.  Robinson also made his first All-Star appearance, which he followed up in 1981, as a member of the Phoenix Suns. He played seven more seasons in the league, with the Suns, and Knicks, before retiring after the 1984-85 season.
Who wore #33 most recently?
Adreian Payne (2015)
Payne was selected by the Hawks with the 15th pick of the 2015 draft, out of Michigan State. During his senior season, he averaged 16.4 points, 7.3 rebounds, and 1.3 assists in just over 28 minutes per game. These numbers swayed the Hawks' front office to spend the 15th pick on Payne. Once he arrived to Atlanta, he was frequently shipped off for D-League assignments.
After only three games as an Atlanta Hawk, Payne was sent to the Minnesota Timberwolves, in exchange for a 2017 1st round draft pick, with lottery protections spanning from 2017-2020. With the Timberwolves, he has found a role as a reserve energy big.
Who's your favorite #33 in Hawks history? Come back tomorrow for the next edition of the 2016-17 Hawks Season Countdown!
More from Soaring Down South
This article originally appeared on