Goran Dragic has to step up for Miami Heat to improve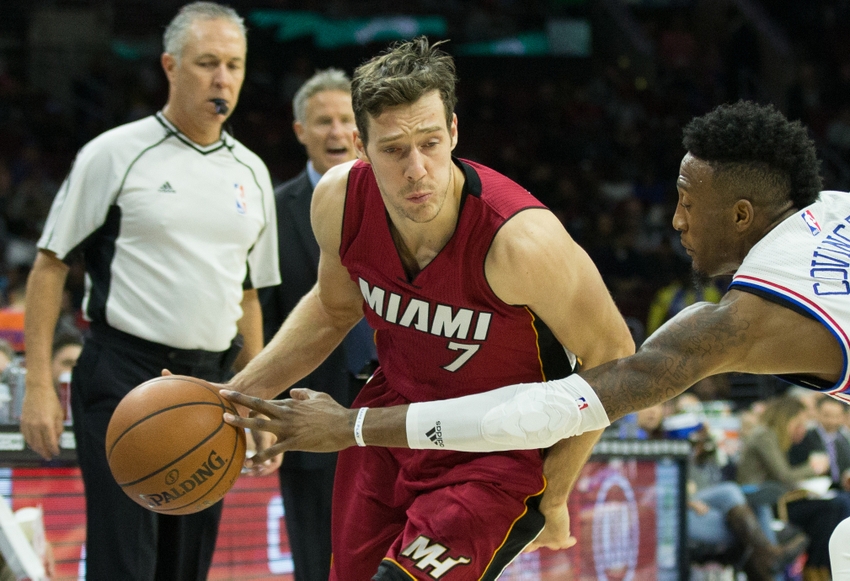 The Miami Heat's 4-9 record has revealed some interesting numbers with some of it's key players, including starting point guard Goran Dragic.
It's safe to say the Miami Heat have been largely unimpressive to commence the season. The Heat currently have a 4-9 record, and are just 1-4 in home games against teams playing on the second night of a back to back. What has been evident is that the defensive end of the court has not been the issue. The Heat currently rank third in the league in defensive rating, with 99.5 points allowed per 100 possessions. 
The Heat's offensive rating, however, has been the polar opposite. They currently rank 27th in the league, scoring just 98.1 points per 100 possessions. This poor offensive results in the Heat ranking 28th in points per game, at 96 per game. Among the most damning stats on the offensive end: 28th in the league in field goal percentage for shots taken within five feet of the rim at a 54.6 percent clip. They are also 28th in field goal percentage, shooting 42.4 percent. And to cap it off, the Heat are last in free-throw shooting at a terrible 65.8 percent clip.
Although these stats on the whole are very discouraging, there are some interesting facts that can provide hope for the Heat moving forward. After 13 games, the statistical evidence heavily points to three Heat players needing to produce if the Heat are to improve in the standings and rack up some wins.
The contrast in contributions in wins and losses for Goran Dragic, Dion Waiters and Josh Richardson are both evident and alarming.
Goran Dragic
Wins: 19.8 points per game (PPG); 6.0 assists per game (APG); 5.5 rebounds per game (RPG) ; 47.4 field goal percentage (FG%); 50 percent three-point shooting (3P%); + 4 box plus minus (BPM)
Losses: 13.8 PPG; 5.7 APG; 2.8 RPG; 40.3 FG%; 37.5 3P%; – 2.2BPM
Dion Waiters
Wins: 17.0 PPG; 5.3 RPG; 5.0 APG; 43.1 FG%; + 6.5 BPM
Losses: 11.7 PPG; 2.6 RPG; 3.3 APG; 34.2 FG%; – 5.4 BPM
Josh Richardson
Wins: 16.5 PPG; 5.0 RPG; 47.1 3P%; + 16.5 BPM
Losses: 9.4 RPG; 2.3 RPG; 24.1 3P%; – 5.9 BPM
For the season, the Heat have scored more than 100 points on three occasions. They are a perfect 3-0 in these games. Dragic in particular excelled during these games, scoring 21 points per game on 51 percent shooting. This does demonstrate that the team has the capabilities to score. It's just finding the consistency as a whole.
Furthermore, there have been multiple games this year where the Heat shown both their best and worst on the offensive end in the same game. Not surprisingly, these games have resulted in losses.
The home opener against Charlotte was one such example. The Heat started the game in terrific fashion, and by the main break led 57-46 on the back of 47 percent shooting from the field. They extended this lead to 65-46 early in the third term, after which things went awfully down hill. The final term saw the Heat score 14 points on 5-of-24 from the field. They lost 97-91.
Another example was a road game in Toronto. Again, the Heat started well, racing out to a 25-13 lead. But the lead slowly dwindled away, and culminated in the Heat scoring 15 points in the final term on 7-of-23 shooting. Further, home losses against Atlanta, San Antonio and Chicago saw the Heat trail by no more than three points within a couple of minutes of the final buzzer. And then there was the most recent road loss in Philadelphia, where scores were tied with just over three minutes remaining in the game.
It's clear from these example that the Heat have sufficient ability to put themselves in a winning situation. However without an all-star on the roster, it is imperative that their leading perimeter players in Dragic, Waiters and Richardson produce the goods on a regular basis.
It will be interesting to see how this pans out as the season progresses.
This article originally appeared on