Gerald Green is a Great Breakout Candidate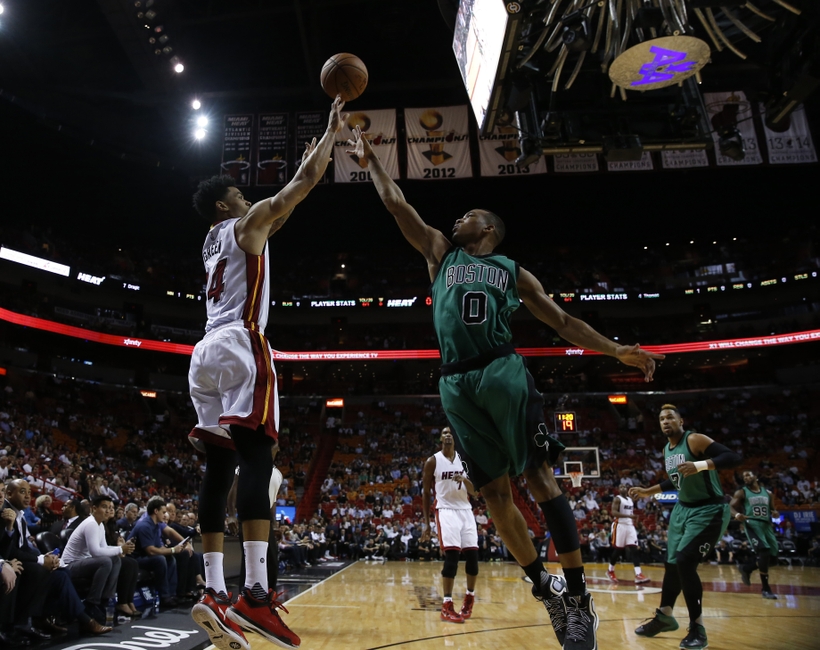 Gerald Green is in a great position to break out for the Boston Celtics this season
For the Boston Celtics' second unit to be as impactful this season as last year, they are going to need multiple players to step up on the offensive end. Kelly Olynyk is the one guy they can trust to have a strong offensive impact, but there is uncertainty everywhere else.
Jonas Jerebko has done a solid job of proving himself, but he has never been given the kind of role needed to really break out. He has the shooting but it is hard to imagine the Celtics using him enough to make him a top candidate.
Marcus Smart and Terry Rozier are the players the Celtics need to break out the most, but they have a long ways to go. Both of them were absolutely disastrous shooting the ball, and even in college they were suspect shooters. They need to focus on maintaining the pace and remaining aggressive, but they are unlikely to be the answer shooting the ball, at least not right away.
More from Hardwood Houdini
Then, that leaves the newly acquired Gerald Green. Determining his role would be just about impossible at this point, but with his ability to provide small forward depth, he has an opportunity to be a key piece to the second unit.
If Green can do enough to earn a consistent role role, then Stevens' ability to use him in their offensive system could make him the most important offensive guard on the second unit. Green gets all the attention for his electrifying dunks and with Smart and Rozier's ability to generate steals he could get a lot of production in transition.
His shooting, however, will be what takes him over the top. Green has a career three point shooting percentage at 36.1, and with the way the Celtics move the ball, he could be in line for a career year in terms of efficiency. With the amount of poor shooting the Celtics need to accommodate on the second unit, a lot of focus could be put into getting Green opportunities.
Stevens has even come out with praise for the 30 year old, and he could still bring back that fear he talks about here (Via ESPN): "I've been a big Gerald Green fan because I've been scared of him […] And I think that that's a great way to figure out how good a player is. When you go into a game, he's on your scouting report, maybe in a highlighted way because he could go off for a lot of points in a short amount of time".
While that kind of streaky scoring may not be ideal, it could do a great job of bailing out the Celtics when they are slumping. Especially on the second unit, the Celtics do not have many options and if Green gets the hot hand then the Celtics will continue to feed him.
Stevens is speaking like a coach who has every intention of getting Green the opportunities he would need to have that kind of offensive impact. The Celtics may not want him to play a lot as a play maker with the ball in his hands, but that is where their great system comes into play.
The Celtics need to make sure they can keep the ball moving without Evan Turner on the second unit, but the ball movement and aggressive pace should do a lot of the work needed to get Green in favourable positions.
Green has also proven that he can continue to be an efficient shooter, even if his responsibilities increase. His highest season scoring was in 2013 when he scored 15.8 points per game on a phenomenal 40 percent from three point range. It is not unrealistic to expect Green to have held up physically over the last three years, and that is a great sign that he can flourish in Boston.
Of course, it is a longshot at best for Green to get the 28.4 minutes per game and even less likely that he will get the same 12.3 field goal attempts per game. That being said, Green has a career 17.8 points per 36 minutes and he has proven throughout his career that he can have an impact scoring the ball.
The biggest question for Green will be the volume of opportunities. At this point, it is relatively safe to expect him to be an effective shooter, and the way the Celtics play offense should do a great job of bringing out that effectiveness. If that volume can start to increase for Green, that is where he can find his breakout season.
Green will certainly get minutes as a shooting guard, but with just Jaylen Brown behind Jae Crowder, his ability to shoot could prompt Stevens to get him in the lineup at multiple positions. The Celtics need that scoring boost from the bench, and they would be foolish to not give Green an opportunity to take on that responsibility.
Right now, Green looks like a better offensive option than any other guard on the second unit. His defense could play a role in how much Stevens can play him. If Green can be a serviceable defender, then he could emerge as a significant scoring force for the team, even on the second unit.
The Celtics first used Isaiah Thomas as their best offensive option off the bench, now they have Olynyk, their best three point shooter, coming off the bench. Being on the second unit does not prevent a player from having the kind of impact that starters have had in the past, and Green could take on that kind of role.
The frustrating part for Green could be the depth. It is still not a lock that he makes the roster and it is certainly not a lock that he has a significant role on the bench. That being said, in his eight NBA seasons he has done enough to earn the opportunities he needs to break out.
This article originally appeared on