George Hill's Absence Proves Fatal for Utah Jazz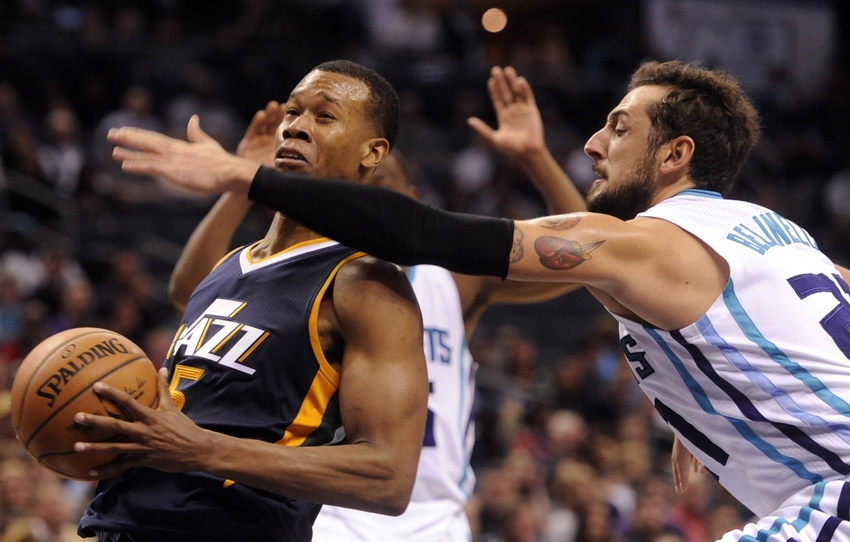 Without floor general George Hill in action on Wednesday night, the Utah Jazz found themselves unable to close out the Charlotte Hornets in a heartbreaking loss.
Everything was going so well for the Utah Jazz at the start of Wednesday's bout against the Charlotte Hornets. Not only had they come in winning their first two contests of a five-game road trip, but they also got off to a hot start against the Hornets and took an eight-point lead into the second quarter after starting the game shooting an impressive 57 percent in the opening period.
But as our very own Ryan Aston recapped last night, the Jazz ran out of steam in the contest, eventually falling 104-98 to the Hornets in what was an unfortunate fourth-quarter collapse that was reminiscent of last season's team.
With the Utah Jazz faltering down the stretch and Charlotte's point guard Kemba Walker putting on a show in the final period, it was clear that George Hill, who sat out his second straight game with a sprained thumb that he suffered in the win over New York, was very much missed.
Not only did the Jazz have to do without the reigning Western Conference Player of the Week's steady 20.4 points and five assists per game that he's logged so far this season, but in the final period when the Jazz were in need of a floor general to orchestrate the offense and calm the team's tensions during the Charlotte comeback, they found themselves without their newfound leader to turn to.
And the end result wasn't pretty as Utah took what was a two-point lead into the fourth quarter and turned it into a 10-point deficit at one point before ultimately losing by six points.
Up to this point, the Jazz had looked relatively solid in fourth quarters this season as it appeared they had finally remedied their issue of choking away late-game leads. In their four previous wins leading up to the contest in Charlotte, they had averaged 33 points (9.5 more than their opponent), a 65-percent field goal percentage and a 67-percent three-point percentage.
Not surprisingly, George Hill was also their leading fourth quarter scorer over that stretch averaging 8.7 points in the final period of those four wins. Without him on the floor, Utah was unable to seal the deal against the Hornets.
While Dante Exum did a commendable job covering Walker throughout the game, Shelvin Mack was less than a formidable stopper. Without defensive specialist George Hill available to slow him down, Walker put up nine points in the final four minutes of the game to finish the contest with 21 total points.
And it wasn't only on defense that Mack struggled. He shot just 3-of-11 from the field, failing to convert on several makeable looks that proved fatal to the Jazz's chances. On several occasions he rushed shots, failed to make the right pass and simply looked overwhelmed in moments when the experienced Hill would have been able to calmly steer the team through the pressure.
There's no telling how Hill's presence might have changed the dynamic of the final period and the game as a whole.
Utah was also beleaguered by a poor three-point shooting night that saw them finish just 8-of-34 (23.5 percent) from deep. George Hill's 43.2 percent from behind the arc so far this year would have provided a much-needed boost and would have been a significant upgrade over replacement Shelvin Mack's season average of 31.6 percent.
Utah also lost the turnover battle 12-8 in a game where Gordon Hayward, who logged four of those miscues, was forced to handle the ball a lot more than he would have if Hill had been present.
This hurts especially considering how efficient Hill has been with the ball to start the season. He is averaging just 1.1 turnovers per game and has posted two zero-turnover games this year and three games with just one.
The most frustrating part of the night is that despite Hill's absence, this was still a very winnable game for the Jazz as they got off to a brilliant start and simply failed to pull away in the middle quarters before being unable to close in the final period. It's not a stretch at all to say the game would have ended in their favor if George Hill had been on the floor.
Nevertheless, such was not the case so the Jazz will simply have to move on past this game and hope that they can come out victorious in their upcoming bouts against the Orlando Magic on Friday and Miami Heat on Saturday. With a day off between their next contest, one can only hope that Hill will find his status elevated to active during that break.
While Utah was able to beat the hapless Sixers without him, the loss to Charlotte proved just how valuable their new point guard has become to this team. And they'll likely need him around if they hope to prevail in tough road match-ups against the Magic and Heat.
Get well soon, George Hill, the Jazz need you back.
All stats courtesy of NBA.com
This article originally appeared on