Game Preview: New Orleans Pelicans return home to face the upstart Los Angeles Lakers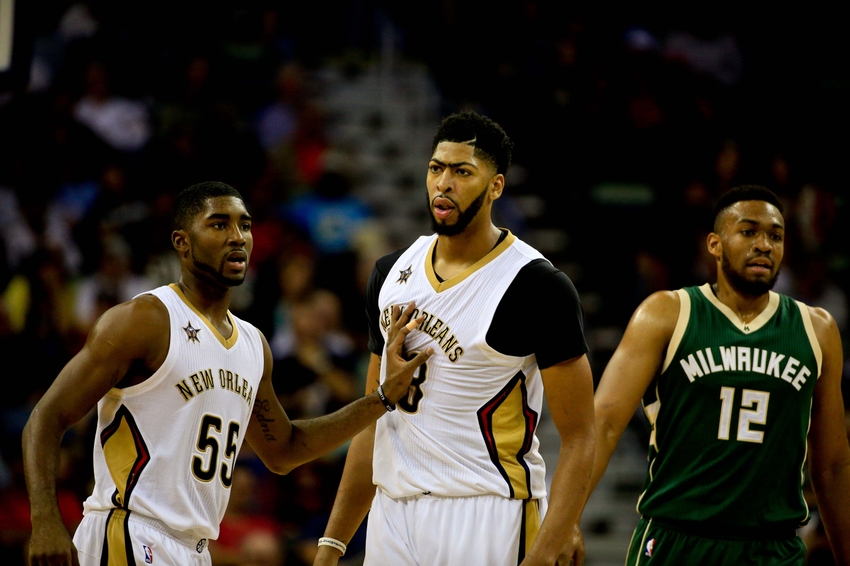 The New Orleans Pelicans return home Saturday night looking to follow up Thursday's excitement against the Los Angeles Lakers.
On Thursday night, the New Orleans Pelicans won a game! I hope you have basked in the glory of victory all weekend like I have. Whispered sweet nothings to Lady Victory. Watched highlights. Cried a little.
That's all well and good; they earned a victory, squeezing enough out of their late-game offense to fend off a feisty Milwaukee Bucks squad on their home court. Terrence Jones, Starter continues to look better on the court than just about any other combination. Anthony Davis did his dance.
And Buddy Hield did his! The rookie made three long bombs during the game, playing his usual twenty-plus minutes and looking more comfortable overall. The trigger needs to be more pointed and confident for this season to go his way. On Thursday, it was.
Tonight, the Pelicans will play a better team. That may seem shocking if you haven't watched the Baby Lakers play this season, but if you have, it won't come as shocking to hear that the Lakeshow is 5-4, with impressive wins over the Warriors, Hawks, and Rockets already. Coach Luke Walton is making his impression felt, putting his players in position to succeed and getting the most out of guys like Nick Young, Julius Randle, and Jordan Clarkson to round out the young rotation.
Young teams are undisciplined, but Luke Walton teams are not. That line has been the one the Lakers have walked this year, and they've leaned on veterans like Young, Luol Deng, and Timofey Mosgov to instill the savvy a winning team must have. It's worked so far; quite a bit better than the Pelicans' strategy has, some might say.
On paper, these teams match up decently. Tim Frazier ought to be able to pester burgeoning superstar D'Angelo Russell, Davis negates the advantage that Randle and Mosgov pose over some teams inside, and the benches sort of cancel each other out. A win is within reach, but it will take a well-rounded game that has occasionally been too much to ask of the 1-8 Pelicans.
It's interesting to think that the team which was a punchline and hosted a retirement tour last season is now a nice early-season test for the Pelicans, but thus are things. After a night off, and at home, the Pelicans have the chance to impress one another and the league at large if they can notch a nice home win tonight against the Los Angeles Lakers.
Who, When, Where and How to Watch
When and Where: The game will be played at 6:00 PM CST in New Orleans.
How To Watch: The game will be broadcast on Fox Sports New Orleans and NBA League Pass.
Injuries: 
New Orleans: Jrue Holiday (Personal Reasons), Quincy Pondexter (Left Knee) and Tyreke Evans (Right Knee) are all out.
Los Angeles: Ivica Zubac (Back) is doubtful
Probable Starting Lineups:
New Orleans: PG Tim Frazier, SG E'Twaun Moore, SF Solomon Hill, PF Terrence Jones, C Anthony Davis
Los Angeles : PG D'Angelo Russell, SG Nick Young, SF Luol Deng, PF Julius Randle, C Timofey Mosgov
Other Players to Watch: 
New Orleans: Buddy Hield, Omer Asik , Dante Cunningham and Langston Galloway
Los Angeles: Brandon Ingram, Larry Nance Jr., Lou Williams, Jordan Clarkson
What's Next for the Pelicans?
The Pelicans stay at home after an off-day on Sunday to face an injured Boston Celtics team on Monday night.
Langston Galloway has played a larger role on this team than I believed he would in July. Even while Lance Stephenson was on the team, Galloway found spot minutes backing up both guard spots, often while Stephenson himself was on the court as the nominal small forward. He has been up-and-down, but impressive in spurts.
He has struggled in many of the same situations that so many of his teammates have: making shots and making plays. Per NBA.com, Galloway has made only 7 of 21 catch-and-shoot three-pointers. He has actually been more efficient on pull-up looks, making 3 of 8 such tries. That should be flipped if you're playing next to a superstar like Anthony Davis who earns so much defensive attention.
He has shot 6 of 10 on "wide open" threes (closest defender 6+ feet from him), but only 4 of 14 on "open" threes (closest defender between 4-6 feet from him). Another problem.
Galloway does have a nice 4.67 assist-to-turnover ratio, and he has generally been a nice initiator in the half court. However, he lacks the explosiveness to make things happen after he turns the corner on the pick-and-roll. Unfortunately, Galloway doesn't appear to be capable of playing point guard. That's fine. Jrue Holiday is headed back to the team this week.
Tonight though, without Holiday, and against an explosive offensive second unit like that of the Lakers, Galloway will need to play well. He'll likely be tasked with defending Jordan Clarkson on one end and setting guys like Buddy Hield and Dante Cunningham up on the other end.
I believe Galloway can handle the burden, with a nice game against the Suns as evidence: Defending Brandon Knight in the second unit, shooting his way to 14 points, and posting a nice +9 to bring the Pels back into the game.
Tonight could come down to the Galloway-Clarkson battle if both starting units battle to a draw. If Galloway can keep it close for the Pelicans' bench, he'll have done his part in contributing to a win.
This article originally appeared on