FanDuel NBA Daily Picks: Fantasy Basketball Lineup For November 1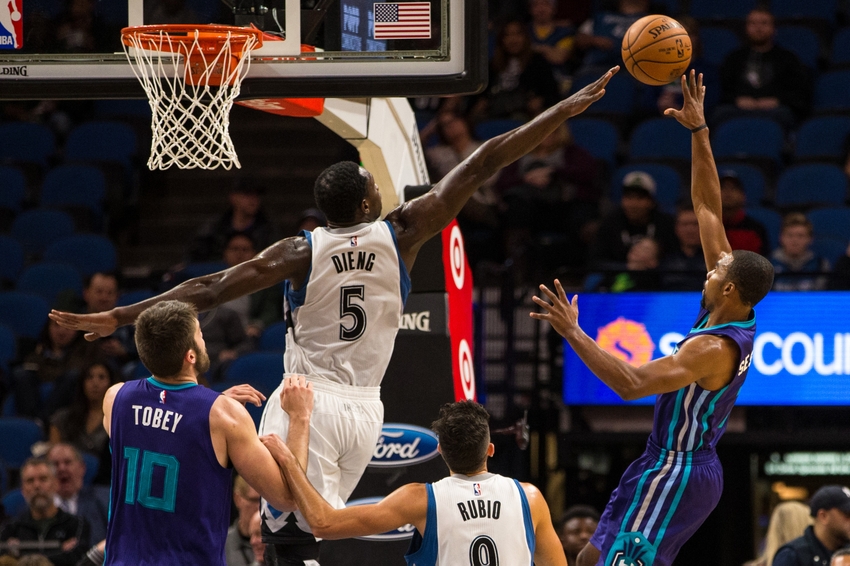 Minnesota forward Gorgui Dieng is providing major production at a low cost in FanDuel NBA leagues and is a smart play for Tuesday night.
Gorgui Dieng may be undervalued in FanDuel NBA leagues, but the Minnesota Timberwolves proved they believe he is a vital piece of the young core going forward.
As the NBA reached its deadline to reach extensions for players selected in the 2013 NBA Draft class, the Timberwolves didn't want Dieng to even flirt with free agency this summer, signing him to a four-year, $64 million contract Monday afternoon.
The deal solidifies his place in Minnesota, as he has unexpectedly become the top rebounder on the team, even while spending 2.5 minutes fewer than Karl-Anthony Towns, the NBA's reigning Rookie of the Year, on the floor each night.
Dieng has been just as effective rebounding the ball on both sides of the court, totaling 18 defensive rebounds and nine offensive rebounds after the first two games of the season.
The 13.5 rebounds per game Dieng is averaging is 8.5 more than anyone else on the Timberwolves roster.
While Dieng may be beating out Towns, along with the other eight players on the court for rebounds, the duo has become a potent offensive combination.
Towns is averaging 4.5 assists per game, with two a night coming off baskets scored by Dieng.
Throughout his career, Dieng has managed to make the most of his limited scoring opportunities. In three plus seasons, he has boasted a career average of 8.4 points per game on just 6.2 shot attempts a night.
Minnesota has managed to feature him more in the first two games, resulting in 13 points on 9.5 field goal attempts per game, but with Towns, Andrew Wiggins and Zach LaVine taking a majority of the shots, Dieng likely won't be a consistent scoring threat.
Legitimate double-double threats are rarely valued as low as the $5,900 Dieng is going for Tuesday night in FanDuel NBA leagues, so look no further for a value play.
Top Four Point Guards
Rationale:
The third-highest career scoring average for Stephen Curry comes against the Trail Blazers. In 23 games against Portland, Curry is averaging 26.8 points per game while converting 49.1 percent of his attempts from the field and 49 percent of his 3-point field goals. Look for a huge night on the perimeter, as Curry has connected 95 times from beyond the arc against the Trail Blazers, his most against any single opponent in his career and a good bet for FanDuel NBA lineups.
Following a six-year hiatus from his NBA career, as he returned home to Spain to play for Real Madrid, Sergio Rodriguez has thrived in his first two games for Philadelphia. The 30-year-old guard is dishing out a team-high 7.0 assists a night to go along with 13.0 points, 4.0 rebounds and a made shot from 3-point range each night. Playing for less than 10 percent of the 76ers salary cap, Rodriguez is proving to be a bargain.
Top Four Shooting Guards
James Harden ($11,200) vs. Cleveland Cavaliers
C.J. McCollum ($7,300) vs. Golden State Warriors
Zach LaVine ($5,900) vs. Memphis Grizzlies
Dion Waiters ($4,500) vs. Sacramento Kings
Rationale:
The long-range shot is falling for C.J. McCollum early this season. After three games, the 25-year-old guard is converting 55.6 percent of his attempts from beyond the arc, a figure that isn't being propped up by a low shot total. McCollum has hit 5-of-9 attempts from 3-point range, elevating his scoring average to 21.3 points a night. The value in McCollum for FanDuel NBA rosters will continue as long as he continues to make a defensive impact, as his 2.3 steals per game are by far the most any player in Portland is averaging so far.
The most encouraging sign for Dion Waiters has been the consistent minutes he has logged through the first three games of the season. The 6-foot-4 guard has played at least 33 minutes in each game, resulting in averages of 10.3 points, 5.0 rebounds and 3.3 assists per game. Waiters is shooting just 31.6 percent from the field this season, and being the streaky shooter he is, he could be due for a huge scoring night.
Top Four Small Forwards
Rationale:
Carmelo Anthony is a pure scorer, so the 39.4 percent shooting he is averaging to open the season isn't likely to continue. The frequency of shots, along with his scoring average, is below the usual output for Anthony, but he is still producing for the Knicks. Anthony is attempting career-low in shots — at 16.5 per game — and he is scoring below 20 points for the first time in his career. A 21 point performance can up his scoring to 20 points and in 27 games against the Pistons, he is posting 21.3 points a game.
Through the first three games, Aaron Gordon has provided steady contributions for FanDuel NBA teams in a multitude of ways. The 6-foot-9 forward opened the season with 12 points, eight rebounds and four assists, then posted 17 points and seven rebounds, followed by an eight point four steal performance. The method used to obtain points in FanDuel NBA leagues doesn't matter; so as long as Gordon finds a way to contribute, he is a tremendous value pick.
Top Four Power Forwards
Anthony Davis ($11,000) vs. Milwaukee Bucks
Draymond Green ($8,300) vs. Portland Trail Blazers
Zach Randolph ($5,900) vs. New Orleans Pelicans
Gorgui Dieng ($5,900) vs. Memphis Grizzlies
Rationale:
At 67.2 fantasy points a game, Anthony Davis second only to Russell Westbrook as the highest performer among FanDuel NBA players. Davis is averaging 3.0 blocks and 3.0 steals per game early into the 2016-17 season, but Hakeem Olajuwon (1988-89) is the only player to manage at least 2.5 steals and blocks per game for an entire season. Along with his tremendous defensive impact, Davis is adding 37.7 points, 13 rebounds and 2.7 assists per game.
A shift to the bench hasn't slowed down Zach Randolph. Even though he is playing just 23.7 minutes per game, Randolph has thrived playing with the second unit in Memphis, averaging 18.0 points, 9.0 rebounds and a steal per game. By becoming the focal point of the offensive attack off the bench, Randolph has actually seen an increase in shot attempts over last season, going from 13.3 per game up to 14 after three games this year.
Top Four Centers
Rationale:
The franchise centerpiece in Miami, Hassan Whiteside, has delivered in the early portion of the season. For the second consecutive season, the 7-footer is leading the league in rejections, at 3.3 blocks per game, to go along with averages of 21.7 points and 14.7 rebounds per game. At 45.6 fantasy points per game in FanDuel NBA contests, Whiteside is the highest performing center available Tuesday night.
The 76ers are rotating their promising young centers for back-to-back contests Tuesday and Wednesday night. While he is still on a minutes restriction of 20 per game, Joel Embiid will be in the lineup against the Magic. Even while playing less than half a game, Embiid has been effective, totaling 17 points and 4.5 rebounds per game in his first two NBA appearances. Embiid was more explosive in the season opener, logging 20 points, seven rebounds and a pair of blocks, a performance that would make him a perfect low price option for a FanDuel NBA lineup.
Final Lineup
PG Stephen Curry ($8,700)
PG Sergio Rodriguez ($5,100)
SG Zach LaVine ($5,900)
SG Dion Waiters ($4,500)
SF Justise Winslow ($5,000)
SF Paul George ($9,200)
PF Anthony Davis ($11,000)
PF Gorgui Dieng ($5,900)
C Joel Embiid ($4,500)
Total Cost: $59,800
This article originally appeared on