Ex-Cavs player being sued for stealing from grease trap biz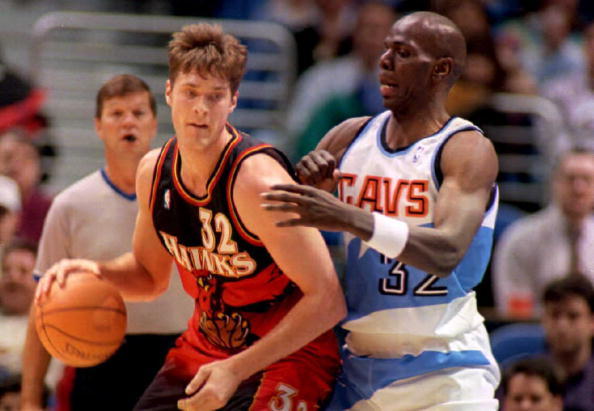 by Will Gibson
Former Cavalier Tyrone Hill may have gotten himself caught in a greasy grease trap trap.
The ex-power forward is being sued for allegedly committing fraud and stealing from Greasers, an Atlanta-based commercial restaurant grease trap business he has 49 percent ownership in. The company is seeking at least $2 million in damages, according to Robert Littal of BlackSportsOnline.
In documents filed with the Superior Court of Fulton County, Ga., (Case No. 2015-CV-257505), Greasers, a commercial restaurant grease trap waste, hood cleaning and oil recycling company, and [Sonya] White, the principle owner, claim Hill breached his duty of loyalty to the company and White.

Court documents outline that Hill stole cash payments from Greasers—collected from customers and never submitted them to the company—and, that he steered current and potential Greasers customers to a new competitor company he formed in 2014, while still a Greasers executive with 49 percent ownership. The claim also states Hill used Greasers' company truck to do work under his new company for the customers he pilfered: Hill damaged the truck and failed to return it to the Greasers facility.
I'm no legal expert, but the accusations against Hill are very real, and it sounds like things are getting testy between him and his estranged business, particularly Ms. White.
Greasers' litigation attorney, Leron Rogers, a partner at Lewis, Brisbois, Bisgaard & Smith LLP Attorneys, stated: "Greasers and Ms. White made every effort to settle this matter amicably. Now that it appears that Mr. Hill has no intention of doing the right thing, we are moving very aggressively against him."

Rogers' immediate request is that the court rule on an Injunction against Hill, stopping him from conducting any grease trap and oil recycling business until the matter is resolved.

White stated: "I am greatly saddened that it has come to this. I stood by Tyrone when we launched Greasers; lent him money when he didn't have any. I am baffled that he would abandon his responsibility, steal from me and go behind my back to launch a duplicate business."
There's not much more to say than that this is sad news. Hill played for the Cavs from 1993 to 1997, and again from 2001 to 2003. He was an All-Star in 1995, and was the 1990 Midwestern Collegiate Conference (now Horizon League) Player of the Year at Xavier.
He previously owned a record company in his hometown of Cincinnati, All Net Records.
More from Waiting For Next Year: