Elfrid Payton serves a reminder of his playmaking skill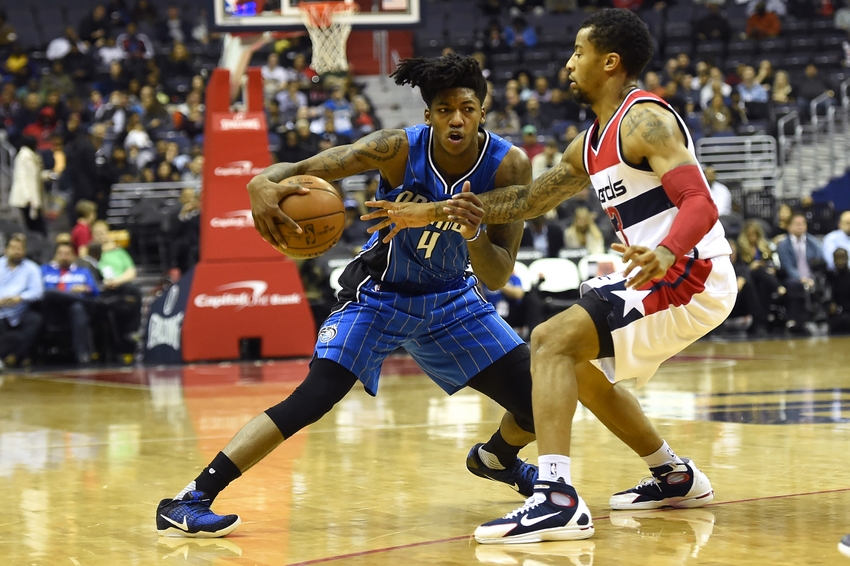 Elfrid Payton has continued to have an up-and-down ride this year, losing his starting job. Payton dominated the game Tuesday, showing his potential.

124

116
The ball worked its way to Elfrid Payton in the corner without a defender around him. Before anyone could worry about Payton taking a 3-pointer and where the ball might end up. Payton took the shot quick and confidently as if he had done it a million times before.
And it went in. Just as everyone expected.
Then the next one went in. Then Payton worked his way into the paint and scored on a layup. And then another. Then an and-one. Then a foul.
And over and over and over again. The attack from Payton came fast and furious. He made his first nine shots and scored 22 points in the first half. His career high entering the game was 24.
Payton proved in just a half's work exactly what makes him a special player for the Orlando Magic. Still a player who makes the Magic better when he is playing at a high level. One that can take the Magic's to a higher level when his offense is working because of his playmaking ability.
His career high quickly fell in the second half as Payton finished the game with 25 points, leading the Magic to a 124-116 win over the Washington Wizards. Payton shot 9 for 12 from the floor, making all three of his 3-pointers and all four of his free throws. Payton was about as perfect offensively as he could be.
He drove well into the lane, probing for an opening while still being a threat offensively. He got past his man and into the paint with ease.
It was a reminder when Payton gets his offense going, he becomes an incredibly difficult player to stop. He is just able to squeeze his way into the paint and create space for his floater or a layup.
Payton is a true point guard in that way. When he is clicked on he is looking to pass as much as he is looking to score. They set each other up. And he can quickly rack up assists when he is able to go where he wants to go.
With him scoring the way he wanted to Tuesday night, Payton did create those assists. He recorded nine on the game. He was going head to head with John Wall in many senses.
Nikola Vucevic finding for his defensive fit with new Orlando Magic
Wall did get the better of him on plenty of occasions. But Payton dug down defensively too. He made three steals that helped set up Magic fast breaks and keep pace with the Wizards and Wall's scoring juggernaut. He also recorded three blocks.
Offensively, with Payton on the floor the Magic had a 132.2 offensive rating. Things flowed as he moved in and out of the paint, collapsing the defense in to kick out to Jeff Green, Evan Fournier and especially Jodie Meeks. Orlando's offense looked as good as it has all year. Perhaps the best it has all year. At least statistically.
Orlando's offense looked as good as it has all year. Perhaps the best it has all year. At least statistically.
And Payton remains a key part to that. As he has at all times in his career.
The only thing that has eluded Payton to this point in his career is consistency. This year has been no different.
Payton averages 10.0 points per game and 5.1 assists per game. Those numbers have been in line with his numbers last year, when he struggled to hold onto his starting job.
Payton's inconsistency, especially from his shooting, has kept him from realizing that full potential. It is still a work in progress. And the last thing the Magic need in their push for the Playoffs is inconsistency.
His defense has seemingly bounced back. His opportunistic play Tuesday was a sign that he can still make a big difference defensively.
D.J. Augustin's promotion to the starting lineup was a product of the Magic's need to balance the lineup. There were too many non-shooters on the floor in those original starting lineups. Despite Payton's extreme playmaking ability, he hurt the Magic's offense in some way with defenses ignoring him on the perimeter.
Payton's success and the Magic's success with him is still largely dependent on Payton making his shots. And scoring outbursts like Tuesday are still a bit of a rarity.
Obviously, it was his career high.
The Magic do not quite go as Payton goes like they did last year. When Payton played at his best last year, aggressively driving into the paint and setting up others, the Magic looked like a Playoff team. When he struggled defensively and dribbled around aimlessly without aggression, the team struggled mightily.
But undoubtedly that effect still exists. Payton still has the most upside of any other point guard on the roster. When he gets rolling, the Magic are undoubtedly a better team.
Just like they were in Tuesday night's win. Payton can take the Magic to another level.
The question is always: Will he?
That is the part that still gets lost. And part of the reason why Payton is coming off the bench. Against second-unit players, Payton can unleash this play against supposedly weaker competition. His scoring and passing is generally down since coming off the bench. It has exacerbated his inconsistency some.
Still, Frank Vogel has taken a laissez faire attitude to who finishes between D.J. Augustin and Elfrid Payton. When Payton has the better run of play, he finishes the game. That is what happened Tuesday. He pushed the tempo and Augustin's minutes got cut.
The Magic still are trying to get the most from their young point guard.
Tuesday served as a reminder of just how good Payton can be. And just what kind of potential he has. The potential that still seems locked away.
More from Orlando Magic Daily
This article originally appeared on