Dwight Howard Is Happy To Be An Atlanta Hawk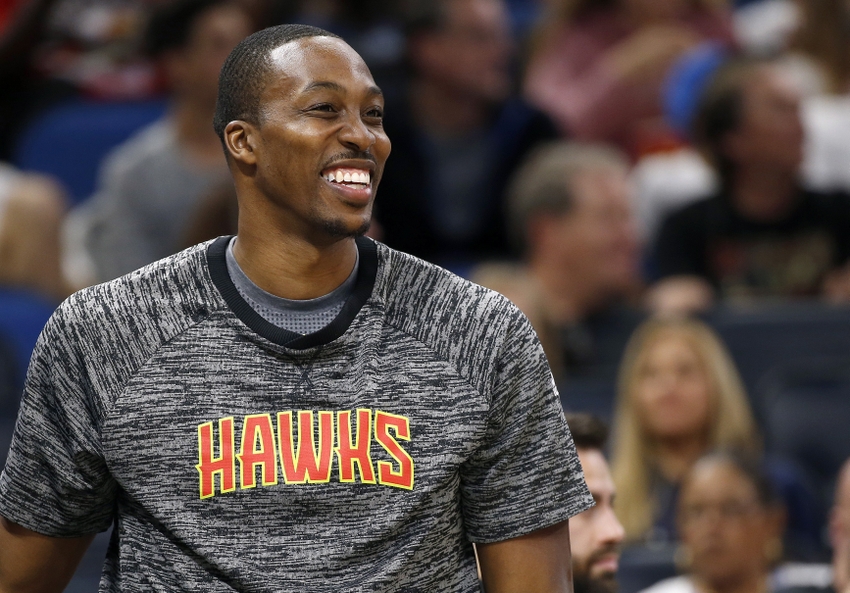 Dwight Howard has finally found his happy place. It happens to be in his hometown playing for the Atlanta Hawks.
Dwight Howard is one of the most scrutinized NBA players of the recent era. A mixture of massive size and unique athleticism, it would seem like he could dominate night in and night out.
Howard did just that for the first eight years of his career as he starred for the Orlando Magic. After things fell stale, Howard was on his way out of town to Hollywood to play for the Los Angeles Lakers. He was supposed to be a member of a three-headed monster which included Kobe Bryant and Steve Nash. Instead, Nash was crippled with injuries, and Bryant and Howard often butted heads on the court. Despite the friction, he still averaged 17.1 points and 12.4 rebounds, but it was clear that the Lakers weren't the perfect fit.
Howard then landed in Houston to pair with the dynamic James Harden. While the two showed moments where they could co-exist successfully, they both wanted to ball in their hands more than the other. Harden was the franchise player, so the Rockets respected his wishes more. Howard's relationship continued to get worse with the organization and he eventually passed up on his player option to sign with his current team, the Atlanta Hawks.
More from Soaring Down South
Immediately, there was an infinite amount of criticism on the signing. The Hawks were on the verge of losing Al Horford. Howard isn't as versatile offensively as Horford, but he brings the dominant post presence that Horford could never provide. There were plenty of questions of whether or not head coach Mike Budenholzer could effectively work Howard into his free-flowing motion offense without dumping it down in the post to and becoming stagnant.
Eight games into the season, and the critics have quickly shut their mouths. The Hawks are off to a 6-2 start, have established themselves as a top defensive and rebounding team, and continue to improve as the games come along.
It's amazing what winning can do for a team. The saying "winning fixes everything" has never been more true. Skeptics before this season constantly claimed that Howard had nothing left in the tank. With a history of injuries, it was common to hear that he wouldn't make it through the season without something flaring up. Again, it's just eight games in, but Howard looks more like the guy from Orlando than he does from when he was in Los Angeles or Houston.
Not only does his physique look to be in top shape, you can just tell he is happy to be on the floor with this particular team. Atlanta is known for being an extremely well-run organization. It's exactly what Howard needed at this point in his career, and he's fully aware of that.
Howard spoke with AJC's Chris Vivlamore on his thoughts about the coaching staff and the season thus far:
"It's the best," Howard said. "It's the best. So grateful to be in this situation. They've done an amazing job, the training staff, the coaching staff. Bud has done an amazing job. We have a growing relationship that has been great so far. We are really understanding each other. And it's good. I love having him as a coach. From the first time I met him until now, we've had a great connection. We want to continue that. I love how he holds me accountable every single day to be the guy for the team to lead them in the right direction. When I'm not doing the right things, he is on me. When I am doing the right things, he pushes me to do more. It's just a great feeling."
A happy Dwight is a good Dwight. This Hawks team hasn't faced much adversity as of yet, but with the strong foundation set by their organization, they're suited to overcome hardships that come along the way.
Until that time comes, the Hawks will keep proving their worth in the Eastern Conference. They'll keep winning games by locking down on defense and Howard controlling the glass. Atlanta has always been known as having a strong culture.
Who would've thought Howard could come in and make it even stronger? Keep going, Dwight. The city of Atlanta is behind you.
This article originally appeared on