Don't Expect Ben Simmons To Be Great Without 3-Point Shooters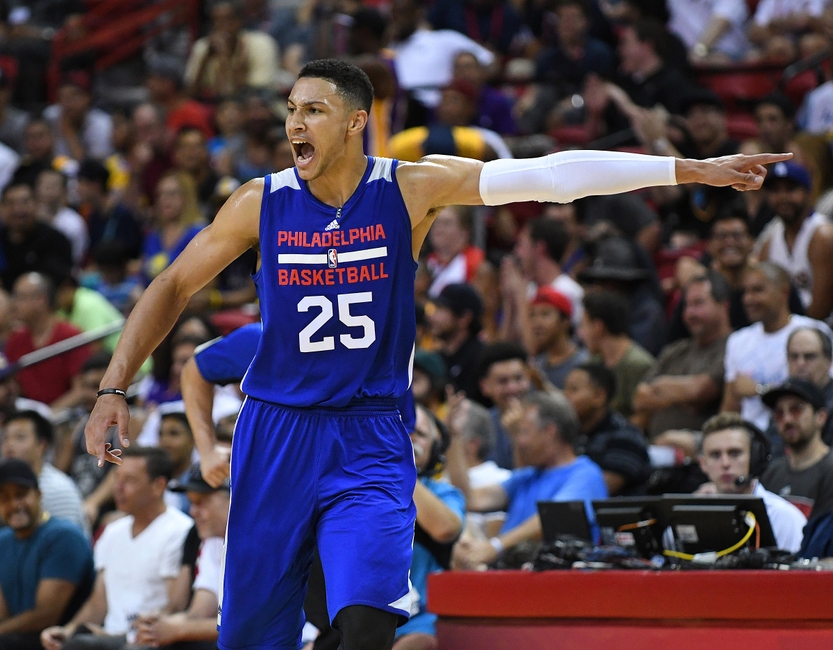 The Philadelphia 76ers rookie Ben Simmons will need a high powered offense built with 3-point shooters to start sprouting.
At some point this season, we hope that Ben Simmons will don a Philadelphia 76ers jersey and dazzle our eyes with his spotlight vision, crazy athleticism, and pristine potential. All of these traits packed in with his size should remind us all of NBA 2K17 with game sliders on. But, if the Sixers want to terrify the league and become a force to be reckoned with, they will have to look at the offensive makeup of a few teams that are already doing so today in the NBA in order to plan for a bright future.
It is well known by now that Simmons is a willing passer. This is a perfect start for building a contending team that wants to be offensively powerful. So now what are the pieces need to fall in place for it to happen? Let's take a look at three teams that have players that Simmons and the Sixers organization can learn from; the Cleveland Cavaliers, the Houston Rockets, and the Golden State Warriors.
Right now, Cleveland sits at 17-5. They rank 3rd in offensive rating (115.4), 3rd in points per game (111.5), 2nd in 3-pointers per game (13.5), and 8th in assists per game (22.7). Oh, and they have someone by the name of LeBron James.
When James went back home to Cleveland, he made it known that he wasn't interested in the rebuilding process, influencing the organization to trade for Kevin Love in the offseason and Iman Shumpert and J.R. Smith in the middle of the 2014-2015 season. Noted 3-point shooting veterans Richard Jefferson and Channing Frye would also join the team a year later.
This is the formula James and the Cavaliers knew had to work in order to take advantage of James' superior passing ability. Having 3-point shooters on the wing while James attacks the rim is the reason why the Cavaliers are so successful offensively.
For those attempting more than two 3-pointers per game, the Cavaliers have five players shooting over 35%: Frye (.481), Shumpert (.475), Kyrie Irving (.430), Love (.407), and James (.365). Jefferson misses the mark at .348. That's a whole bunch of marksmen wing defenders have to leave open in order to help when James attacks the lane. This is why James averages 9.1 assists per game.
More from The Sixer Sense
Taking a look at the Houston Rockets, James Harden runs the offense for the majority, averaging a career high in assists (11.6) and usage rating (33.5). Harden only averaged 7.5 assists last season, so he has improved by 4.1 assists in one year, thanks to the coaching methodology of new head coach Mike D'Antoni and the new makeup of the Rockets.
Not resigning Dwight Howard to a max contract last offseason was the smartest thing the Rockets have done in a while. Howard did not fit in the run and gun, shot-heavy offense. Replacing Howard with new offseason additions Ryan Anderson and Eric Gordon spelled gold for Harden.
Currently, the Rockets sit at 17-7, thanks to being 4th in offensive rating (113.9), 2nd in points (111.6), and 1st in 3-pointers made (14) and attempted (37.2) per game. For those shooting over two 3-pointers per game, the Rockets have six players: Gordon (.431), Patrick Beverley (.400), Anderson (.392), Sam Dekker (.385) Trevor Ariza (.382), and Harden (.347). As if Harden's euro-step wasn't hard enough to guard; now you must pay attention to all of the shooters around him.
Gordon could potentially be the Pickup of the Year if that was an award. Averaging 17 points per game, Gordon is proving to be a fabulous pickup for the Rockets as it gives coach D'Antoni another great ball handler and scorer when Harden takes a breather.
Last and surely not least is a team that the Sixers should watch carefully: the Golden State Warriors. It's not practical to believe that the Sixers will be what the Warriors are in a few years but in this league, "anything is possible" said Kevin Garnett.
The Warriors just ooze offense. Ranked 1st in offensive rating (116.8), 1st in points per game (118.1), and 4th in 3-point field goal percentage (.378), it's not hard to see why they currently hold the best record in the league at 20-4.
Most people that are hyper fans of basketball may see Stephen Curry or Kevin Durant as the most important pieces on the team but the case could be made that Draymond Green is the glue of this basketball club. He is a player that Ben Simmons should watch carefully.
Both Simmons and Green don't necessarily have the scoring DNA players like James and Harden have. To be honest, James was on the same spectrum when he first entered the league in 2003 but he was still a better attacker of the rim and more athletic than Simmons is now.
Simmons should look at Green's "do it all" mentality on a team scorched with 3-pointers like Curry, Durant, and Klay Thompson. Green is averaging 10.7 points, 7 assists, and 8.4 rebounds per game. These are numbers that Simmons could very well put up if he hits the court this season. He would most likely average more points than Green based on the fact that he doesn't have the offensive juggernauts that Green has on the Warriors.
Some out there may be puzzled as to why Russell Westbrook, the new triple double king of the NBA, is not mentioned. Well, simply because Westbrook's style of play is not sustainable for a championship environment. When you have a player that is averaging more rebounds than the center the Oklahoma City Thunder gave over $100 million to this season and doing this all just be in the middle of the Western Conference, that is recipe for disaster as we all know basketball is a team sport. Not to say Westbrook's numbers aren't impressive, he just has no shooting help and that will hurt the Oklahoma City Thunder in the playoffs.
So, now that we have come to see what Simmons and the Sixers should mirror, how do they get there? Is it through the draft again? How about trades? Maybe it's free agency?
Well, looking at the draft, a player to keep our eyes on is Malik Monk, who is a great shooter with crazy athleticism for a 6'3 guard. Playing alongside Simmons could be a great scenario for Monk, developing into a shooter and slasher once he gets to the pros.
Turning to trades, it seems like trying to trade Nerlens Noel and Jahlil Okafor is a challenge for the Sixers. No one wants a big man that is injury prone in Noel or a big man who can't  secure a rebound for his life in Okafor. The trade for stretch four Ersan Ilyasova has proven that the Sixers do want to go in the right direction. Ilyasova is averaging 14.2 points and shooting .379 beyond the arc as a Sixer this season (20 games).
For free agency, two key players the Sixers should hone in on are J.J. Redick of the Los Angeles Clippers and Danilo Gallinari of the Denver Nuggets. Redick, an upcoming unrestricted free agent, has been known as a deadeye shooter since his college basketball days in Durham, NC. He is also familiar with how to wear a red, white, and blue jersey already.
Gallinari will have a player option this summer and may choose to leave Denver, based on their failure to make the playoffs in recent years. Both of these players would fit well in a shot-heavy system run by a young Simmons ready to distribute the basketball.
Simmons is due for a great career. He already has the city begging for his arrival and he has a teammate in Joel Embiid who will be making multiple All-Star games in seasons to come. The Sixers have a long way to go but learning from those who already dominate the NBA will only benefit them in the long run.
This article originally appeared on