Detroit Pistons: Tobias Harris Continues To Star For The Motor City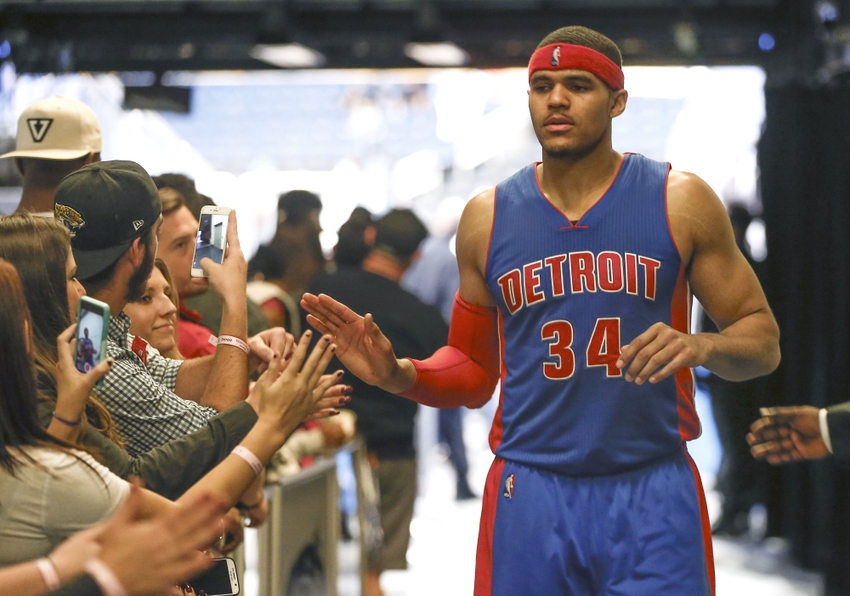 The Detroit Pistons have gotten off to a solid start this season despite not having Reggie Jackson, and a big part of their success is Tobias Harris
The Detroit Pistons are sitting at 3-2 in the early portions of the season, despite the fact that Reggie Jackson is injured and Ish Smith and Beno Udrih are the two lone point guards on the roster with him sidelined.
But other players have stepped up in his absence, keeping the team on the right track even without their star point guard. And one of them has been forward Tobias Harris; he's averaging a team-high 20.8 points per game. But it isn't just the scoring totals that are impressive. Instead, it's the level of consistency he's has been playing with that's really helped the Pistons' out.
In his first game of the season, he went off for 22 points (8-13 FG) in a losing effort against the Toronto Raptors. While in their second game he continued leading the team scoring 18 points (8-16 FG) on the night in a matchup with the Orlando Magic.
More from Sir Charles In Charge
Then, in their next game against the Milwaukee Bucks, he dropped 16 points (7-12 FG.) And in their last two outings, he dropped 25 points (8-12 FG) and 23 points (8-14 FG) against the new-look New York Knicks and Brooklyn Nets, respectively.
Those shooting numbers are outstanding, especially when considering the fact that teams are keying in on him. His great play last game even forced Jeff Hornacek into taking out star power forward Kristaps Porzingis for much of the fourth quarter, because he had trouble guarding Tobias all night.
Having a player on the team that's already forcing an opposing coaches hand is nice to have. It makes opponents think about how to defend him at the 4, which prevents teams of thinking about winning the game; instead now they're focused on how to stop Tobias Harris, while also having to contain Andre Drummond and Marcus Morris. An that's just not going to happen.
Now, with Reggie Jackson still sidelined until likely December, Tobias Harris is going to be tasked with keeping the offense afloat. Andre Drummond and Marcus Morris are phenomenal talents in their own right, but they haven't shown the same level of consistency Tobias has.
So, because of that, he needs to continue playing like this. Now the efficiency is likely to tail off a bit, as he's shooting 58.5 percent from the field, and a red hot 53.8 percent from deep.
But he still needs to bring that same impactful presence every night, if the Detroit Pistons hope to make the postseason.
This article originally appeared on