Detroit falls to the Orlando Magic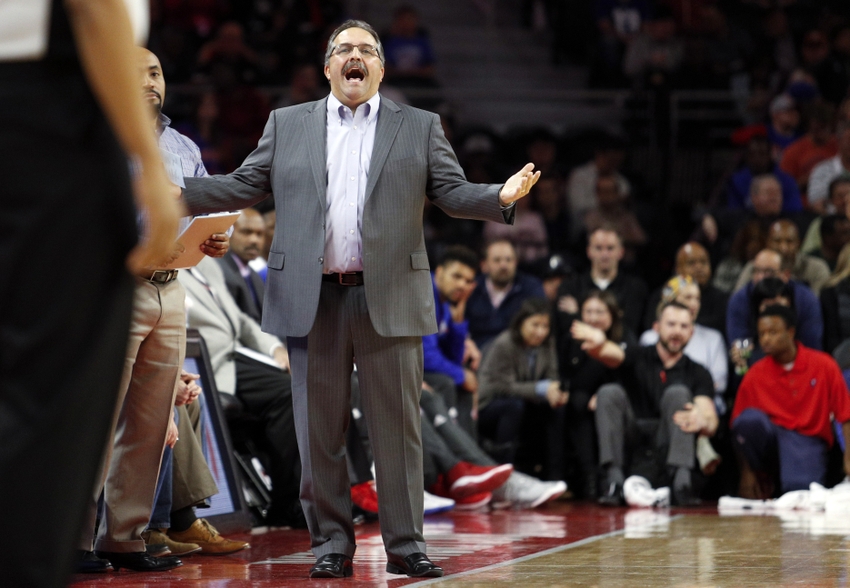 After coming off a successful road trip, the Detroit Pistons lay an egg at home against the Orlando Magic, 98-92.
Sunday night was a disappointing night for the Detroit Pistons.
It appeared the Pistons were in prime position to defeat the Orlando Magic with Reggie Jackson returning and a new sense of urgency founded from the previous road trip, though none of that had any influence.
During Sunday's game, Detroit appeared appeared tired and sluggish through out all four quarters as well as somewhat affected by Jackson's season debut.
Though, in Detroit's defense, Stan Van Gundy was already vocal on the affect Reggie Jackson could have on the team in his first game back. He worried Jackson's return would temporary alter the fluidity and chemistry the team had been accustomed to since the first game of the year.
Unfortunately, Stan Van Gundy had a reason to worry and foresaw the affects before Sunday night's 98-92 defeat against the Orlando Magic.
Reggie
Jackson
PG,
Detroit Pistons
A
During his season debut, Reggie Jackson looked as good as new during Sunday night's loss for the Detroit Pistons. Through out his limited minutes, Jackson scored 18 points, accumulated 4 assists, and hit two out of three three-point shots. Even though Jackson committed three turn overs, he and Marcus Morris were the only two Pistons who came to play tonight. As his presence may have altered the chemistry Detroit has previously played with, it's great and refreshing for all of Detroit for Jackson to finally return.
Kentavious
Caldwell-Pope
SG,
Detroit Pistons
B-
Kentavious Caldwell-Pope played no where near the level he has previously played with for Detroit. He did board and move the ball well with 9 rebounds and 4 assists, though his shooting was unacceptable. Caldwell-Pope finished the night with 9 points on 4 for 12 shooting while only hitting 1 out of 6 attempted three pointers.
Marcus
Morris
SF,
Detroit Pistons
A
Marcus Morris was the only player, besides Reggie Jackson, for Detroit to perform better than 'decent.' He was red hot for shooting with 21 points on 7 for 11 shooting and managed 5 rebounds and 2 steals without any turnovers. Morris has already proven he is clutch, though further proved from Sunday night's defeat when his team mates aren't performing, he will be.
Tobias
Harris
PF,
Detroit Pistons
C+
Tobias Harris, similarly to Kentavious Caldwell-Pope, did not perform at the same level has has from the past few games. His shooting was off, only completing 5 out of 12 shots for 11 points, was weak on the boards, and struggled to be a defensive asset when guarding Magic's Nikola Vucevic. Besides points, Harris didn't add much for the Pistons and will most likely move on from Sunday night's forgettable performance.
Andre
Drummond
C,
Detroit Pistons
C-
Andre Drummond was mentally out of the game for the Detroit Pistons during Sunday night's loss. He proved early in the game he did not come to play with energy and tried turning it on too late in the fourth quarter. As his statistics weren't awful, scoring 10 points and boarding 10 rebounds, Drummond's greatest strength as well as weakness his his mentality and energy he brings. Without a positive attitude and willingness to perform, Drummond will only be a liability for the Detroit Pistons.
Ish
Smith
PG,
Detroit Pistons
C
Ish Smith played decent for the Detroit Pistons and was the only player on the floor with energy. Unfortunately, he was unable to replicate previous performances from his past few games and only gave his squad 2 assists and 11 points on 5 for 10 shooting.
Darrun
Hilliard
SG,
Detroit Pistons
D-
Darrun Hilliard was simply nonexistent for Detroit. He played 12 minutes and shot the ball six times: completing only one shot for 2 points. Additionally, he turned the ball over twice and tacked on one foul. Again, Hilliard was nonexistent for Detroit, though did not play enough minutes for the Pistons to be much of a factor.
Stanley
Johnson
SF,
Detroit Pistons
E
Stanley Johnson played only two minutes during Sunday night's game against Orlando. During those two minutes, Stanley had one missed shot, one offensive rebound, and one steal. He was of no affect in Detroit's loss to the Magic.
Jon
Leuer
PF,
Detroit Pistons
D+
Jon Leuer struggled Sunday night against the Orlando Magic. He, as well as Tobias Harris, could not guard Nikola Vucevic and was not all to hot from shooting on the field. He did rack up 7 rebounds, though was not there defensively when Detroit needed him most.
Aaron
Baynes
C,
Detroit Pistons
D-
Aaron Baynes had little influence for Detroit Sunday night. He played only 13 minutes while Andre Drummond underperformed during the other 35. In those 13 minutes, Baynes gained 6 rebounds and 2 points. He committed no turn overs or fouls during his play.
This article originally appeared on