Denver Nuggets vs Boston Celtics: 3 Things Denver Must do to Win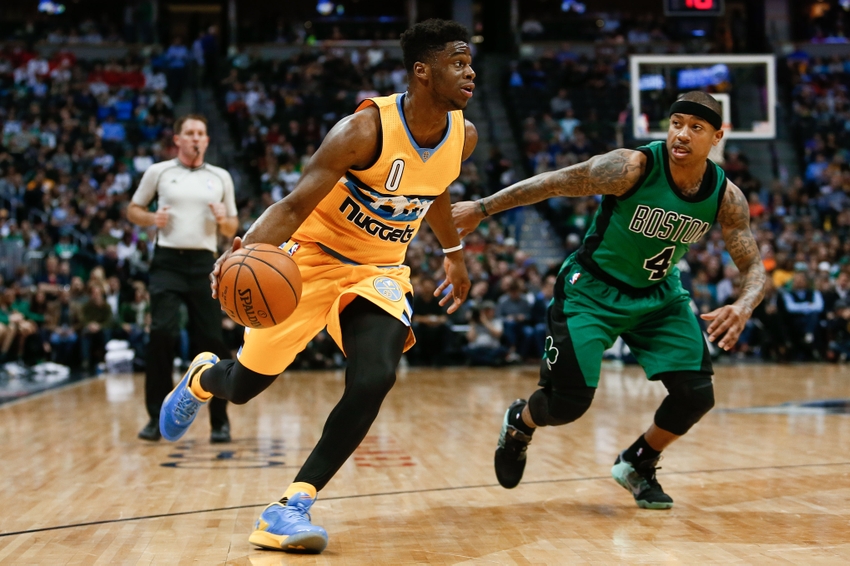 After a crushing defeat at the hands of the Detroit Pistons, the Denver Nuggets now head to the TD Garden to face the Boston Celtics.
Last night, the Denver Nuggets played what was probably their worst game of basketball this year, so far. They were dominated early, by a Detroit Pistons team which played a more physical game than the Nuggets.
The Nuggets ended the night with a 17 point loss, and you can read more about their defeat, in a post by Evan Gould right here.
Up next for the Nuggets is another road test, this time against Isaiah Thomas and the Boston Celtics.
This game is scheduled to tip-off at 5:30 PM Mountain Time, at the TD Garden in Boston, Massachusetts. This will also be the Nuggets second game of a back-to-back, and the fourth of a five game road trip.
Want your voice heard? Join the Nugg Love team!
The only likely inactive for the Denver Nuggets is Will Barton (ankle).
Considering how tough their loss was against the Pistons, and the fact that they are travelling 718.3 miles between arenas in less than a day, this one could be a real test for the Nuggets. But here are a few things they should do if they want to win.
Start Wilson Chandler over Jamal Murray
Don't get me wrong, I'm very high on Jamal Murray's potential, but if the Nuggets want to win this game it'd be in their best interest not to start him against the Boston Celtics.
So far, Murray has struggled mightily this season. He's put up incredibly poor shooting percentages and at times has looked out-of-place on the defensive end.
To be fair, Murray has taken great care of the ball when he's in charge of the offense, and he played well against the Detroit Pistons. He finally made his first NBA shot -which was a three pointer- and went on to tally 9 points, converting 4/10 from the field.
However, he is very unlikely to do the same against the Boston Celtics. Why? Because Avery Bradley, that's why.
Bradley is one of the best perimeter defenders in the NBA, and he'd love nothing more than to feast on a rookie guard who has been struggling to get his shots to fall (i.e. Jamal Murray).
So in all likelihood, Murray would continue to struggle if he were to have to play against a player like Avery Bradley. Partly because Murray isn't quite ready to face a backcourt at Boston's level, but mostly because the Nuggets can't afford to play two guards that can't get their shots to fall. That doesn't mean he shouldn't still play a lot of minutes, but he really shouldn't start this game.
This leaves the Nuggets with a dilemma: who can they start in Murray's place?
Let's first go over who can't start due to injury concerns. Well, they can't go with Gary Harris because he's only played one game after a groin injury, and they can't go with Will Barton because he recently suffered a sprained ankle.
That leaves us with three options: Malik Beasley, Wilson Chandler and Jameer Nelson.
Beasley shouldn't start for the same reasons as Murray, and Nelson is probably best when he's utilized off the bench. So that leaves us with Wilson Chandler.
In all honesty, choosing to start Chandler over Murray makes a lot of sense right now. Chandler has put up solid numbers to start this season and he's more than earned his spot in the starting rotation.
Improve Their Passing
One of the Nuggets biggest struggles this season has been their incredibly poor ball management. In their five games, they've converted 23 more turnovers than their opponents combined and have yet to convert less turnovers than any of their single game opponents.
For those who don't know, that stat is incredibly concerning.
They've suffered from the dreaded over-passing, and their lack of timely capitalization has made them more susceptible to sloppy turnovers. This Nuggets squad just isn't quite polished enough to implement a playbook similar to the San Antonio Spurs or Atlanta Hawks.
Simply put, they should be less focused on a complicated offensive scheme, and more focused on converting quality shots. If not, then the Nuggets could be in for a very long night as well as a long season.
Just to show how important this is, I'll leave you with this. To this point the Nuggets have failed to rack up assists, and in turn points for two reasons: 1. poor passing and 2. poor shot selection, mainly due to poor passing.
So if Denver prefers to not have their games decided in the final moments of the game, then they better improve their passing and ball handling.
Keep Playing Through the Jurkic Duo
Look, I realize that you're probably tired of us at Nugg Love bringing up the Nikola Jokic–Jusuf Nurkic duo, but we really want everyone to know that these two can ball.
It seems like every game, at least one of the two is able to drop an incredible double-double and they've been great at giving the Nuggets a size advantage. Sure, they've hit their share of in-game speed bumps, but what NBA frontcourt hasn't?
The duo's shared potential has excited almost every Denver sports fan, and they give the Nuggets the ability to fight against the leagues downward trend in size. If they can continue to find a way for these two to play in harmony, then they could have something very special in the Mile High city.
In order to do that though, Mike Malone needs to play them as much as possible together and let the offense flow through them. They should be especially effective in this game against the Celtics, who are expected to play without Al Horford (concussion), Kelly Olynyk (shoulder) and Jae Crowder (ankle).
If things go well, then this could mean big performances for the Jurkic duo tonight.
This article originally appeared on