Denver Nuggets Outlook: The Center of Youth, Literally
What is the youngest position on the Denver Nuggets roster? It is the center, and the center position could easily be the most talented also!
The Denver Nuggets have caught luck recently in terms of centers. The depth chart has Nikola Jokic as the starting center and Jusuf Nurkic as the second string center.
With the Joffrey Lauvegne trade, it seems that the Nuggets are at a lack of a third string center, but they have recently added Jarnell Stokes to the training camp roster. Therefore, he may be able to nag not only the last roster spot but also the third string center position.
The Denver Nuggets centers have had a great summer.
Jokic was able to perform for his Serbian team in the Olympics- capturing a second place silver medal. And, Nurkic was able to dominate in a failing effort in the Eurobasket games.
Even with some of these failures, each of the big men showed their potential during their foreign affairs. The real question now is if these incredible performances will translate into big time production during the following season.
With all the excitement, we here at Nugg Love will be ready for another great season from the Denver Nuggets big men.
Now, let's take a deeper look at how each can improve and their role in the offense. Can the Denver Nuggets bring back the dual center threat?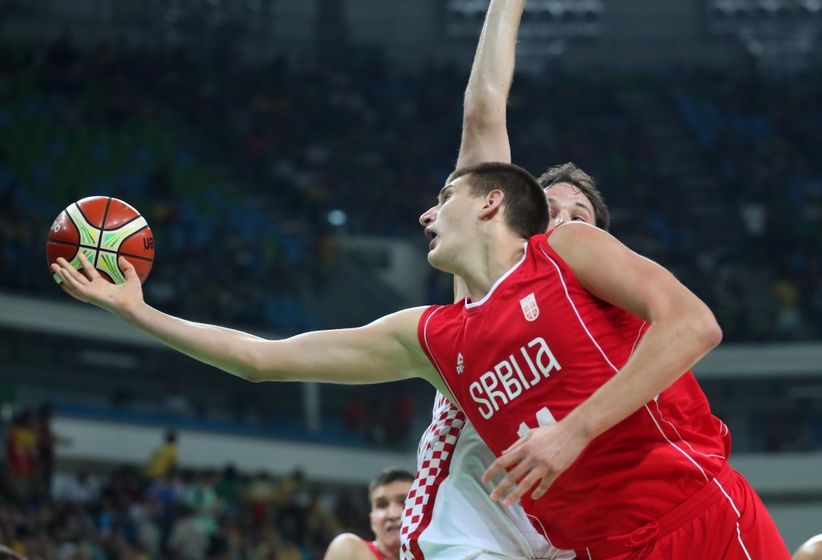 Nikola Jokic – Drafted 41st Overall in the 2014 NBA Draft by the Denver Nuggets
BAM. Is he the future? The Denver Nuggets may have just found a gem in the second round. This gem actually lit up team USA during the Olympics in route to achieving a silver medal.
Denver Nuggets: Will Malik Beasley Sadly Only Get Insurance Minutes?
Nikola Jokic, in what was technically his rookie campaign last season, averaged 10.0 points per game and 7.0 rebounds per game. The Serbian Sensation was also to shoot 81.1% from the free throw line and convert on 0.4 three per game. If Jokic is able to increase his threes per game, he could send this Nuggets offense to limits not yet reached.
With a 58.2 true shooting percentage and a 21.5 player efficiency rate, Nikola Jokic, statistically, had a very solid rookie year which is partially why he landed on the NBA All-Rookie first team.
Jokic started out the season slowly playing only 18.1 minutes per game in Denver's 15 November games. But, he did start to heat up, and by the end of the season, Jokic averaged 25+ minutes per game the last two months and 11.6 points per game in that stint.
To take his game to the next level, Jokic needs to not only transform into a solid defensive player, but he must turn into the Denver Nuggets rim protector. Along with increasing his three point game, Nikola Jokic could turn into an absolute stud this season.
Jokic should continue to see the minutes that he saw at the end of last season. He should get 25+ minutes per game and continue as the Denver Nuggets starting center.
Jusuf Nurkic – Drafted 14th Overall by the Chicago Bulls in the 2014 NBA Draft
This draft was excellent for the Denver Nuggets front court. They eventually acquired Nurkic in a trade which sent Doug McDermott to the Windy City.
In his second season in Denver, Jusuf Nurkic was only able to participate in 32 games. In those 32 games, he only saw 17.1 minutes per game which was worst than his rookie season, actually. In those minutes, Nurkic scored 8.2 points per game and snagged 5.5 rebounds per game.
With a dismal 61.6 free throw percentage, Nurkic's biggest benefit is that he can protect the rim, a task that starter Nikola Jokic struggles with. But, Nurkic's inability to space the floor, and his overall inefficient play (41.7 field goal percentage) could make this upcoming season a make-or-break one.
This upcoming season, Jusuf Nurkic must prove that he can play efficiently. As far as the rotation, he will most likely snag all the second string center minutes, which will end up being about 22+ per game.
Nurkic must take his time and prove to Coach Malone that he belongs.
Jarnell Stokes or Nobody
From Cleveland to Memphis to San Antonio, Jarnell Stokes has had one hell of a ride, and it could end with Denver. Six players are currently sitting on the bubble in Denver, and Stokes may have the best case to be the man.
Stokes is the only body that could play the center position; therefore, making him the lead candidate in my mind. If Stokes is not signed, then it may just be Big Honey (Jokic) or Jusuf Nurkic manning the paint.
Apply to Nugg Love.
Start your application process by filling out the fields below
With the Nuggets and Tim Connelly's aggressive nature, it would not shock me if they found an even more appealing free agent. As it sits, it will be Jokic, Nurkic, and in my opinion Stokes as the three center this season.
The Denver Nuggets with youth at every position will be looking to not only develop that youth but consistently win while doing so. This center position will be a huge spot for the Nuggets this season, and I expect great things from them.
Oh, and remember to give us a like on Facebook!
This article originally appeared on