Dallas Mavericks: Harrison Barnes Is The Present And Future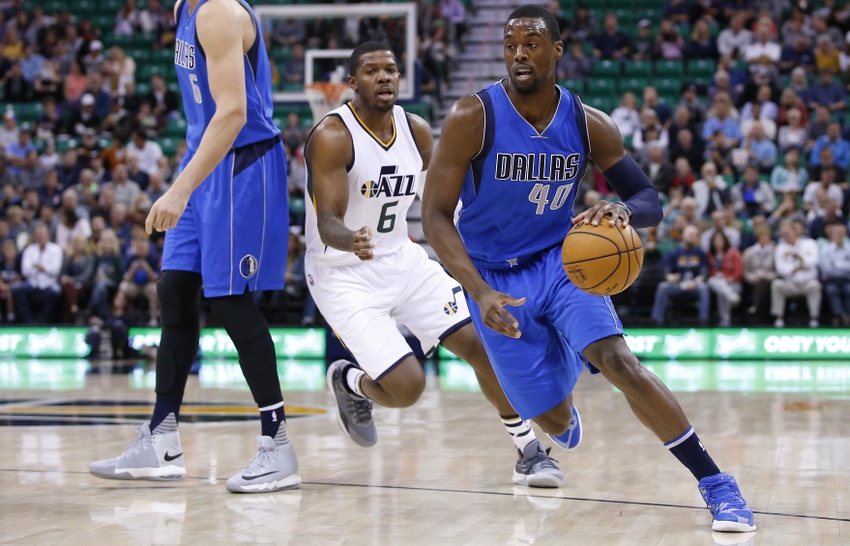 As the season moves along, it's becoming more and more obvious that Harrison Barnes is the solution to one key problem for the Dallas Mavericks.
It's been a long road for the Dallas Mavericks since they won the championship in 2011.
The goal has always been to find a player capable of taking the load off of Dirk Nowitzki, whether that meant becoming the No. 1 scoring option or getting in position to take over for the future Hall of Famer after he retired.
Either way, the Mavs needed another superstar on the team to help Nowitzki as he began to enter the final years of his career.
In 2012, they went hard after Deron Williams–who was believed the be one of the best point guards in the league–and ultimately failed. In 2013, they tried to get dominant big man Dwight Howard before facing heartbreak again.
2014 didn't see the Mavs really enter the sweepstakes for a superstar, but they were one of the teams that met with Carmelo Anthony. Then in 2015, the whole DeAndre Jordan fiasco took place, leaving the team wondering if they would ever find another superstar.
2016 brought about a different approach. Instead of going hard after the big name on the market (Kevin Durant), they went after a couple of other stars more likely to make a move (Mike Conley and Hassan Whiteside). Again, the Mavs came away with nothing.
Dallas Mavericks: 3 Ways to Trade for DeMarcus Cousins
Throughout the span of five failed offseasons, the team received consolation prizes like O.J. Mayo, Monta Ellis and Chandler Parsons–players who spent two seasons or less with the team.
But the Mavs made a unique signing this past summer. They tossed a max contract at Harrison Barnes–someone who was seen purely as a role player with the Golden State Warriors.
The deal was different for a couple of reasons. First of all, Barnes was the youngest potential star the team had signed at just 24 years of age.
Second, he had experience that the other players mentioned didn't have as he had won an NBA championship and a gold medal in the Olympics.
There was a real future that could be made out of Barnes' career that wasn't there with Monta Ellis, who was already in his prime, and Chandler Parsons, who suffered from too many major injuries.
Barnes was about to take on a much larger role than he was used to and was about to be given more responsibility in a system willing to let him shine and touch the ball more often.
In the preseason, he had more rough shooting days, which almost seemed like a hangover from his performance in the 2016 NBA Finals.
However, since the regular season began, Barnes has been all business and is making his case as one of the most improved players in the league this year.
He's averaging more than 20 points per game and he currently has a career-high field goal percentage and free throw percentage. But Barnes' improvement hasn't only been seen on the stat sheet. He's doing things much differently on the court too.
In 2 seasons with DAL Chandler Parsons had five 30pt games… Harrison Barnes has three 30pt games in just 7 games with DAL…

— Justin Termine (@TermineRadio) November 9, 2016
The most notable improvement in his game has been his ability to expose one-on-one matchups. It hasn't mattered who's been guarding Barnes. He's shown positive results in his mid-range game as he's been able to rise above defenders and hit jumpers.
But with Dirk Nowitzki out, he's been getting minutes at the power forward position and has been able to capitalize on matchups that favor him, similar to the way Parsons could when he was in Dallas.
On top of that, he's shown better defense this season–especially against bigger defenders. He's also shown just how clutch he can be.
Barnes hit a game-tying three in the closing seconds against the Indiana Pacers, made some key baskets late that helped the team beat the Milwaukee Bucks and Los Angeles Lakers and hit consecutive jumpers in the fourth quarter against the Boston Celtics to keep the Mavs in the game.
After 10 games, it sure does seem like the Mavs have their future past Dirk Nowitzki. Not only can Barnes serve as a No. 1 option in Dallas, he can also hit late shots with consistency, which is something a true superstar does.
Nowitzki had some high praise for the team's newest star (via Sporting News):
"He has the complete package," Nowitzki told SN. "I've worked out with him a couple of times after practices, and he's got every shot in the book. And he's looked like a franchise player here the last few weeks. He's shown us moves that are very impressive, not only shooting the ball, but driving the ball, both ways. He's got left(-hand) hooks and left runners. He's shown strong post moves. He's athletic. He's a hard worker. He wants to win. So I think the sky is the limit for him."
This season has certainly not gone the way the Mavs planned on it going. They've already fallen into an early hole and some of their best players are injured.
At this point in the year, the Mavs look like one of the worst teams, not only in the West, but in the entire league, and it remains to be seen as to if they can even get back to .500 or not.
For the Mavs, it's not something they're used to. The team has made the playoffs 15 out of the last 16 seasons and hasn't had a losing record during that span of time.
But things don't look good right now, and with Dirk Nowitzki's Achilles injury continuing to cause problems, it could get even worse.
That's where Harrison Barnes comes in.
It sure does seem like Barnes is the future of the team past Nowitzki and I'm sure we'll see the Mavs make efforts to put pieces around him in the future. However, I'd argue that Barnes is already the number one player in Dallas.
He's putting up by far the best numbers on the team. He's the first option the team decides to utilize, and with Dirk Nowitzki out, he's getting an opportunity to serve as the star.
We don't know how long Nowitzki will be out, but it could be a while with how the team is trending. The Mavs could very well tank this season and focus on letting Harrison Barnes grow while the team heads toward the lottery in a draft that is supposed to be loaded with talent.
It's a long season and many things can change, but it sure does look like Harrison Barnes is the future for the Dallas Mavericks. In fact, he's already getting his chance to lead the team and showcase his talent.
This article originally appeared on