Cleveland Cavaliers Vs. Chicago Bulls Season Preview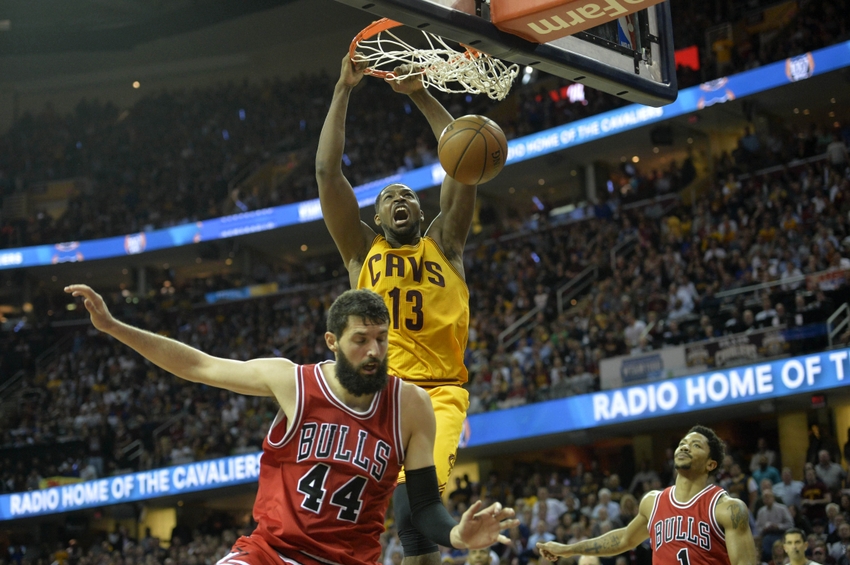 The Chicago Bulls were one of the few teams that won their season series against the Cleveland Cavaliers last year. Can they repeat that success this upcoming season?
When the Cleveland Cavaliers travel to Chicago this season, they will encounter a new-look Bulls team equipped with savvy veterans, however they still don't have enough to challenge LeBron James and Co. for Eastern Conference supremacy.
Strangely enough, the Chicago Bulls were one of the few teams that gave the Cavaliers a lot of trouble last season. The Cavs lost the season series to the Bulls, going 1-3. On the surface that seems surprising. LeBron led his squad to the top seed in the East while the Bulls, in their first year under new coach Fred Hoiberg, missed the playoffs.
The struggles against the Bulls can be attributed to the timing of the games. The first Cavs-Bulls clash happened to be the first game of the entire season. Without Kyrie Irving or Iman Shumpert, the Cavs dropped that game 97-95.
Upcoming

Schedule

10/5

Orlando Magic
10/10
at

Atlanta Hawks
10/13

Toronto Raptors
10/14
at

Chicago Bulls
10/25

New York Knicks
The next meeting between the two teams was Tyronn Lue's first game as head coach. The national media was quick to criticize LeBron and the rest of the organization after General Manager David Griffin fired former head coach David Blatt. Amid the constant turmoil and criticism, the Cavs fell to the Bulls 96-83, playing one of their worst games of the season. After that game, Lue publicly urged the team to get in better shape so that they could play at a quicker pace.
The Cavs finally beat their Central Division foes less than a month later in Cleveland in the first game following the All-Star break for both teams. The last matchup of the year between these two teams was the 80th game of the season. The Cavs had very little motivation to win this game with their playoff fate seemingly already determined, however LeBron, Kyrie and Kevin Love all suited up but only LeBron played well and the Cavs dropped this game 105-102.
Even after posting a winning record in their season series against the world champions last year, the Bulls shook things up this offseason and will be trotting out a brand new group of players this year. Will they be able to sustain their success against the Cavs?
Chicago Bulls Offseason Moves
Bulls Key Acquisitions: Dwyane Wade, Rajon Rondo, Isaiah Canaan, Robin Lopez, Jerian Grant, Denzel Valentine
Bulls Key Losses: Pau Gasol, Joakim Noah, E'Twaun Moore, Aaron Brooks, Derrick Rose, Mike Dunleavy
The Derrick Rose era is over. After seven years of tantalizing potential and frustrating injuries, the Bulls decided it was time to move on from their homegrown superstar.  They shipped him to New York in exchange for Robin Lopez, Jerian Grant and Jose Calderon.
After this trade was consummated, it appeared the Bulls were getting ready to hand over the reins to Jimmy Butler, their new franchise cornerstone and rebuild around him with young talent. After rumblings of a Jimmy Butler-Tom Thibodeau reunion in Minnesota quickly died down, Bulls General Manager Gar Forman chose to go in another direction.
He drafted Denzel Valentine, a four year college player who has seemingly reached his ceiling as a basketball player. Valentine's a very good shooter and a capable ball-handler who can run the offense for short stints, however he's not a great athlete and it's hard to envision him making a substantial "leap" as a player in the next few years.
To replace Rose, Forman went out and signed Rajon Rondo, a veteran, albeit flawed guard who had a nice year in Sacramento last season. Then, in perhaps the most shocking move of the offseason, he brought in Dwyane Wade.
While the acquisition of Wade generated a lot of excitement amongst fans who are excited to see him suit up for his hometown team, it creates real problems on the court.
Make no mistake about it, Wade is still a very good player. He was one of just seventeen players last year to average at least 19 points, 4 assists and 4 rebounds. Even at 34, he's still putting up numbers and contributing to his team's success.
The problem is, throughout his career, Wade has always struggled as a shooter, specifically from three point range. For his career, he's at 28.4 percent from beyond the arc, an abysmal percentage. This past season, despite all his successes, he shot a career-worst 15.9 percent from deep. This wouldn't be such an issue if his teammates were three-point threats, however his new backcourt mate, Rajon Rondo, is just a 28.9 percent three-point shooter for his career.
Throughout their respective careers, Rondo and Wade have also been at their best with the ball in their hands. Last year, Wade struggled while transitioning from playing next to Mario Chalmers, a shooter who doesn't need the ball, to Goran Dragic, a slasher who does his best work with the ball in his hands. The transition from Dragic to Rondo will be even more difficult because of Rondo's poor outside shot and propensity to dribble the air out of the ball.
These offseason moves will make the Bulls a far more interesting team to follow, however it remains to be seen if they will improve the on-court product.
The 2016-17 Season Series
Game One: Cavs @ Bulls – Friday, Dec. 2, 8:00 p.m. (ESPN)
Game Two: Cavs vs. Bulls – Wednesday, Jan. 4, 8:00 p.m. (ESPN)
Game Three: Cavs vs. Bulls – Saturday, Feb. 25, 8:30 p.m. (ABC)
Game Four: Cavs @ Bulls – Thursday, Mar. 30, 8:00 p.m. (TNT)
It's always fun when LeBron and Wade meet up during the season. They're great friends off the court and great competitors on it. They seem to bring out the best in each other every time they meet on the hardwood.
Without his buddies Erik Spolestra and Chris Bosh by his side, Wade will struggle to replicate the success he's enjoyed against the LeBron-led Cavs over the last two seasons. Wade-led teams will always have a chance against LeBron because he knows so much about the Cavs superstar and his tendencies on the court. The Bulls also have one of the few guys in the league who can body up LeBron in Jimmy Butler.
The positives end there.
More from King James Gospel
By bringing in Wade and Rondo this offseason to pair with Butler, the Bulls upgraded the talent on their team but also made themselves much easier to guard. It's hard to win in the NBA these days when your three best players are non-threats from outside. There's been such an emphasis on shooting and "pace-and-space" recently but the Bulls don't seem to be paying attention.
On defense, the Cavs will be content to pack the paint and force the Bulls to beat them from the outside until they proven they can do just that. It's also a bit problematic that, at this point in their careers, neither Rondo nor Wade are above average defenders. One of them will be tasked with guarding Irving all game, an assignment that's not easy. Just ask Steph Curry.
In his two games against Rondo and the Kings last year, Irving averaged 31 points and 8 assists on 55.8 percent shooting from the field. This year, he gets two additional games against Rondo. It's safe to say he'll be excited about that.
The Bulls are hoping to improve and sneak into the playoffs this year, but they have a lot more work to do before they can be considered a credible threat to the Cavs' Eastern Conference throne.
Have the Bulls made the necessary changes to become contender in the Eastern Conference? How will their season series go against the Cavs? Let us know your thoughts in the comments section or follow and tweet us @KJG_NBA.
This article originally appeared on