Cleveland Cavaliers: All Eyes On Iman Shumpert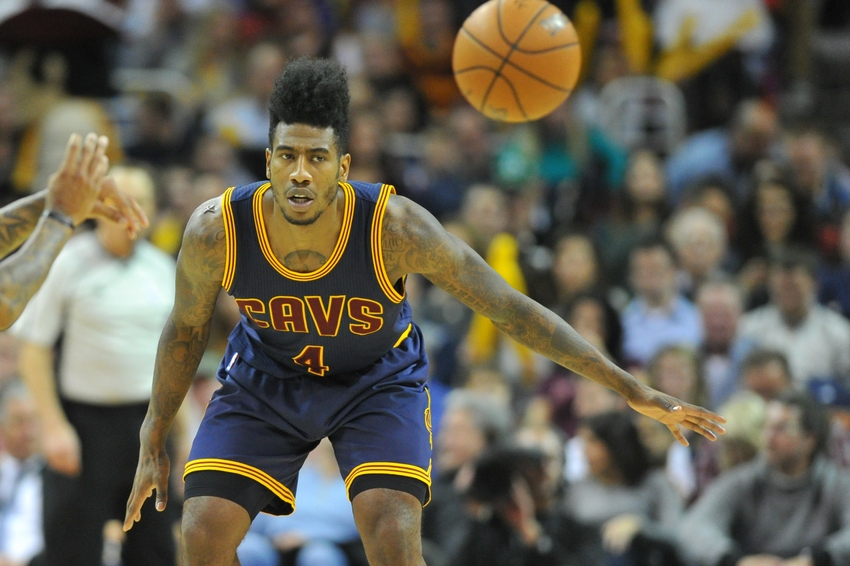 As the Cleveland Cavaliers continue their contract dispute with J.R. Smith, a bounce back season from Iman Shumpert has become an even bigger priority for the team heading into the season.
Another year, another contract dispute has taken the spotlight for the Cleveland Cavaliers before the start of the regular season.
The ongoing negotiations between the Cavs and shooting guard J.R. Smith have continued well into the team's preseason as the team prepares to defend their title this year.  While recent reports have suggested both sides are still relatively far apart in reaching a deal, it's still hard to see Smith eventually landing elsewhere for many reasons.
Regardless, the Cavaliers will now be looking for the next man up (to use some coach speak) to fill the void left by Smith, especially now as the season inches closer and closer.
That's where Iman Shumpert enters the picture.
After re-signing with the team last offseason, Shumpert's first full year with the Cavaliers was far from an overwhelming success.
As it has often been the case in his young career, Shumpert battled through injury and was forced to miss the start of the year, which limited his regular season to just 54 games.
With that setting the tone, Shumpert went on to have his worst offensive output of his young career.  Averaging just 5.8 points per game in 24.4 minutes per game, all of Shumpert's shooting numbers across all metrics ranked the lowest of his career.
From his 30 percent three-point percentage to his 44.4 percent effective field goal percentage (per NBA.com/stats), Shumpert failed to act as an offensive spark on his own, even with any lingering injury effects likely in play.
Although his offensive numbers weren't anything to write home about, it was Shumpert's effectiveness on the defensive end that at least made him an impactful figure for the Cavs last year.
Per ESPN.com's Real Plus-Minus Projection, Shumpert ranked eighth among shooting guards in defensive real plus-minus with a +1.26 DRPM.  In addition to that high mark, Shumpert averaged a net rating of +7.8 points per 100 possessions for the season, thanks in large part to his low defensive rating (100.7 points per 100 possessions).
Although Shumpert's defensive reputation has never been a point of contention, his contributions on the offensive end arguably have never been more in question after his performance last year.
Now with the season looming and Smith's ongoing absence on the court, Shumpert appears to be in line to fill in as the team's starting shooting guard to start the year.
According to Chris Fedor of Cleveland.com, Cavaliers head coach Ty Lue isn't expecting anything different as he fills in the place of Smith:
"Just continue to do what he's been doing," Lue said. "Taking his open shots, his open 3s. In pick and roll situations he has a great in-between pull-up game so we don't mind that at all. Just the same way he has always played. J.R. here or J.R. not here, Shump still has the same role on our team and that's to come out and be a stopper every single night and take and make his open shots."
Even with his numerous struggles on the court, Shumpert's potential as a "3-and-D" wing still remains possible, in spite of his offensive inconsistencies.
Shumpert clearly stands out as a defensive factor for the Cavs and there's no reason to suggest that will change heading into the season.  But as it did during his tenure with the New York Knicks, his susceptibility to injury has already had an effect in his brief time with the Cavaliers and it most notably shows in his offensive production.
As unpredictable as it is, the injury risk to Shumpert looms as a larger threat over the Cavaliers with Shumpert as a starter, especially the longer Smith goes unsigned.
Beyond that, however, remains the pressure for Shumpert to put his offensive struggles behind him, now in a bigger role.  Whether that's the case remains to be seen, but there's no doubt that the Cavaliers need him to do so now more than ever.
This article originally appeared on