Chris Bosh releases statement on next steps after failed physical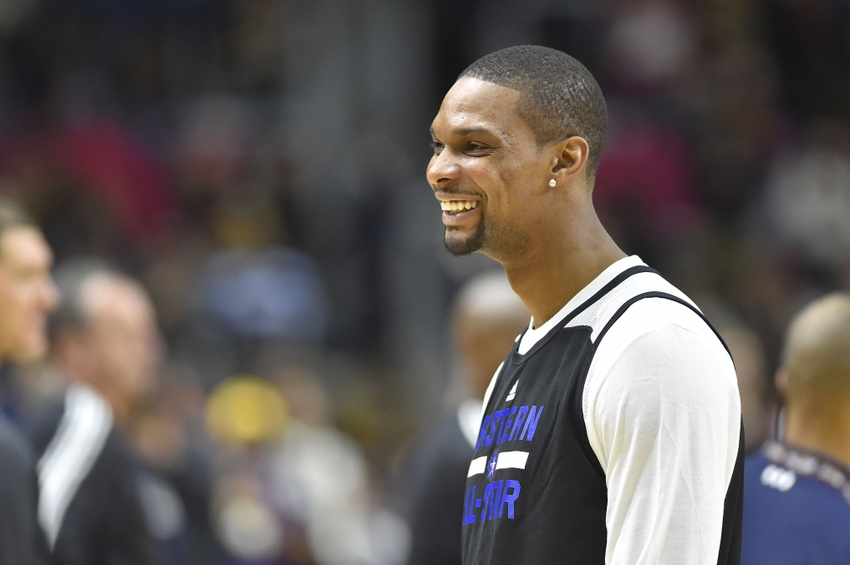 Miami Heat power forward Chris Bosh has released a statement on his next steps after a failed physical that may keep him out of action for the 2016-17 NBA season.
Early Friday morning, news broke from the Miami Herald that Miami Heat power forward and two-time NBA champion Chris Bosh had failed his team physical and would not be cleared to play heading into training camp of the 2016-17 NBA season.
According to The Vertical's Adrian Wojnarowski, Heat officials believe that Bosh's time with the franchise may be at an end because of the blood clots that have sidelined him for significant portions of the last two seasons.
Bosh had been working diligently to return to the court over the summer, posting Snapchat videos of himself going through basketball drills and workouts, but this setback all but rules him out for the upcoming season.
With many wondering if this disappointing and scary health concern would force the 32-year-old Bosh into an early retirement, the 11-time All-Star released an official statement via Uninterrupted:
Surprisingly, Bosh appears to be in good spirits despite the news that will postpone his comeback and possibly end his NBA career. It doesn't seem that this "little setback" has deterred him from making his return to the court in the near future.
"Just because the journey has ups and downs doesn't mean that I will stop sharing with you guys, so I will just continue to share despite what's going on," Bosh said in the video. "Little setbacks happen, but that doesn't change my intentions I want to accomplish."
Last season, Bosh averaged 19.1 points, 7.4 rebounds and 2.4 assists per game, shooting 46.7 percent from the floor and 36.5 percent from three-point range. He missed 29 games after the blood clots that forced him to miss 38 games in 2014-15 returned.
Bosh still has three years and $75.8 million remaining on his contract. Bosh's salary for the 2017-18 season ($25.3 million) becomes guaranteed on Feb. 9, 2017. If the team releases him before then, they're off the hook for his salary, but if he were to return after being released, he could sign with any team except the Heat.
Bosh's health is the primary concern here, however. If this life-threatening problem doesn't get better over the coming months, there's very little chance any NBA team would risk his life by signing him. Bosh may need to come to grips with the fact that his time is done if his health doesn't improve, but it's encouraging he's still in good spirits.
"It's a down moment right now, but everything's gonna be all right."
More from FanSided
This article originally appeared on