Chicago Bulls vs. Miami Heat: 'The Homecoming' Game Outlook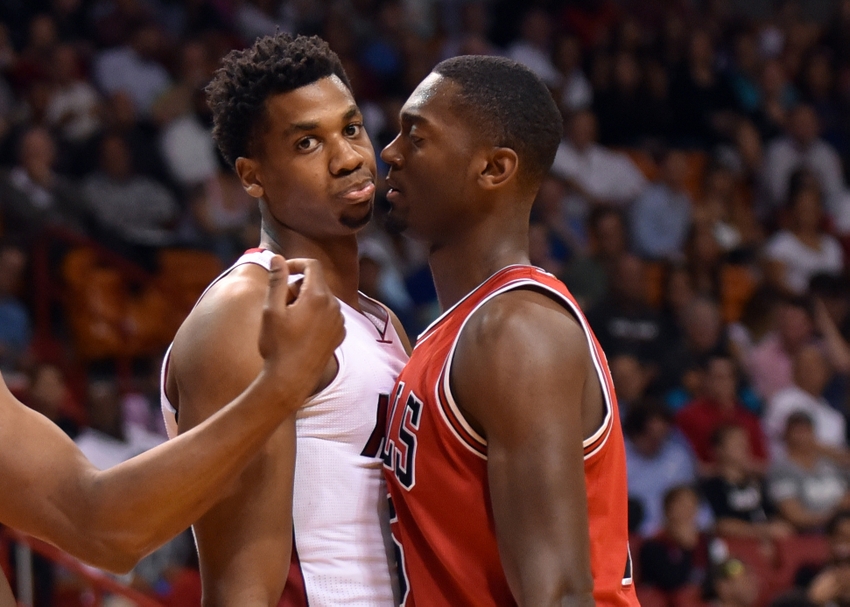 In what is expected to be an emotional night in Miami for Dwyane Wade and Co., can the Bulls find enough in the tank to steal one on the road?
Another week and another back-to-back challenge for the Chicago Bulls, who face the Miami Heat on the road Thursday night.
Dwyane Wade will sure have plenty of incentive for this one. Wade, who is making his return to AmericanAirlines Arena, the place he called home for the previous 13 seasons and guided the Heat to three NBA Championships, is expected to get a hero's welcome.
"I am looking forward to it," said Wade. "Obviously some of those guys I played with. I'm looking forward to playing in the environment I played in for 13 years and even coming off a back to back. If my team doesn't have energy for that night there's going to be a big problem. I expect us to come in and give whatever we have. I want everyone to enjoy the environment, enjoy the moment. It's going to be a great environment to play in. I want our team early in the season to experience playing in that environment. I'll try to seize it."
The Bulls, who come into play today with a 4-4 record (1-3 on the road), are ready back Wade coming into Miami as an enemy for the first time in his career.
The Heat are off to slow start themselves with a 2-4 record and on the losing end of two straight games.
In the end, the Robbins, IL native had the opportunity to play for his hometown Bulls for more money than what was offered by the Heat.  
But it wasn't all about money, it was more a communication breakdown Wade and the front office.
"I thought it was an opportunity I would be there forever, but s–t happens," Wade told CSNChicago.com. "And when s–t happens, you gotta be prepared to (move on). I found out very quickly that this is a business."
Wade insists he's not upset about his departure from the Heat, who drafted him fifth overall in the infamous 2003 NBA Draft.
But it's Pat Riley, President of the Miami Heat, who ultimately decided to go a different direction, not Wade. If you can remember this past summer, the Heat were in on Kevin Durant. Once they realized there was absolutely no shot at landing the superstar, they allocated their funds to lock-up Hassan Whiteside on a four-year max contract. ($98 million to be exact.)
"I've kept in touch (with) everybody there, besides Pat," Wade said. "From the owners on down. It's nothing but respect, and I have no hard feelings. I understand what Pat is, he's a competitor. I've been knowing him for 13 years so I expect no different."
It will be interesting to see whether Wade and Riley get a chance to talk before the game Thursday night. My best guess is yes, especially when Riley has one of his all-time best players and future Basketball Hall of Famer coming back home.
"People might not believe me, but I have no hard feelings toward Pat. Everything happened the way it was supposed to happen, everything happens for a reason, so I'm fine," Wade said.
It looks like Wade is taking the high road, which can never lead you wrong.
I mean, they did win three NBA titles together, something that is impressive in it's own right.
Who's Hot for the Miami Heat:
 Hassan Whiteside


17.5 PPG
13.8 RPG
.556 FG PCT
2.5 BPG
+22.8 PER
Who's Hot for the Chicago Bulls:
Jimmy Butler


23.4 PPG
5.6 RPG
3.5 AST
1.8 STL PG
+24.71 PER
Who's Not for the Miami Heat:
Dion Waiters


9.5 PPG
.319 FG%
+5.2 PER
Who's Not for the Chicago Bulls:
Nikola Mirotic


9.8 PPG
.353 FG%
.267 3P%
+12.69 PER
Projected starting lineup for the Chicago Bulls:
PG – Rajon Rondo
SG – Dwyane Wade
SF – Jimmy Butler
PF – Taj Gibson
C – Robin Lopez
Projected starting lineup For the Miami Heat:
PG – Goran Dragic
SG – Dion Waiters
SF – Justise Winslow
PF – Luke Babbitt
C – Hassan Whiteside
In a game that's expected to be emotional for Wade, it'll be interesting to see how much he'll actually get to participate in the second game of a back-to-back set.
Nonetheless, the nationally televised game (TNT) should be a great way to kick off the Veteran's Day holiday weekend.
This article originally appeared on