Chicago Bulls Sign Thomas Walkup To Training Camp Deal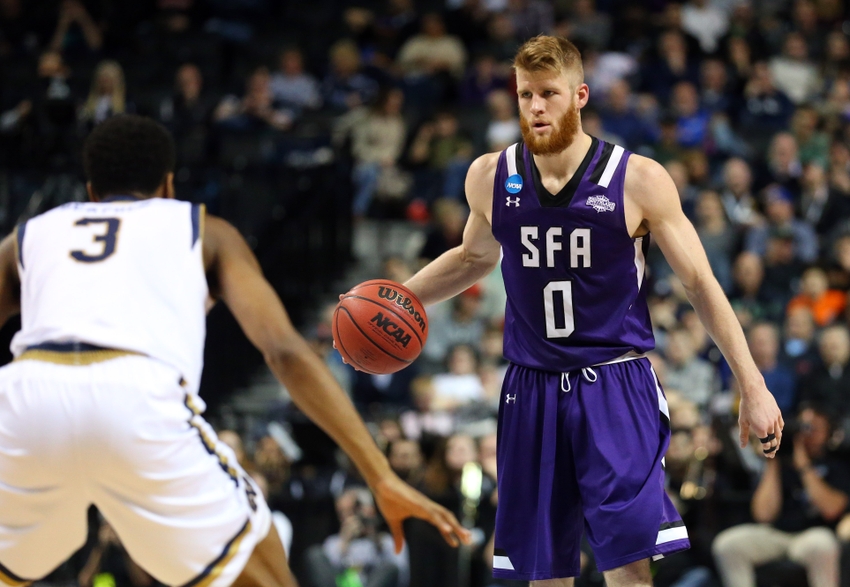 Can the former NCAA Tournament star find his way onto the Bulls final roster?
The Chicago Bulls have signed former Stephen F. Austin wing Thomas Walkup to a training camp deal, which Walkup himself announced via Instagram on Thursday night.
Walkup, 23, made his presence known during the NCAA Tournament in March, when he starred on a Stephen F. Austin squad that, as a No. 14 seed, upset No. 3-seeded West Virginia in the first round before losing a heartbreaker to Notre Dame in the Round of 32.
He averaged 18.1 points, 6.9 rebounds, 4.5 assists, and 2.1 steals per game as a senior last season for the Lumberjacks, which helped him repeat as Southland Conference Player of the Year for the second straight season.
After going undrafted back in June, Walkup will join a Bulls roster which currently has 13 guaranteed salaries on their roster for the upcoming season, according to Spotrac. With the final roster being capped at 15 players, the 6'4″ 200-pound Walkup will be competing for the final two roster spots in training camp with a host of invitees like himself.
To date, the Bulls have five non-guaranteed player expected in camp other than Walkup. The group includes point guard Spencer Dinwiddie, power forward Cristiano Felicio, small forward/power forward J.J. Avila, power forward Vince Hunter, and shooting guard D'Vauntes Smith-Rivera.
The Bulls are much improved across the board, adding hometown shooting guard Dwyane Wade, who still clearly has something left in the tank, while arguably upgrading at point guard as well with the addition of Rajon Rondo, who led the NBA in assists per game last season with 11.7.
Despite the two big names now slated to slot alongside budding star Jimmy Butler in the Bulls starting lineup, it's clear that the Bulls are in need of outside shooting. With Rondo, Wade, and Butler, the Bulls have three excellent slashers to the basket, but lack the shooters on the perimeter to make opponents pay.
The Bulls are hoping that their first round pick Denzel Valentine will be able to contribute outside shooting as a rookie, and that third-year player Doug McDermott will continue to develop into a reliable role player who can spot up and knock down open jumpers. However, outside of those two young players, the team is in great need of more wing depth on the roster.
While it is often difficult to parse who could make the final 15-man roster before training camp begins, it stands to reason that Walkup will have as good a chance as anyone to make his way on the Bulls' final roster, because he could be able to provide the depth of the perimeter that the team appears to so desperately need.
He is a bit undersized to play small forward in the NBA, as he stands at only 6'4″, but Walkup's ability to spot-up on the perimeter and create his own shot are two elements of his game that would be welcomed off the bench for the Bulls, even if that meant playing some minutes at shooting guard.
Regardless, this is all speculation at this point, as Walkup's role, if any, will be defined based on his performance in training camp. His NBA future is unknown, but it is good to see a star player from a Mid-Major conference school have a shot at playing professionally with some of the best athletes in the world in his sport. His performance will be worth monitoring as NBA camps open across the association throughout the next couple of weeks.
This article originally appeared on