Chicago Bulls: Dwyane Wade On Leaving Miami, Coming Home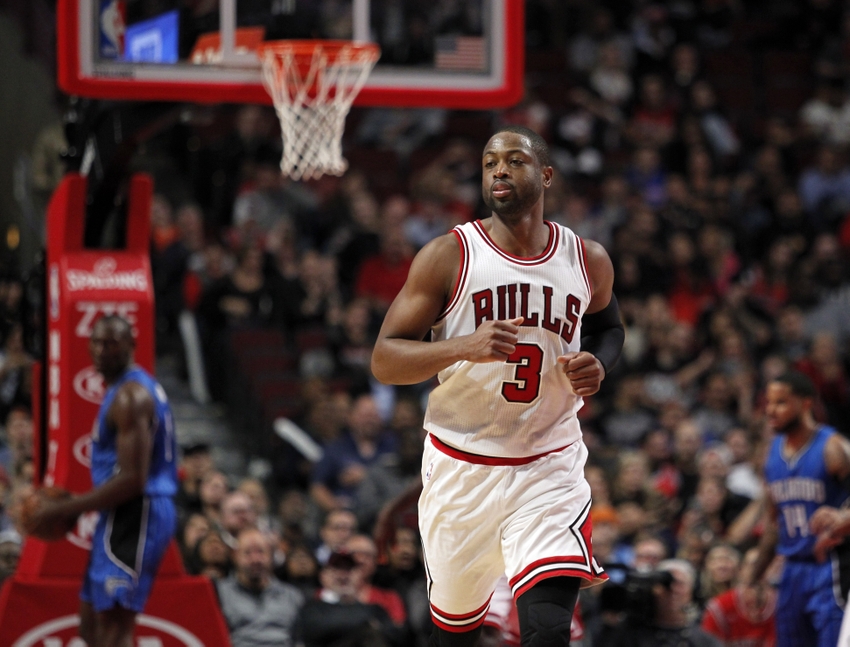 Formerly the face of the Miami Heat franchise, Dwyane Wade finally speaks on why he left and chose instead to start a new chapter with the Chicago Bulls.
A lot happened this offseason in the NBA, but perhaps nothing was more shocking than superstar Dwyane Wade announcing that he was leaving the Miami Heat for the Chicago Bulls.
Following 13 years in South Beach, where he became the face of the franchise, Wade decided to start a new chapter in his career and return home.
Of course, speculation immediately ran rampant. Both the Heat media and fans complied theory after theory, in hopes of discovering exactly what led to this seemingly rash decision. After all, Wade gave no prior indication that he had any plans to leave Miami.
Things appeared to be business as usual once the team's postseason run came to an end. But, oh, how deceiving appearances can be.
As expected, some of these explanations bordered on ludicrous. However, with Wade finally speaking out on what really happened, all of Heat Nation's talks of the veteran and president Pat Riley not being on the same page turned out to be pretty spot on.
"The biggest thing, is all about the way you communicate. I understand this business just as good as anybody. But it's a way, someone like me, a way you communicate what you're trying to do, and how you're gonna do it and what it looks like for me.

At the end of the day, I talked to those guys and I told them, 'It's free agency. I understand y'all have a job to do, and I have a job to do as well.' I let it be known I was going to be a free agent and I wasn't waiting by the phone for them to call me."
In a nutshell, Riley did not exactly have his priorities in order. While getting Hassan Whiteside to stay was obviously important, and searching for another big name to join the team is never a bad idea, Wade should have been dealt with first and foremost.
Especially after he already took pay cuts to play alongside both LeBron James and Chris Bosh. Twice.
Not to mention signing Kevin Durant was a long shot to begin with.
To say Riley made a mistake in the way he did business this time around would be an understatement. But for both him and Wade, the past is in the past. And just as the Heat have learned on how get on, so must Wade.
So why Chicago?
Well, not for the money–the Bulls only offered him $7 million more.
Wade simply did not have Miami in his heart anymore. Instead, he felt a void that could only be filled by returning back to where his entire journey started.
The question now remains, how will this new chapter end for the 34-year-old?
Chicago, going 3-0, started off on a great foot. An organization full of hope and ready to capitalize on new beginnings, the team went full speed ahead. Wade along with teammates Rajon Rondo and Jimmy Butler laughed at skeptics who said they could not coexist on the court together.
Head coach Fred Hoiberg vowed he took to heart all the criticism he received last year, changing his game plan moving forward. The front office spoke of finally having a motivated group under their belts, after getting rid of guys like Derrick Rose and Joakim Noah. It was all picture perfect.
But so are most things, in the beginning.
Now, Chicago is 4-3 after hard-to-swallow losses such as falling 117-104 to the also newly revamped New York Knicks and 111-94 to an Indiana Pacers team that simply annihilated them.
Rondo has gone cold.
Butler is once more speaking against the team.
In a sense, the Bulls … look like the Bulls again.
Wade may not have made his decision based on salary. Nor did he necessarily expect to be a championship contender. But the reality is that history does tend to repeat itself.
And in Chicago's case, this unfortunately means that their hot start could very well pave the way for things to only fall apart in the near future.
The three-time NBA champion may not regret joining the Bulls, but there is still room for a change of heart before his career runs out. Perhaps even back in a Heat jersey.
This article originally appeared on