Charlotte Hornets Look to Snap Three Game Losing Streak Against New York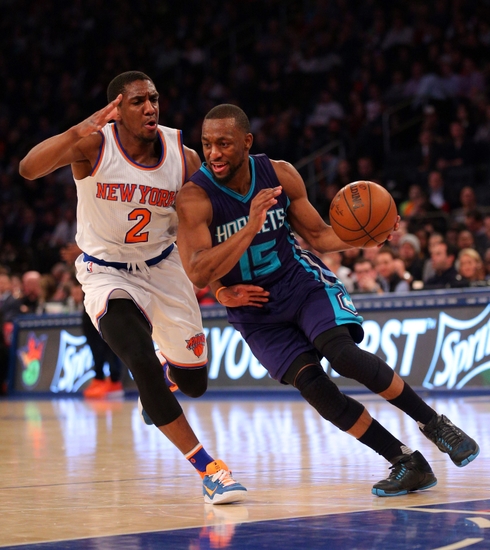 Coming off of a tough loss against San Antonio, the Charlotte Hornets look to end their three-game skid against the New York Knicks today!
Where: Madison Square Garden; New York, NY
When: 7:30pm
TV: FoxSports Southeast/ NBA TV
Radio: WFNZ 610AM
Things to Know:
The Hornets are on national TV again! (NBA TV)
Cody is Back
Cody Zeller participated in the morning shootaround and is expected to start tonight versus the Knicks. It is not a coincidence that the three-game losing streak started with his absence from the starting lineup. The starting five of Kemba Walker, Nic Batum, MKG, Marvin Williams, and Cody Zeller posted a plus/minus of +15.1. The same lineup with Roy Hibbert replacing him was a -.4.
Walker continues his Waltz
Kemba Walker is amazing. He is the heart and soul of this team and continues to impress critics each game. He dances around defenders and makes acrobatic layups look like easy baskets. This tweet going around the web sums up his magical season so far:
Kemba almost got a triple-double during his last outing. He recorded 26 points (4 for 4 from downtown), 9 rebounds, and 7 assists. If he keeps this up, he might find himself in New Orleans during the All-Star break eating Po-Boys and Baby Cakes. Especially if he continues to make highlight plays like this:
Thank you Courtney Lee
Not all heroes wear capes, and not all playoff stars average 20+ points. Last year, the Hornets were looking to make a playoff run after the All-Star break. They shipped PJ Hairston and Brian Roberts to make room for Courtney Lee. He only averaged 8.9 points, 3.1 rebounds, and 2.1 assists while starting for the Hornets, but man was it exciting to see him in the playoff series against the Miami Heat.
He was not quite the defender that MKG is or the offensive threat that Marco Belinelli is, but he was somewhere in between. He deserves a special thank you from Hornets fans much like Al Jefferson. Although he has moved on to the Knicks, he is responsible for one of the most memorable playoff moments in recent history.
Matchup to Watch
Frank Kaminsky vs. Kristaps Porzingis
Both of these second-year players are part of the new wave of NBA big men. They are mobile 7 footers with range from downtown. Kaminsky has shown a steady improvement and it looks like the game is beginning to slow down for him.
He is averaging 11.9 points, 4.2 rebounds, and 2.8 assists. Porzingis, on the other hand, is handling the limelight well. It is clear to Knicks fans that he is the future. He is averaging 21.0 points, 7.3 rebounds, and 1.1 assists. It will be interesting to see these second-year players battle it out both on the low block and on the arc.
More from Swarm and Sting
This article originally appeared on