Charlotte Hornets: Is Nicolas Batum a Second Option?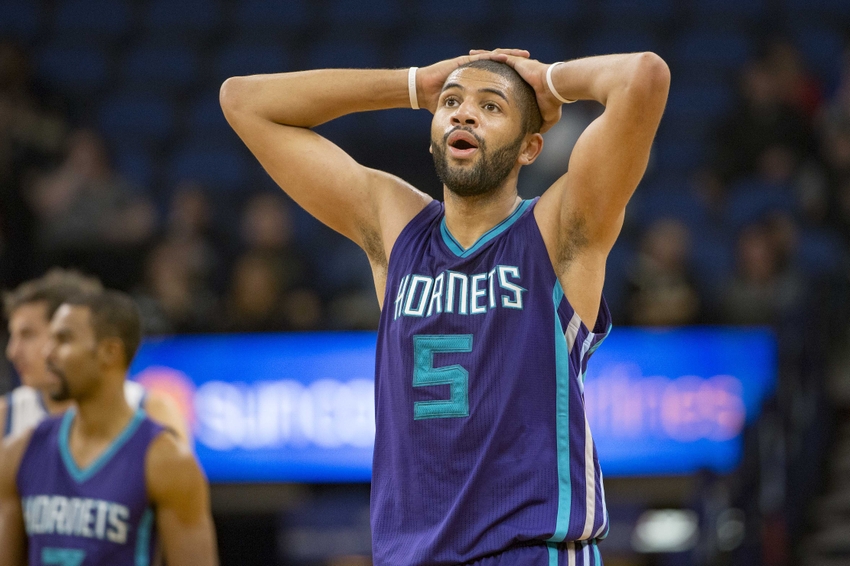 The Charlotte Hornets re-signed Nicolas Batum with the hopes of him being their second option but so far this season, it hasn't panned out the way they'd hoped.
Kemba Walker is the Charlotte Hornets' clear-cut number one option and he will continue to be for some time. Every team needs a strong second option and the Hornets re-signed Nicolas Batum hoping that he would be just that. So far this season, his play hasn't matched his five-year, $120 million contract he signed this past summer.
After having a breakout season last year, Charlotte committed long term to Batum as they saw the potential upside that was sure to follow. Most would admit that Nic has been a disappointment so far in the 2016 campaign. He still has the talent and the time to turn things around but maybe he isn't the second option on a contending NBA team that everyone once thought.
The France international had a career season during his first year with the Hornets and he was expected to improve on that in his second year under Steve Clifford. Instead, he has regressed. Whatever the reason may be (defenses zoning in, shooting slump, etc.) the 27-year old hasn't looked like the star that Charlotte's paying him to be.
More from Swarm and Sting
After averaging a career-high 14.9 points per game, a career-high 5.8 assists per game, and 6.1 rebounds per game last season, Batum has seen his numbers drop significantly this year. He is only averaging 13.4 points per game, 5.2 assists per game, and 6.7 rebounds per game so far this season. The most significant change in his production is in his efficiency. Nic shot 42.6% from the field and 34.8% from the three-point line last year and is only shooting 38.6% and 33% from beyond the arc this season.
Numbers Compared to Other Second Options
Looking at his statistics, Nicolas seems to be a great third option on a great NBA team rather than the second option on a contender. Compared to other second options (second highest scoring player) on every other NBA squad this season, Batum ranks second to last in points per game. He is only ahead of Ersan Ilyasova of the Philadelphia 76ers who's averaging 11.7 PPG.
The league average for the other 29 second scorers on every NBA team is 18.2 PPG which is almost five full points per game ahead of Nic. Based on those numbers, it is clear that Batum isn't the second option Charlotte hoped he would be and the Hornets are lucky they aren't a worse team for it. Only the worst team in the NBA has a worse second scorer on their roster than the Charlotte Hornets do.
Want your voice heard? Join the Swarm and Sting team!
In 17 games this season, Nicolas has only scored reached the 20 point mark two times and has scored in single digits a whopping six times. Besides his rebounding numbers being up, every statistical other category is down for the 6'8 shooting guard this year.
Is he a Second Option?
Was signing Batum to a huge contract a mistake?
It's too early to tell and Nic still has time to turn things around. He is a great player that offers a multi-faceted game that any team would love to have on their roster. It isn;t about him being a mistake, the bigger question is if he is a legit second option going forward?
It is possible that Batum is more of a utility player/third option than the second scorer that Charlotte's asking him to be. He was clearly a successful play with the Portland Trailblazers as a third/fourth option so maybe he is better suited for that role. Whatever the case is, the Hornets are stuck with their decision and they need to decide if they need to add more scoring to their roster or if Nic is enough going forward.
We've all seen what he's capable of and if he can return to form, Batum is a solid player. Nic has had glimpses of stellar play this season but he hasn't been consistent enough to string good performances together. Hopefully, the Frenchman can find his rhythm because the Hornets need him to be at his best if they want to compete and make a deep run in the playoffs.
While there are questions that have yet to be answered, one thing that is clear is that Nicolas Batum needs to step up his play. After receiving such a huge contract in the offseason, criticism of poor play was sure to follow. It is now up to him to turn things around and start upping his help of  Kemba and the Charlotte Hornets as a whole.
This article originally appeared on