Watch a kid run onto the court during a game to hug Carmelo Anthony
Well, that's one way to meet your favorite player.Carmelo Anthony gets a hug in New Orleans. Via FOX Sports South and FOX Sports Southeast

Posted by FOX Sports on Monday, March 28, 2016
Remember that time Stephen Curry invited a young fan onto the court with him to practice his pregame dribbling routine? That was pretty cool, sure. But it's a one in a million shot that your favorite player is going to ask you to join him on the court.
On the other hand, there's the approach taken by the young man in the video at the top of this entry did. He took matters into his own hands, chasing down Carmelo Anthony during a stoppage in play to give Melo a hug.
Now, we can't condone his methods. No one should ever run onto the court or field during a live game, as this kid did during the New Orleans Pelicans' 99-91 win over the New York Knicks. For one thing, the Pels didn't need his help guarding Anthony; Kurt Rambis' supposed offensive system is enough to do that. Also, you know, it's really illegal and not safe.
But for what it's worth, Melo didn't seem to mind too much. He even gives the child a chance to stand tall beside him for a second.
.@carmeloanthony received a hug from a little kid during tonight's game. His reaction: "Very surprised." #Knickshttps://t.co/UmY6cAFP7f

— NEW YORK KNICKS (@nyknicks) March 29, 2016
Then, the kid gets sent off the court and to what appears to be his parental guardian. And even that is amazing; she seems calm, cool and collected:
Still, if she freaked out for a second when the young man ran onto the floor, she's not alone. Check out Pelicans forward Dante Cunningham's reaction. He's the one in white who's wearing the headband, and he wants no part of that small human being on the court.
Can you blame him, though, after the kid creeped up on him like that?
And look at Robin Lopez's face. And Kristaps Porzingis. And everyone, really. As unsafe as this is, it's also amazing.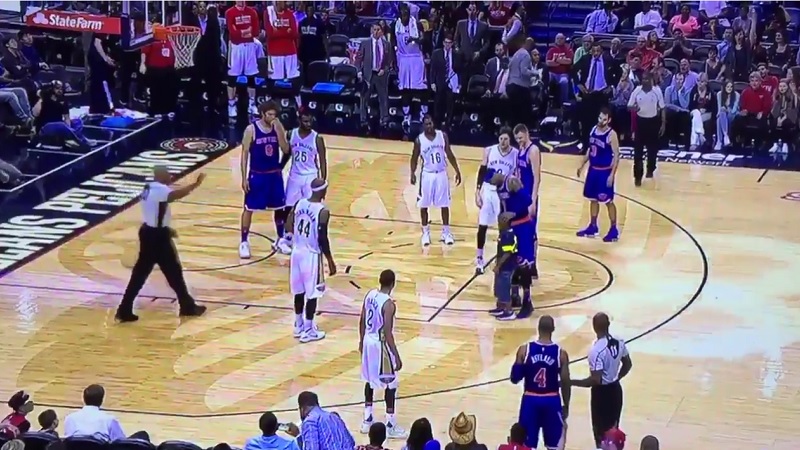 Seriously, though, don't try this at home (or on the road), kids, even if coach Alvin Gentry thought it was kind of cool:
Gentry said he thought the kid that came on the court was great. "Gotta be careful, though. He could slip and fall and hurt himself, okay?"

— Justin Verrier (@JustinVerrier) March 29, 2016