Carmelo Anthony Doesn't Crack Top 20 In SI Top 100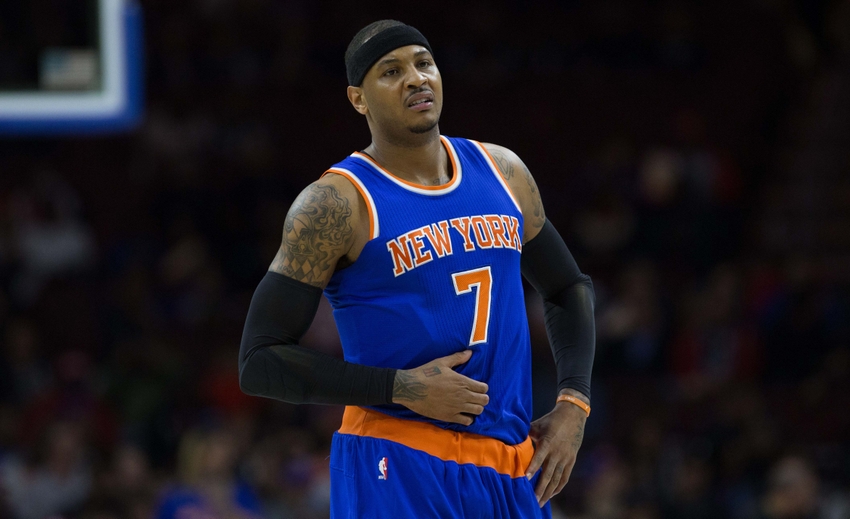 Sports Illustrated has released the full list of the Top 100 Players of 2017. Carmelo Anthony made the Top 25, but he wasn't able to crack the Top 20.
---
Having missed the playoffs in three consecutive seasons, it's fair to question where Carmelo Anthony resides in the eyes of the masses. He's still highly regarded by his peers, but the writers who cover the NBA don't always share the sentiment.
With the release of Sports Illustrated's Top 100 Players of 2017, an answer was provided from a journalistic perspective: Anthony is a Top 25 player.
Sports Illustrated ranked the New York Knicks star as the No. 24 player in the NBA entering the 2016-17 season. That may or may not be a fair place for him to land, but it's certainly not where everyone expected the surefire Hall of Famer to be.
Ben Golliver of Sports Illustrated cited Anthony's age, albeit with a necessary measure of praise for his uncanny ability to put points on the board.
When even Syracuse coach Jim Boeheim is willing to say that it's "unlikely" the 32-year-old Anthony will ever win a title, it's hard not to feel Father Time closing in. Still, Anthony remains a dependable scorer in isolation, in the post and when using screens.
A fair evaluation, but one can't help but believe Anthony is better than No. 24.
Some of the players ranked ahead of Anthony include Al Horford, DeAndre Jordan, Paul Millsap, and 2016 Rookie of the Year Karl-Anthony Towns. More established players include Team USA teammates Jimmy Butler, Kyle Lowry, and Klay Thompson.
Anthony thoroughly outplayed all three players at the 2016 Summer Olympics, albeit under FIBA rules.
The fact that Anthony and the Knicks haven't made the playoffs since 2012-13 undoubtedly hurts his ranking. Injuries and relative inefficiency are temporary as it pertains to Anthony, but three straight years out of the playoffs is extensive.
Thus, while it may be fair to believe he should be ranked higher, leading New York back to the postseason would likely push Anthony higher on the totem pole.
In 2015-16, Anthony averaged 21.8 points, 7.7 rebounds, 4.2 assists, and 1.5 3-point field goals made per game. Only three other players averaged at least 21.0 points, 7.0 rebounds, and 4.0 assists in 2015-16: Kevin Durant, LeBron James, and Russell Westbrook.
Only Anthony, Durant, and Westbrook did so with at least 100 3-point field goals made.
Fresh off of becoming the only male basketball player in Olympic history to win three gold medals, Anthony has enough momentum to combat this ranking.
This article originally appeared on