Brooklyn Nets: Justin Hamilton is an Offensive Spark Plug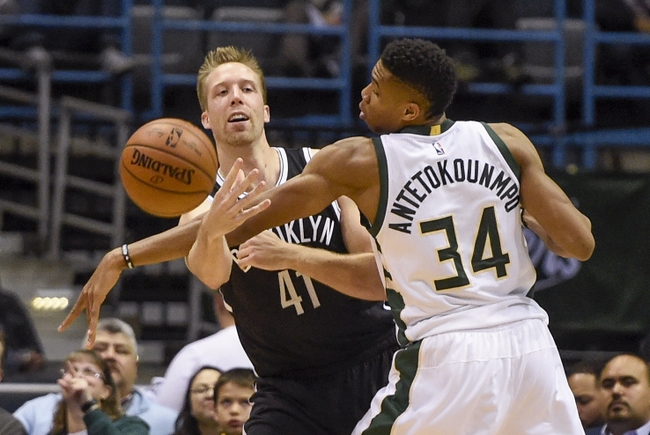 Serving as the understudy to Brook Lopez, Brooklyn Nets center Justin Hamilton has emerged as a spark plug in the offense so far this season.
In what seemingly came out of nowhere, Justin Hamilton finds himself not only in a steady rotation with the Brooklyn Nets, but in a surprisingly important role.
Want your voice heard? Join the Nothin' But Nets team!
The 26-year old bounced around the NBA to begin his career, playing with the Charlotte Hornets, Miami Heat, and Minnesota Timberwolves in the span of his first two seasons.
After leaving the NBA for a season to play overseas, Hamilton signed a multi-year contract with the Nets this past July. Since then, he's played backup to Brook Lopez and has built himself a consistent spot in the rotation.
Hamilton made an immediate impact on the Nets, putting together a double-double with 10 rebounds and a career-high 19 points in the first game of the season.
In his first 11 appearances this season, Hamilton has exceeded previously low expectations. Entering Friday, he was averaging 8.8 points per game and 5.1 rebounds per game in 23.6 minutes of play. While those numbers may not seem all that impressive, they surely don't tell the whole story.
More from Nothin' But Nets
Despite being on three NBA teams prior, Hamilton hasn't had a role like this before. He only played more than 20 games on one of the team he played on, and on that team he averaged 10.8 minutes per game in 31 appearances.
So what exactly is causing this sudden spark from Hamilton and what does he provide?
Versatility and Efficiency
So far this season, Hamilton has shown that he is versatile and efficient, and that he deserves to be a part of the rotation.
Particularly, his shooting has been a big reason for his offensive surge. His field-goal percentage has been extremely efficient, as he has shot 50.7 percent from the field, good for second on the team (0.2 percent behind Luis Scola).
More impressively, the backup center is also second on the team in three-point percentage, shooting 42.9 percent from behind the arc as of Friday. Hamilton is one of two Nets that average more than 35 percent from three this season.
That's no fluke either, as Hamilton attempts the sixth most three-pointers per game on the team and is tied for making the third most threes per game.
As the three-pointer becomes more valuable as time goes on, this makes Hamilton carry much more value to the offense. If the Nets ever need a big three or simply need to give Lopez a rest, Hamilton has proved he is reliable.
With this kind of shooting versatility and efficiency, Hamilton figures to continue seeing the floor for 20+ minutes per game.
As usual, Lopez has been one of the stars for the Nets this season. But obviously, he won't play 48 minutes per game. With the emergence of Hamilton, the Nets are a deeper team, and have a threat at the center position at all times.
Will Hamilton ever take Lopez's job? Definitely not, and he was not brought in to do so. However, Hamilton is doing just fine in his role, and he will certainly remain an offensive spark plug off the bench for the Nets going forward.
This article originally appeared on