Brooklyn Nets: Examining The Brook Lopez Dilemma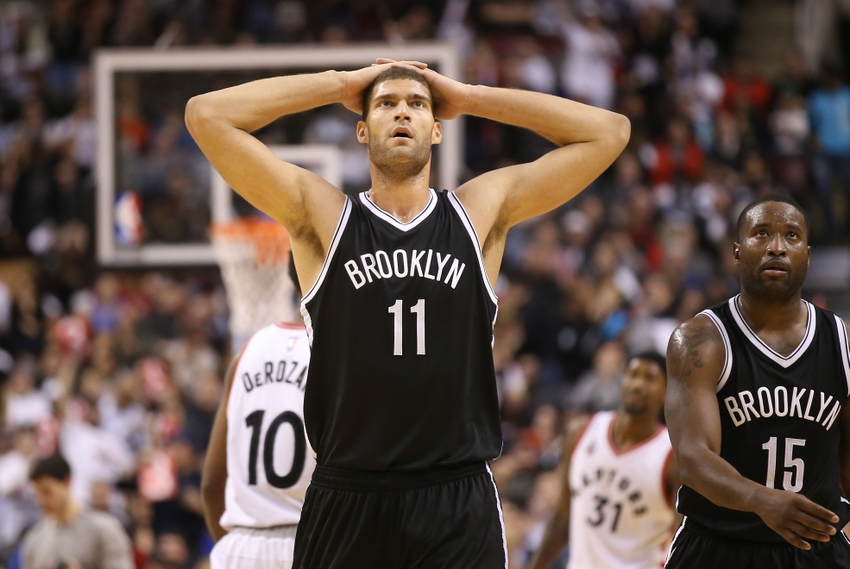 The Brooklyn Nets are in the beginning stages of a long and laborious rebuild, one that is without major draft assets for the foreseeable future. Could Brook Lopez be the key to help speed up the process?
It's safe to say that winter has finally come for the Brooklyn Nets.
After their failed attempt to cash in their assets and go all in on the present, the Nets are now staring at a barren and bleak future, one that offers little hope for fans in the coming years.
While one could argue that their bleak present arrived awhile ago, the big difference now compared to, say, 12 months ago is that the Nets have now fully embraced (admittedly, by default) the gravity of their situation.
Of course, that started with the hiring of Nets general manager Sean Marks during last season and continued this summer with the addition of rookie head coach Kenny Atkinson, whose rich history in player development makes him a perfect candidate to lead the team in uncharted waters.
The hiring of Atkinson, in particular, definitely had an effect on the team's biggest addition this summer, Jeremy Lin, who signed a three-year, $36 million deal.
Lin aside, the players the Nets sought this offseason — ranging from veterans like Luis Scola and Greivis Vasquez to castoffs like Anthony Bennett and Joe Harris — all add up as an interesting roster that will have to commit to a unique and unprecedented situation.
However, a big question hangs over the Nets as they embark on their reclamation project, which regards their one and only remaining centerpiece from their unsuccessful run at true, lasting success.
A former All-Star, Brook Lopez stands tall (both figuratively and literally) as the Nets' top talent and lone significant asset.  Since being drafted by the team in 2008, Lopez has had his various ups and downs in his nine-year career, not unlike the team's trajectory throughout his tenure.
At his best, Lopez is a highly skilled big man that's most effective on the offensive end.  Lopez has built himself into becoming a consistent scorer (averaging 18.3 points per game in his career) that's capable of punishing down low or hitting shots from the midrange area.
On the flip side, Lopez carries red flags, with the biggest being his injury history after he was forced to miss significant amounts of time in two separate seasons due to repeated fractures to his right foot.
Yet Lopez's loyalty to the franchise has outweighed any speculation or efforts that suggested he'd be playing elsewhere.  At the start of free agency last summer, Lopez quickly committed to a three-year, $63 million deal with the team, despite the Nets' increasingly dreary future.
To his credit, Lopez's allegiance to the Nets is incredibly uncommon in this day and age and it's only made more admirable considering the team's dismal present.
With that said, that dedication to the Nets really only benefits the team itself as he represents their single lottery ticket (again, figuratively and possibly literally) if they truly want to jumpstart their building for the future.
Obviously that's a decision that's much easier said than done, and considering the saturated market for rumored available big men, there are many stumbling blocks that stand in Brooklyn's way if they choose to go that route.
Nevertheless, the decision to just entertain trading Lopez is one that's not on their side, time-wise.  With Lopez having two years remaining on his contract, the window is closer to being shut for the Nets if they really want to strike it rich.
Again, it's not a decision that they will take lightly, especially since this is the one chance they have to get a remarkable return as it stands now.  That means there's no real margin for error for the Nets, which adds more complications to an already complicated situation.
As the Nets start to lay the groundwork for the long road ahead, they're tasked with a tough decision that possibly determines the playing future for one of their most tenured players in their history.
It may not be a debate that's all that challenging to us as we stand on the sidelines.  But for a team that's searching for ways to find hope for the future while in the present, the Nets have to act relatively fast no matter which route they take.
This article originally appeared on