Brooklyn Nets: Chris McCullough Improving in Both NBA and D-League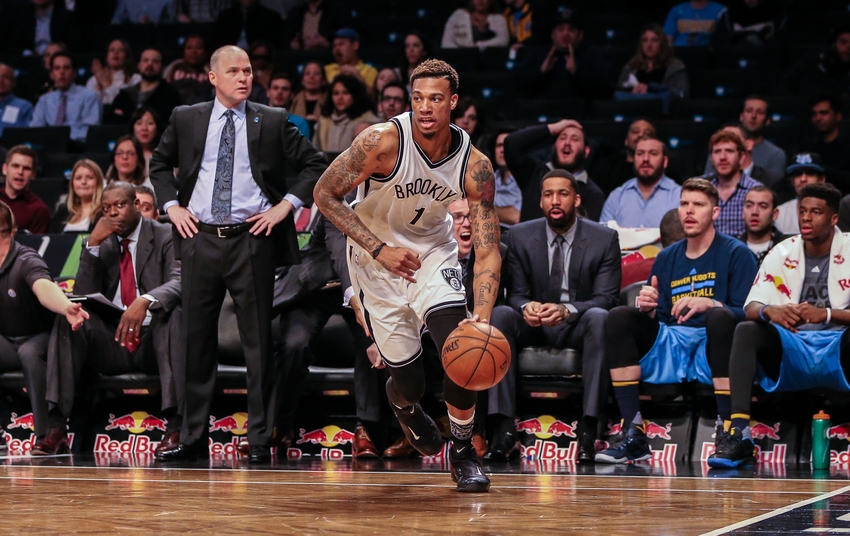 The Brooklyn Nets drafted Chris McCullough hoping to find a diamond in the rough. He's played in both the D-League and with the big club, and his athleticism and potential create hope for the Nets' future.
There's little doubt about it: when the Brooklyn Nets drafted Chris McCullough in the summer of 2015, they were taking a home run swing.
Want your voice heard? Join the Nothin' But Nets team!
McCullough, now 21, spent just one year at Syracuse before declaring for the NBA Draft. He averaged 9.3 points, 6.9 rebounds, 1.1 assists, 1.7 steals and 2.1 blocks in 28.1 minutes for 16 games, before a dreaded ACL injury ended his season in January.
There were flashes of elite athleticism and top-tier talent in those 16 games, but ACL injuries are a treacherous place. No team could be assured McCullough would recover and have an NBA career.
The Nets, their current assets unappealing and their future draft cupboard bleak, took a chance. They drafted McCullough with the 29th overall pick.
More from Nothin' But Nets
Since then, McCullough has worked his way back, but what kind of player he will be remains largely unknown. 
It may be early in the season, but the Nets have already shown a clear interest in the development of younger players. They are taking full advantage of their D-League affiliate in its first year. The front office moved quickly to add Yogi Ferrell when the team needed a point guard. McCullough has, similarly, been back and forth between clubs several times already. At times, he practiced with the Long Island team before dressing for games with Brooklyn. 
He had a big role playing in both of the Long Island Nets' first two games. The sophomore averaged 17 points and 6.5 rebounds in 25 minutes per game, while shooting above 50 percent.
Head coach Kenny Atkinson is also working to get him reps against NBA competition. He's given McCullough minutes in four of the team's first ten games. McCullough's averaging just seven minutes thus far, so stats are a little hard to come by, but his hunger has definitely been noticeable.
His play Monday night against the Clippers was instructive. The Nets were lacking firepower playing on the first night of a back-to-back without Jeremy Lin and Brook Lopez, and they struggled all night. But McCullough refused to let an opportunity slip away. He finished with 13 points in just 12 minutes of action, connected on six of his nine attempts, sunk a triple, and blocked two shots. That kind of player–an athletic, switchy forward who can make threes and change the game on defense–is a very valuable commodity in the modern NBA.
Those numbers should be taken with a grain of salt. They, and the large majority of McCullough's minutes thus far, came in a blowout. But getting McCullough reps is very important this season, and he's already shown he can take advantage of them.
The most encouraging sign for Nets fans? McCullough seems more than willing to put in the work, regardless of what league it comes in.
"It was good for me going down and getting a chance to play," McCullough told Newsday. "The more experience I get, the more comfortable I get."
Look for Atkinson to continue giving McCullough more and more minutes this season. If he can continue to progress, he may just be the home run the Nets hoped for.
This article originally appeared on