Brooklyn Nets: Can We Expect More Inside Play From Bojan Bogdanovic?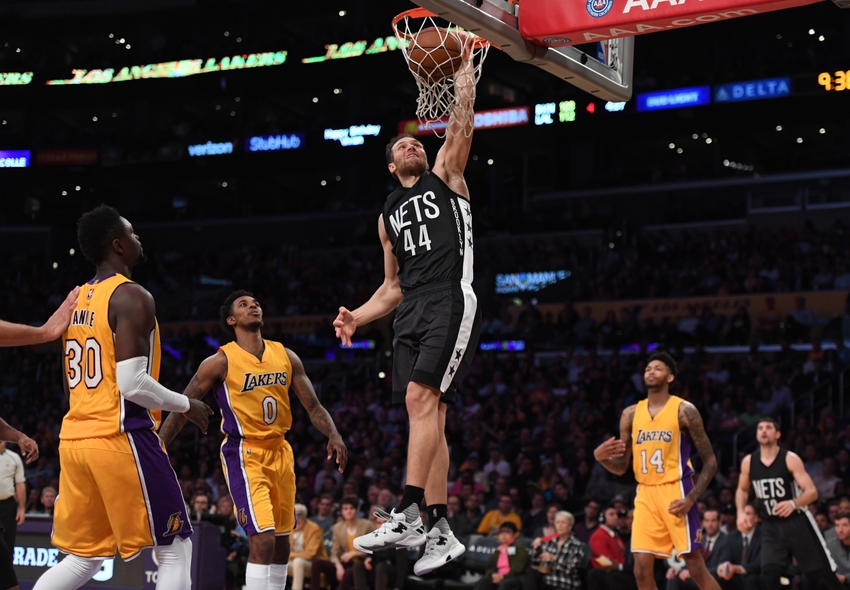 Bojan Bogdanovic has had a good season so far for the Brooklyn Nets. Known as a three-point shooter, the Croatian has started to become more nifty and explosive.
If anybody watched the Brooklyn Nets game against the Lakers, you know how great of a game Bojan Bogdanovic had. Bogdanovic scored 29 points on 11-of-19 shooting, including 2-of-5 from long range. Those seem like good stats from a good game, but, it was the eye test that he passed.
Want your voice heard? Join the Nothin' But Nets team!
The Croatian was not settling for long range shots; he was driving to the hoop and using his footwork to get open and good shots. Bogdanovic even showed his power with, what Ian Eagle called, a foreign facial, slamming a dunk home over fellow foreigner, Timofey Mozgov.
In the second quarter, he drove to the left side, used a ball fake, turned around, faded away, and banked the shot in off of the glass. Ian Eagle exclaimed it as nifty, and, man, nifty it was. In the third, he had a seamless give and go, which allowed him the easy two-handed slam on the baseline.
After several poor performances in a row, seeing this new Bogdanovic is really reassuring. From November 4 to November 12 (Charlotte, Minnesota, New York, and Phoenix), Bogdanovic did not shoot better than 33.3 percent from the field and did not have a game where he scored more than 14 points. The 14 points came against Charlotte because he attempted 17 shots. His combined field-goal percentage in those games was 26.8 percent and 6-of-24 (25 percent) from long range.
More from Nothin' But Nets
Then, Bogdanovic stepped foot into Los Angeles. Against the Clippers he went 8-of-11 for 18 points and 11-of-18 for 29 against the Lakers. Bogdanovic was fired up during the Lakers game, especially after his foreign facial.
If Bogdanovic can bring this energy, production, and style of play every night, he will be an integral part of this lineup at the two or the three. Having the ability to drive and slash and score in the paint will keep teams off-balance whom have become accustomed to just guarding him from behind the arc.
It is imperative that Bogdanovic keeps up this style of play because Brooklyn (including Bogdanovic), shoot way too many threes on a nightly basis. If he can eliminate a three or two for a better shot closer to the basket and bring energy to the team while getting these points in the paint, it can only help this team get better. It is a motion offense because people and the ball need to move, not stand still and shoot threes.
It will be interesting to see which Bojan Bogdanovic Nets fans see tonight against the Oklahoma City Thunder. Will he be stagnant and shoot all long balls, or will he be the gritty and energized Bogdanovic we saw this week in Los Angeles? No matter which one Nets fans get tonight, Bogdanovic needs to do more of what he did against the Lakers all season long, even if it is not every night.
This article originally appeared on