Boston Celtics vs Detroit Pistons Player Grades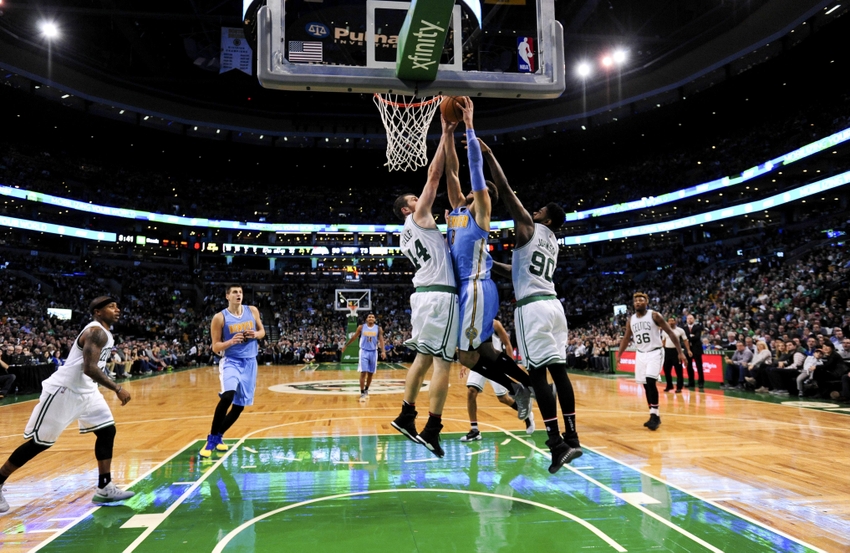 The Boston Celtics fell to the hot shooting Detroit Pistons on Wednesday night at the Garden.
The Pistons shot 55.2 percent, Boston finished at 44 percent in a high scoring game.
A 9-0 from the Pistons once the Celtics took the lead helped seal the win for Detroit.
The starters had some struggles on the night with Isaiah Thomas leading the way with 27 points.
More from Hardwood Houdini
Player Grades
Isaiah Thomas: B-
27 PTS 0 REBS 4 ASTS –
16 points in the first half made it look like he was in for a big night but he failed to score in the final quarter when the Celtics really needed their star to step up. Flashy round the back move to set up Kelly Olynyk in the first quarter was his highlight of the game
14 PTS 6 REBS 0 ASTS
A very poor offensive first half for Bradley, as he failed to score a basket. He finally broke that drought with 5 minutes to go in the 3rd quarter and was solid from there on. He tried to bring the Celtics back with three late threes but it wasn't enough. Not a great defensive game for Bradley as he tried to contain Kentavious Caldwell-Pope but was much less effective than their first meeting.
Jae Crowder: C
14 PTS 5 REBS 4 ASTS
Crowder had a solid, but not spectacular night on the offensive end and missed a few open shots. That shows in his stat line with 5-15 and 2-10 from deep, which is unacceptable with the way the Pistons played. Like many other Celtics, it wasn't his best night defensively as he tried to contain Tobias Harris and Marcus Morris. Crowder was also finally playing without a limits restriction in his sixth game back from his ankle injury.
Amir Johnson: C-
11 PTS 5 REBS 1 ASTS
Impressive early, Johnson was very active getting some offensive rebounds and setting up the start for the Celtics, but he faded after that and had some trouble with Andre Drummond on the boards. That being said, an overall solid outing from the big man.
Al Horford: C-
9 PTS 5 REBS 4 ASTS
A relatively quiet night for the Horford who only took five shots. You could forgive him if his mind was on other things after missing the Miami game to attend the birth of his child. A big block on Harris is the highlight for his game as he continues to work his way back from his long layoff with concussion.
4 PTS 4 REBS 1 ASTS
Jerebko failed to do much in a match up against his former team. 2 of 2 shooting and four rebounds in a quiet performance for a man who had been playing great basketball before that after a slow start.
Jaylen Brown: N/A
0 PTS 0 REBS 1 ASTS
The rookie played just four minutes and failed to score, looked a little tired and didn't get on in the second half.
Tyler Zeller: N/A
1 PTS 1 REBS 0 ASTS
Only one point and one rebound for Zeller, who only played four minutes in the game.  He didn't do much in those four minutes which may be why Coach Stevens didn't put him back in the game where they suffered in the paint.
Kelly Olynyk: A
19 PTS 3 REBS 2 ASTS
A very good first quarter spurt for the big man set up his season best 19 points.  He shot 7-9 from the field he continues to get better as he works his way into form after missing the start of the season due to injury.
Marcus Smart: C
12 PTS 2 REBS 3 ASTS
He played the way he always does, full of energy and aggression. Made two threes but shot eight of them which may have been too many for Coach Stevens' liking. A knock to the head in the 4th quarter left him dazed but he played on and had an impressive put back dunk.
Terry Rozier: C+
3 PTS 2 REBS 6 ASTS
He lead the Celtics in assists for the night and continues to look more and more composed in his second season. He put the team in front for the first time since the first quarter early in the last quarter with a big three point play.
Gerald Green and James Young both didn't get into the game.
The Celtics next play host to the Sacramento Kings before hitting the road after that.
This article originally appeared on