Boston Celtics: Demetrius Jackson has Fallen Too Far Behind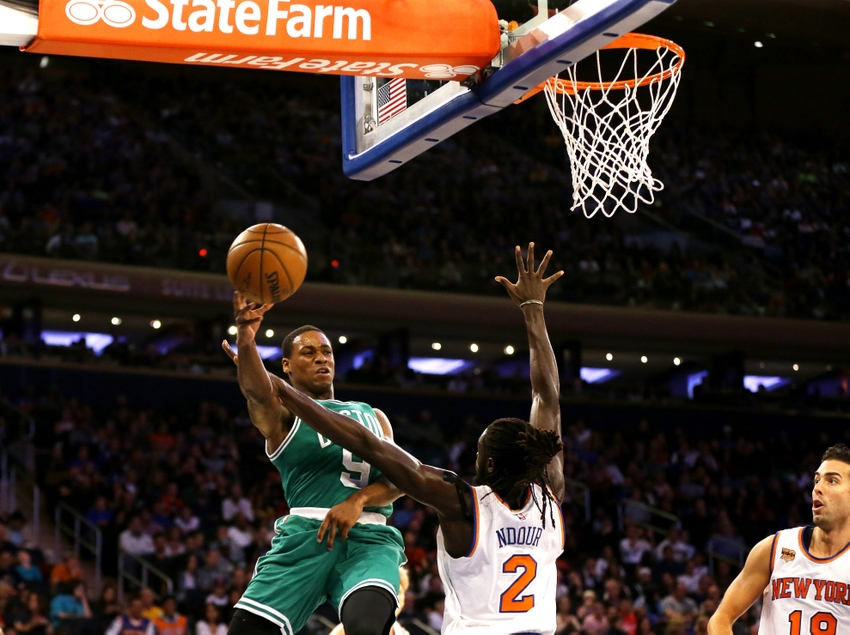 Don't expect Demetrius Jackson to be on the opening day roster
Entering preseason, Demetrius Jackson was on the outside looking in and was a long shot at best to be on the Boston Celtics opening day roster. There was, however, some optimism based on the idea that the Celtics gave him a tremendous contract with a fair amour of guaranteed money. The Celtics have always invested in their guard depth and there are openings on the second unit.
The problem for Jackson is after the Celtics gave Jordan Mickey a tremendous contract as a second rounder, they made it clear that they have no problem being patient and letting these investments develop before ever getting on the NBA court.
More from Hardwood Houdini
While the likely scenario is that Jackson will be nothing more than injury insurance, he does address an area of need on the second unit. The Celtics have been searching for offense on for their second unit, particularly in the back court. Gerald Green should feel safe, but James Young and R.J Hunter were hardly sure things going into the preseason.
In three years at Nortre Dame, Jackson shot better than 40 percent from three twice, for a career average of 38.1 percent. The Celtics desperately need shooting on their second unit and that is the one area that Jackson could have the quickest impact. The problem is that the same thing goes for both Hunter and Young, and it feels as though the two of them have separated from Jackson, leaving him out of legitimate contention for the final roster spot.
Both Hunter and Young have had flashes of top potential this preseason. Young has continually scored in bursts, at an incredibly efficient rate. Young had that 3/3 game to start out the preseason, and has maintained a three point percentage just under 43. Young has also shown signs of growth on the defensive end, as well as a developed understanding on how he needs to play in order to contribute in multiple ways.
Hunter has lacked consistentcy, but he has arguably the best performance by any Celtic this preseason. In just 12 minutes played against the Knicks, Hunter had a team high 17 points on 75 percent shooting. Hunter was able to attack and score all over the court, and that is the kind of performance that will earn Hunter more opportunities in the future.
Jackson has not been bad this preseason. He has shot efficiently and has been able to consistently get over 10 minutes per game. The problem, however, is it was never much more than that. Jackson has not been utilized the way Young and Hunter have, and it has left him as the most complimentary player out of the three of them.
Right now, Jackson has done nothing in preseason that would prompt the Celtics to feel like he deserves those opportunities over Young or Hunter. Those two also have the experience over him. Young has taken his time, but it appears as though they both have a decent understanding of the kind of aggressiveness and energy that is needed at all times on the court with the Celtics. Terry Rozier and Marcus Smart are great examples of players that manages to establish that comfort as rookies, but Jackson has not been showing any of those signs.
Given his contract, the Celtics clearly like the long term outlook with Jackson. The Celtics need shooting more than they need anything else, and they will be patient enough to see if Jackson can have an impact in that area. For now, that will almost certainly keep him off the opening day roster.
Especially with the added expectations and potential stability in their lineup, Stevens will not want to waste any more time putting players on the court simply to see them develop. The Celtics have had that freedom in the past, but their talent level has continually increased, and their depth also remains valuable.
It would always be hard for Jackson to earn a spot in the second unit back court, and there still is time left in the preseason. Jackson should continue to get minutes, but he cannot expect any opportunities beyond this at the NBA level, for now.
The Celtics have a lot of stability with their guards and that roster spot is likely to spend the majority of the time on the bench in any case. Young and Hunter have had their time in the D League. They have been able to play with that added responsibility and freedom, while getting consistent minutes.
The Celtics will not want to glue Jackson to a bench for his rookie season. They want to get a better and longer look at what he can offer. Young has been on the team the longest and that may end up being the edge that lands him the roster spot. That being said, Hunter has proven that he can get comfortable in Stevens' system quicker than it is taking Young.
Jackson could always make an appearance the way Rozier did, through injury. Jackson will always be extra depth for the Celtics, but even if he got called up, that would be more to fill the roster spot than give him consistent playing time.
Jackson should feel comfortable that the Celtics will be patient enough to give him ample opportunities. Right now, those opportunities will not be coming in the NBA.
This article originally appeared on