Atlanta Hawks defeat the Sacramento Kings 106-95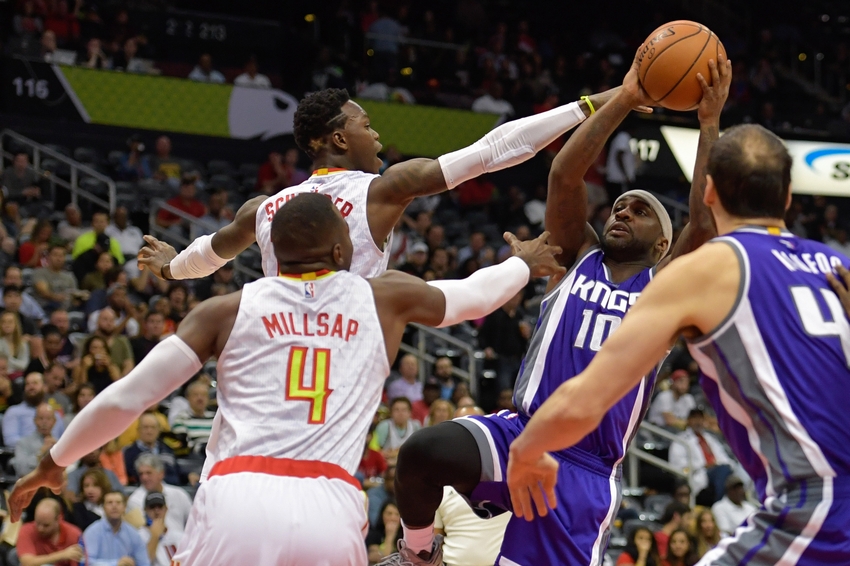 The Atlanta Hawks get a win at home vs the Sacramento Kings in a physical game to improve their record for the 2016-17 to 3-0.
The Hawks come out with the win versus the Kings in a not so pretty manner. From the beginning of the game things were chippy between the two teams.
Atlanta attempted 47 free-throws and shot 61.7 percent compared to the Kings 19 free throw attempts. Dwight Howard shot 20 of the 47 free throws attempted by Atlanta and hit eight of them shooting 40 percent. He made his last two free throws to put the game out of reach in the last minute.
The Atlanta Hawks played really well defensively in the first quarter and fourth quarter of the game lead by Thabo Sefolosha. He had 4 steals that contributed to the Kings turning over the ball 19 times.
Dwight Howard lead the Hawks in scoring with 18 points, followed by Dennis Schroeder and Kyle Korver with 17 points. Paul Millsap and Dwight Howard both had a double-double. Millsap scored 13 points with 14 rebounds and Howard had 11 rebounds to go with his 18 points. Mike Muscala came provided a spark off the bench with 10 points. Muscala has consistently played well through the first 3 games as the sixth man for the Hawks.
Rudy Gay lead the Kings in scoring with 22 points followed by Demarcus Cousins's 14 points and 12 rebounds. Matt Barnes also had 14 points off the bench and helped the Kings take the lead in the middle of the game with his remarkable 3-point shooting. He went 4-8 from beyond the arc.
There were some questionable calls from the officials that slowed the game down and forced both teams to sit there best players out at times. Dennis Schroder and Cousins traded words after Cousins swiped his arm at Dennis while he was getting up from a previous play. It was broken up before anyone got too serious to be restrained.
One thing is for sure, this team is more physical than years past. The Hawks play the Lakers on Wednesday at Phillips Arena. Tip-off is set for 7:30pm EST.
More from Soaring Down South
This article originally appeared on