Atlanta Hawks defeat Pelicans 96-89, last home preseason game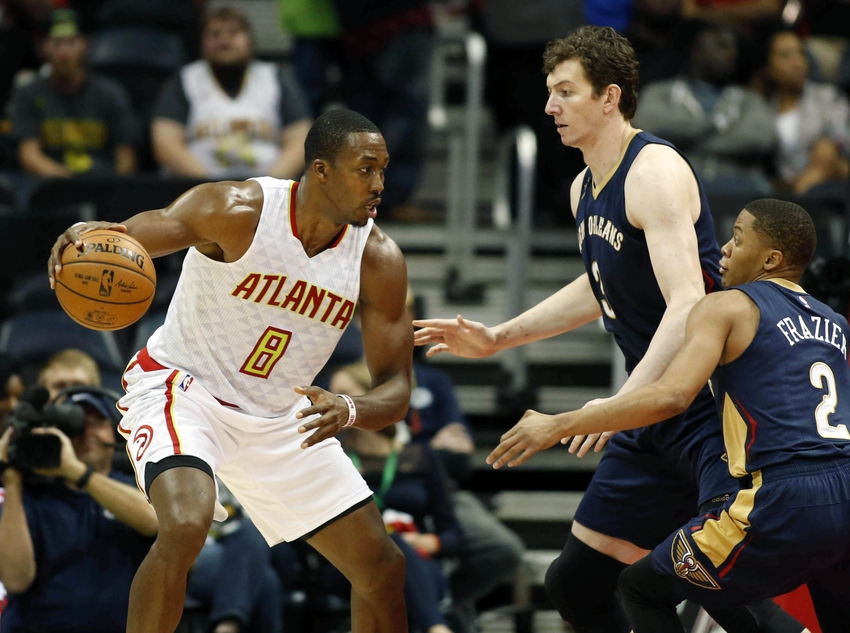 Last night was the first time Hawks fans got to see a glimpse of what the official starting 5 will look like. Dennis Schroeder, Kyle Korver, Kent Bazemore, Paul Millsap, and Dwight Howard all played their first game together, and they played well.
The Hawks played in their last preseason home game last night, and with one more preseason game to go, Atlanta should feel good about the upcoming season. Dwight Howard and Paul Millsap finally gave the fans a preview of what the power forward/center duo will look like come next Thursday in the season opener. Millsap and Howard combined for 18 points shooting 23.5%, 16 rebounds, 6 assists's, 4 steals, and 3 blocks. They didn't shoot a very good percentage, but they got the job done on the defensive end.
Tim Hardaway Jr., Kyle Korver, and Dennis Schroder were the scoring leaders for the Hawks. Hardaway Jr had 16, Schroder  scored 13, and Korver also put up 13. For Hardaway Jr., this is the second game where he's scored 15+ points coming off the bench. Before the last two games, Hardaway was going through a major shooting slump. It was great to see Hardaway Jr. finally show some confidence in himself.
The leading scorer's for the New Orleans Pelicans were Terrence Jones, Buddy Hield, and Solomon Hill. Jones scored 18, and Buddy and Hill both had 13 points. Coach Bud had to be taken to the locker room after Langston Galloway fell on him on the sideline. Coach Bud was wearing a cast on his right hand due to having surgery on a broken finger. He suffered from sore ribs, but didn't sustain any major injury's. Jarrett Jack and Tiago Splitter did not play last night.
The Hawks play the Chicago Bulls on Thursday at 8:00 pm. This will be their last game of the preseason. Atlanta plays their first game of the regular season next Thursday at 7:30 pm in Phillips Arena.
All stats obtained from NBA.com
More from Soaring Down South
This article originally appeared on