An Easier Road Ahead for the Indiana Pacers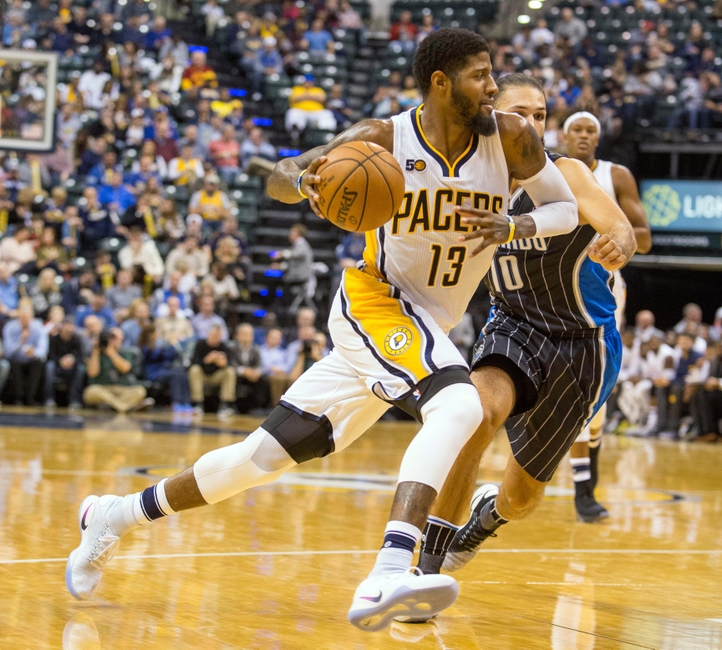 After a tough slate of games, the Indiana Pacers can find some relief in their upcoming schedule, including a pair of home games.
The Indiana Pacers just finished a brutal 4 game stretch (vs Clippers, at Portland, at Clippers, at Golden State) where their 3 opponents had won almost 70% of their games, and leave that stretch a surprising 2 and 2.
Sunday night in Los Angeles against the Clippers was the first time all season Nate McMillan has had his whole roster available, and the Pacers responded with a resounding victory over the Clippers on the road.
Moving forward, the Pacers have a far easier week ahead. Here's a quick look at the week ahead for the blue and gold.
12/7, at Phoenix Suns
As most expected, the Suns have struggled this year. Sitting at just 6-14, the Suns have an odd roster composition. Vets like Tyson Chandler, P.J. Tucker, and Jared Dudley still good enough to demand minutes, the Suns find themselves in a constant balancing act of finding minutes for their best players while trying to grow the significant youth movement on the team.
Guys like Devin Booker, T.J. Warren, Dragan Bender, and Marquese Chriss all need minutes to grow and find their roles, as they're the future of the team. Coach Earl Watson hasn't found the right balance yet, and the Suns are not very good this year. While they may not be good, they have beaten the Pacers in their only matchup this year.
The prior matchup (at Bankers Life Fieldhouse) was the first in a string of missed games for Paul George, and C.J. Miles went down after just 9 minutes of action. The Pacers haven't proven to be even adequate on the road, but a full strength Indiana team should be able to handle the Suns, who will likely be missing a key piece in T.J. Warren.
12/9, at Dallas Mavericks
The Mavs have really struggled with injury this year, and have stumbled out of the gate early. At just 4-15, the Mavs are ahead of only the lowly 76'ers in the standings, and only by 1/2 game.
They're missing their best player in Dirk Nowitzki, who is our for an undetermined amount of time with a lingering Achilles injury. Jose Barea, a noted killer of recent Indiana Pacers teams, will likely be out through the new year, and Seth Curry's status is up in the air with a knee injury.
Rick Carlisle is an excellent coach (as long term Pacers fans know well), and the Mavericks have been good for a long time with him and Dirk. Right now. though, the Mavs are not good, and the Pacers should beat them, as they did on opening night.
12/10, vs Portland Trailblazers
The Blazers have disappointed slightly after some surprising success last season, and are sitting at only 11-10. Damian Lillard is still unfair, and C.J. McCollum still looks like the real deal after many thought he'd falter this year.
Their big free agent import Evan Turner (try not to shudder, Pacers fans) hasn't panned out, and his 70 million dollar contract looks awful only 21 games into year 1 of 4. They haven't gotten much out of their rotation of big men, and have been the worst defensive team in the NBA. The Blazers trounced the Pacers in game 1 of their west coast swing, 131-109, and match up well to the Pacers.
The blue and gold certainly can beat this team with a strong defensive effort from their back court, but anything less will leave them with another one in the loss column.
12/12, vs Charlotte Hornets
Oh no, not the Hornets. The Hornets, especially Kemba Walker, have torched the Pacers this season and last.
More from 8 Points, 9 Seconds
After a hot start that included blitzing the Pacers 122-100, , the Hornets (and Kemba) have cooled off recently. They've gone just 4-6 in their last 10 games, and are down to 12-9 on the season.
Marvin Williams has missed the last 5 for the Hornets, though he may be back by the time the Pacers square off with them. The bigs rotation for Charlotte has absolutely torched the Pacers from deep, and a lineup featuring Kemba Walker, Michael Kidd-Gilchrist, and Nic Batum features nowhere convenient to hide Monta Ellis.
The Hornets might only be moderately better than the Indiana Pacers at this point, but they've proven to be a matchup nightmare.
After fighting through a difficult 4 game stretch, the blue and gold have a bit of a schedule break coming up. However, if they approach it as a break, any one of these teams is capable of dropping this inconsistent Indiana Pacers team.
This article originally appeared on