Allen Iverson: "It hasn't been hard [to watch Sixers]. I see where it's going"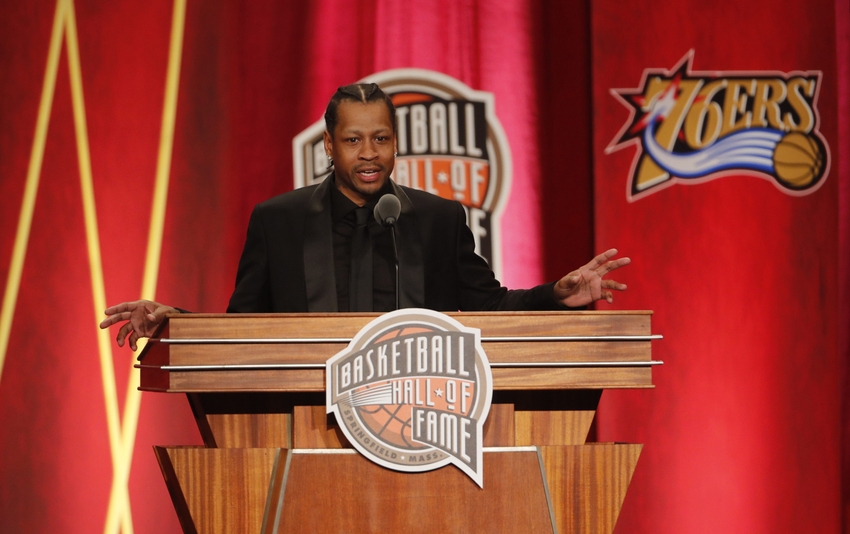 Philadelphia 76ers legend Allen Iverson addressed the media on Thursday and said that it has not been hard to watch the team, despite many losses.
Allen Iverson came to the Sixers Training Facility on Thursday afternoon to give a speech to the Philadelphia 76ers players, perhaps to motivate them into pushing themselves to their first win of the season on Friday night.
Without a doubt, if you want to motivate your players, bringing in one of the most influential players from this millennium is a good way to do it.
When Iverson was speaking to the media afterwards, he was asked if it has been hard to watch this team with all of the losing that has happened. The team has lost their first seven games of the regular season so far, and has lost their last 11 games dating back to the end of last regular season. Coming off of a 10 win season, it's seemed like it's been a bit hard to watch the team for some.
Not for Iverson, however.
"It hasn't been hard [to watch the Sixers]," Iverson said to the media. "I see where it's going. I see that we have the talent to be great. The experience is going to matter."
Iverson seems to be still keeping his view long, just like former president Sam Hinkie did. He knows that the talent is there, it's just not fully developed and it hasn't all come together in the right places yet.
He also had some words for the fans, who have been a bit restless so far this year, especially when it comes to games that are very winnable late in the court quarter.
"I just want the fans to be patient with those guys. We've got the talent. It's here."
It's a positive element for these players, to see that a great player like Iverson believes in them and their abilities. That's going to be a huge motivator for the team moving forward.
More from The Sixer Sense
This article originally appeared on