Al Jefferson Closing in on Milestones, Climbing Leaderboards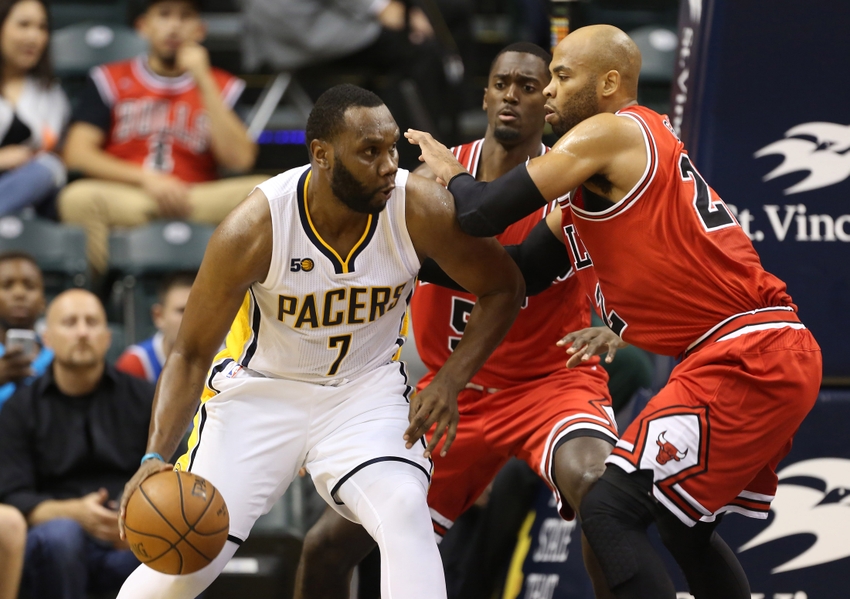 While it's too early to tell what type of initial season Al Jefferson will have for the Indiana Pacers, each game that he plays will bring him closer to several significant milestones and move him up on the career leaderboards.
Al Jefferson only needs three defensive rebounds tonight to move past former Antony Mason for the 61st spot all-time in defensive rebounds.
With a current average of 3.2 defensive rebounds per game, it is likely that Jefferson will pass Mason during Monday night's contest at Bakers Life Fieldhouse against the Golden State Warriors.
Jefferson passed former Pacers power forward Sam Perkins' spot on the leaderboard by grabbing five defensive rebounds in the Pacers' November 5 win against the Chicago Bulls.
Those aren't the only milestones Jefferson is looking at this season. Here's a few he can chase down this season.
Steals
Jefferson is also four steals short of the 600 steals plateau. Although Jefferson is averaging 0.2 steals per game through 13 games, he already has picked the pocket of opponents three times this season.
Blocks
Only 40 blocks separate Jefferson and the 1100 block plateau. Jefferson would have to increase his current rate of 0.5 blocks per game, however, in order to achieve that goal this season. But an increase of 0.6 blocks per game would allow Jefferson to achieve that goal near the end of the regular season.
That achievement also would move Jefferson from his current 80th position on the career NBA & ABA blocks leaderboard and tie him for 73rd place with Bob Lanier and Antonio McDyess. From there, he would need 12 more blocks to surpass former Pacer Rik Smits.
Offensive Rebounds
Jefferson is also 34 offensive rebounds from achieving the 2,000 offensive rebounds milestone and 26 shy of passing former Pacer Jermaine O'Neal on the career NBA & ABA offensive rebounds leaderboard. Currently sitting at 106th on that leaderboard, Jefferson would move not only past O'Neal but Dave Robisch as well into 101st place. Averaging 1.1 offensive rebounds per game in the first four games, Jefferson would need 28 games to pass O'Neal and  34 to get to that milestone.
Points
The huge milestone Jefferson is close to achieving is reaching the career 14,000 points milestone. Currently at 13,644 points, 356 points separate Jefferson from that goal.At his current average of 4.8 ppg, Jefferson would need 53 more games to reach that milestone.
More from 8 Points, 9 Seconds
However, he needs only six points to pass Peja Stojakovic on the career NBA & ABA points leaderboard to move into 177th place and 217 to pass another former Pacer, Chuck Person, who holds the 175th spot.
Field Goals
Related to that milestone, Jefferson is 144 field goals short of the 6,000 field goals milestone. Averaging 3.1 field goals per game after 13 games, Jefferson needs 46 more games to check that milestone off his list.
Along the way to that milestone, Jefferson will pass 126th place Byron Scott, who played for the Pacers for two seasons, to move into 125th. Jefferson needs only 64 field goals to nab the 125th spot on the list.
Free Throws
Although not on the career free throw leaderboard, Jefferson needs only 76 of them to achieve the 2,000 free throws milestone. With only six free throws in the first 13 games, that may be a milestone that will have to wait until next year.
Injuries and fatigue will make it difficult to pick up another win on Monday night when the Pacers take on the Golden State Warriors. However, Pacers fans will still have something to celebrate with the strong likelihood for Jefferson moving up the career defensive and points leaderboards during these games.
This article originally appeared on