2016-17 NBA Preview: New York Knicks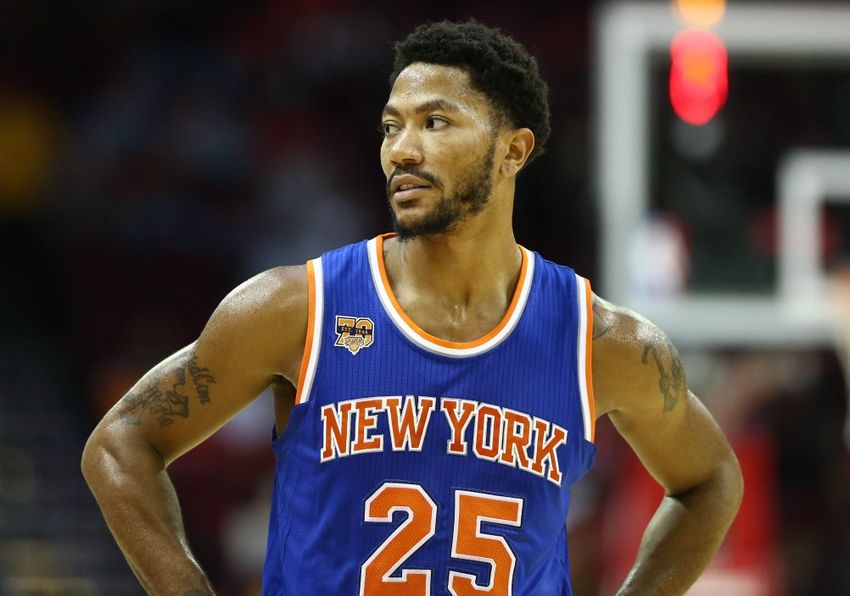 The New York Knicks remain one of the league's premier franchises, despite their performance since the turn of the millennium. Whatever happens, we all understand that New York will be showcased during important slots for national games, and for our collective sanity it would be nice to see some more pleasing basketball from their team. I'm not entirely optimistic here, but at least there's plenty of Kristaps Porzingis to go around.
"The fool doth think he is wise, but the wise man knows himself to be a fool" – Shakespeare
2015-16 in review
While Madison Garden was abuzz with optimism last season, the team only finished with 32 wins. They were below average on both offense and defense, struggling to make their own shots and ranking last in steals and forcing turnovers in general. But they had a truly surprising season from Kristaps Porzingis, who surpassed all reasonable expectations in his rookie season. It was that relative success beyond expectations that gave the season a happier tinge, but they still had many issues — and their magic triangles couldn't solve everything.
Rotation players in: Derrick Rose, Joakim Noah, Courtney Lee, Brandon Jennings, Mindaugas Kuzminskas, Justin Holiday.
Rotation players out: Arron Afflalo, Robin Lopez, Langston Galloway, Jose Calderon, Derrick Williams, Jerian Grant.
The Knicks had a high level of turnover, losing several rotation players including starters. The organization was unsatisfied with those role players, and so they brought in a few flashier names to add to the marquee. Joakim Noah is certainly more famous than Robin Lopez, but my multi-year, composite, age-adjusted projection doesn't see a difference in value. Their new point guards will produce more than Jose Calderon, most likely, but that's a very low bar to clear. However, Courtney Lee is the 3-and-D shooting guard they were hoping Arron Afflalo was last year. Kuzminskas is a veteran international forward the Knicks quickly brought over, but he doesn't have an NBA position on defense and may struggle against elite competition. Finally, Justin Holiday is a good, long-armed guard with some ball-handling ability, but he's never been able to stick to a rotation because of outside shooting issues.
2016-17 projected
I think that for every New York season preview I've ever done, I always ask myself, why are they even doing this? I don't think the organization even understands their strengths or how to maximize the value of any of their important players. Maybe that's harsh, but every summer they tear something down and wreck part of their future.
I understand why a front office would desire Joakim Noah. He's hard-working. He's competitive. He's a veteran of many playoff battles. He's a great influence, presumably, for Kristaps Porzingis. But why do they need Derrick Rose too? Are they building around Porzingis and hoping to mine more useful young guys, or are they trying to win now with these guys?
I have two primary concerns with Noah. One is that his offensive game has deteriorated to the point where it's honestly embarrassing, and it's a death knell for his team's offense when he's in the game. The other concern is that Carmelo Anthony is at his best as a small ball power forward where he can use his quickness and skill to abuse opponents with the floor more spread out — and his rebounding is good enough for power forward. And, of course, their 7-3 Latvian sensation will probably play center long-term. Even now, for many matchups the team is at its best with him playing center. Since Noah is still respected enough to be more than a mere role player, he could be forced into the lineup more often than desired. Single-handedly he decimates their offensive potency through his inability to shoot from anywhere on the court and how he pushes the team's two best players from their best positions.
The problem with Derrick Rose isn't shocking — since his major injuries, he hasn't been the same player. Over the past three seasons he's been a fairly awful player, and even when one considers an unfortunate orbital injury that affected his eyesight. But even throwing out a couple more months of his worst play he still has not been effective. He's a high usage player who can't make shots anymore, he doesn't play defense too well, and playmaking has never been a strength … so what is he and how is that valuable? It's been six years since his MVP season, and we have to move on. Having a few flashy finishes and nice dunks doesn't mean he's "back;" there are plenty of marginal NBA players who can make electrifying moves above the rim too. I'll concede that taking a risk isn't shameful — he was very good before, at least — but they're doubling down with Noah and I don't see an end in mind.
Rose has trouble finishing now, and instead of a spread frontcourt with Carmelo Anthony and Porzingis he has Noah, once again, clogging the lane. Noah's still a great passer, but that means he would need the ball in his hands, away from Rose and Carmelo and others. It's the combination that dooms this team, and with Derrick's awful court case there's now an off-court distraction too. The good news, strangely, is that he'll probably get injured, and Brandon Jennings will probably play more minutes at point guard — he's not a godsend but he's at least a credible starter.
What's frustrating here is that there is some semblance of a real team here and Jeff Hornacek is a pretty decent coach. They have Courtney Lee and Lance Thomas for wing defense. Kyle O'Quinn is a surprisingly versatile center who could log a few long stretches if, or when, Joakim Noah goes down. This team could be fun; it's possible, and maybe it's still possible. And at least Rose is under contract for only one year, mitigating risk.
Unfortunately, although the counterargument here from every New York fan is some exclamation with Porzingis thrown in. The problem is that he's a likely regression candidate. He wasn't expected to be this good, as some draft models did not view him favorably. Even so, his rookie performance was so good that it's more likely he has a worse season, even adjusting for his age, at least according to my numbers. There's less certainty in his rating than others, but a sophomore adjustment is necessary. It just all depends on where you think his true talent lies. This is where my rating could have diverged, as some translations like Kevin Pelton's saw him as one of the best prospects. But even rosy projections don't see rookies his age play that well.
Quick statistic
I championed Joakim Noah at his peak, and I highly value players of his type. But his inability to hit a shot from everywhere, including the foul line now, is downright scary. Few players since 1997 have shot less than 45% in the restricted area, according to stats.NBA.com, and fewer still were big men. Only one player, Johan Petro, was taller than Noah and fell under 45 percent with at least 100 restricted area attempts, while two others were the same height. By the the way, the list is mostly dominated by smaller players, and the smallest was Muggsy Bogues, who stood a mere 5- 3 and had the same accuracy as Noah.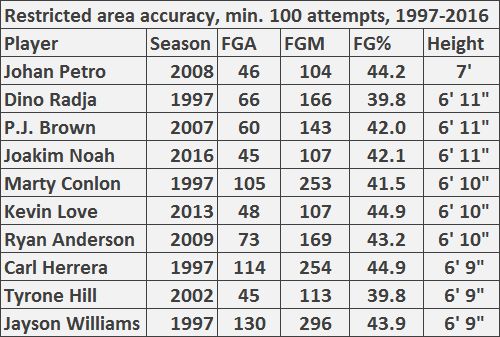 Summary
The Knicks decided to rebuild the post-Thibodeau, post-Rose injury Chicago Bulls, and who can blame them given Chicago's success with a hobbled Joakim Noah? The team has an awkward fit, and it's likely Rose will, once again, be a significant net negative. This is like late career Kobe Bryant dragging down an already sorry Lakers cast. They'll probably be better than last season, however, and if Porzingis improves drastically they could flirt with a 0.500 record. Doing so will also involve limiting the minutes to the two former Bulls. I see a lot of issues with how New York is building its team, but slowly they're getting better. On the bright side, they have a 7-3 power forward with a brilliant future — every Knicks preview is exclaiming Porzingis Porzingis Porzingis repeatably for a reason.
Win predictions:
Mine: 34.5. A blend of several metrics, including Dredge, with a few other factors considered, like coaching.
Andrew Johnson's: 37. A combination of PT-PM (a SportVU player tracking metric) blended with RAPM. Two-time reigning champion of the APBRmetrics board predictions contest.
Nick Restifo's: 38 A simulation using BPM and RPM for player value, which includes game effects like altitude and rest.
Kevin Ferrigan's: 39. A player projection system with inputs from RAPM, BPM, height, and age.
More from Nylon Calculus
This article originally appeared on