2016-17 NBA Power Rankings: Sky Rockets In Flight In Week 7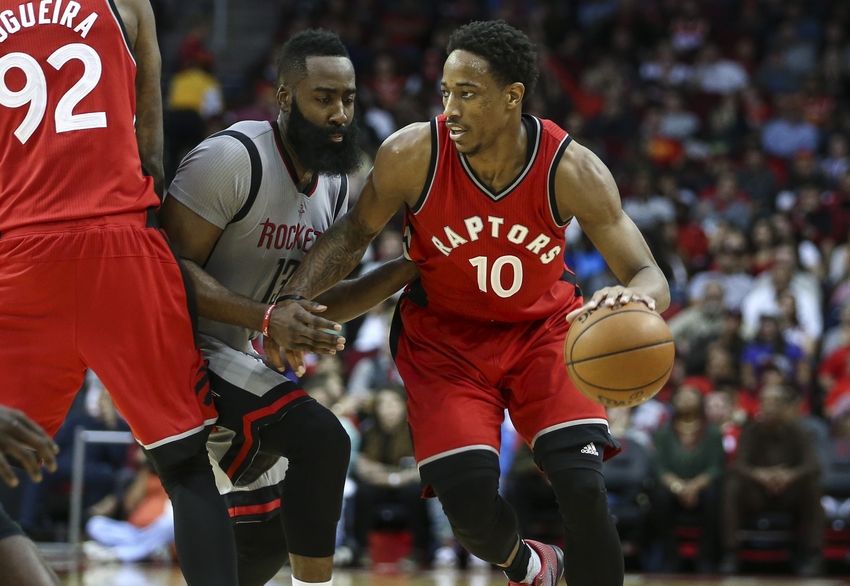 In Week 7 of NBA Power Rankings, the Houston Rockets and Toronto Raptors are starting to round into form as legitimate contenders.
Entering the first weeks of the 2016-17 NBA season, and even heading into the offseason, everyone knew the Golden State Warriors, Cleveland Cavaliers, San Antonio Spurs and Los Angeles Clippers were legitimate title contenders. Over a month into the season, we still know this to be true.
However, the surprise teams stepping up always make a new NBA season more exciting, and the Houston Rockets and Toronto Raptors have filled those roles early on.
Coming off four dominant wins, We The North is making an early push for the No. 1 seed in the East behind the Cavs. Coming off an impressive back-to-back that featured a road win against the league-leading Warriors, the Rockets are starting to click thanks to the MVP-caliber play of James Harden within his new offense.
Are we ready to bill either of them as legitimate title contenders? Now quite yet. But outside of our Power 4 teams, we're having a hard time thinking of teams that have been better surprises early in the season.
Here's a look at our Week 7 2016-17 NBA Power Rankings.
30
Dallas
Mavericks
4-15
Last week:
1-2
Last rank:
30th
After playing the Spurs and Hornets tough only to fold late, plus
Deron Williams
returning to the starting lineup, it felt like it was only a matter of time before the Dallas Mavericks broke through and stole a game from someone.
That finally happened with a convincing 25-point win over the Bulls, but more importantly, it's been good to see Wesley Matthews returning to form. He's averaging 21.8 points per game on 46.3 percent shooting from three-point range over his last four contests.
Where does your favorite NBA team land in Week 7 and where SHOULD they be? Let us know in the comments or on Twitter!
This article originally appeared on