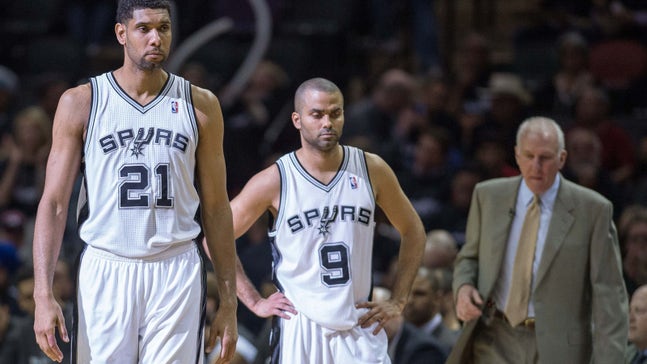 Spurs now have an all-time winning record against every NBA team
Updated
Mar. 4, 2020 12:20 p.m. ET

By Harry Lyles Jr.
The San Antonio Spurs became the only team in the NBA to hold winning all-time records against every other team, after defeating the Portland Trail Blazers, 118-110, on Thursday night.
Of course, if there was going to be an NBA team to hold such a mark, it would be the Spurs. San Antonio has been an extremely consistent team since entering the NBA for the 1973-74 season. The Spurs have missed the playoffs just four times in franchise history and have been in the playoffs every season since 1997-98.
Along with its playoff appearances, San Antonio has won at least 50 games in each of the past 17 seasons, and have five championship banners to hang from the rafters.
The Spurs' best win percentage comes against the Los Angeles Clippers, against whom they are 123-36 all-time. The Clippers are also unsurprisingly the team against whom the Spurs have the most victories. Close behind are the Sacramento Kings, whom the Spurs have beaten 112 times, and the Denver Nuggets, with 111 losses versus San Antonio. The Toronto Raptors are the team that the Spurs have defeated the fewest times, as they only started playing in the NBA in 1995 and compete in the Eastern Conference.
For the kids who think the Golden State Warriors will be forever untouchable, the Spurs hold a 103-54 advantage over the franchise in the Bay. Aside from Portland, against whom the Spurs now hold an 80-79 advantage, the Lakers hold the second-closest edge, at 83-77.
The Spurs have had a great season, one that has only been matched five times through 68 games (they stand at 58-10), but the 61-6 record of the Warriors has been the talk of the league all season. Despite this, San Antonio is still very much built for the long haul, and Gregg Popovich has showed no signs of exiting the game anytime soon. So you can expect the Spurs to keep it going until the wheels fall off, if that ever actually happens.
---
---