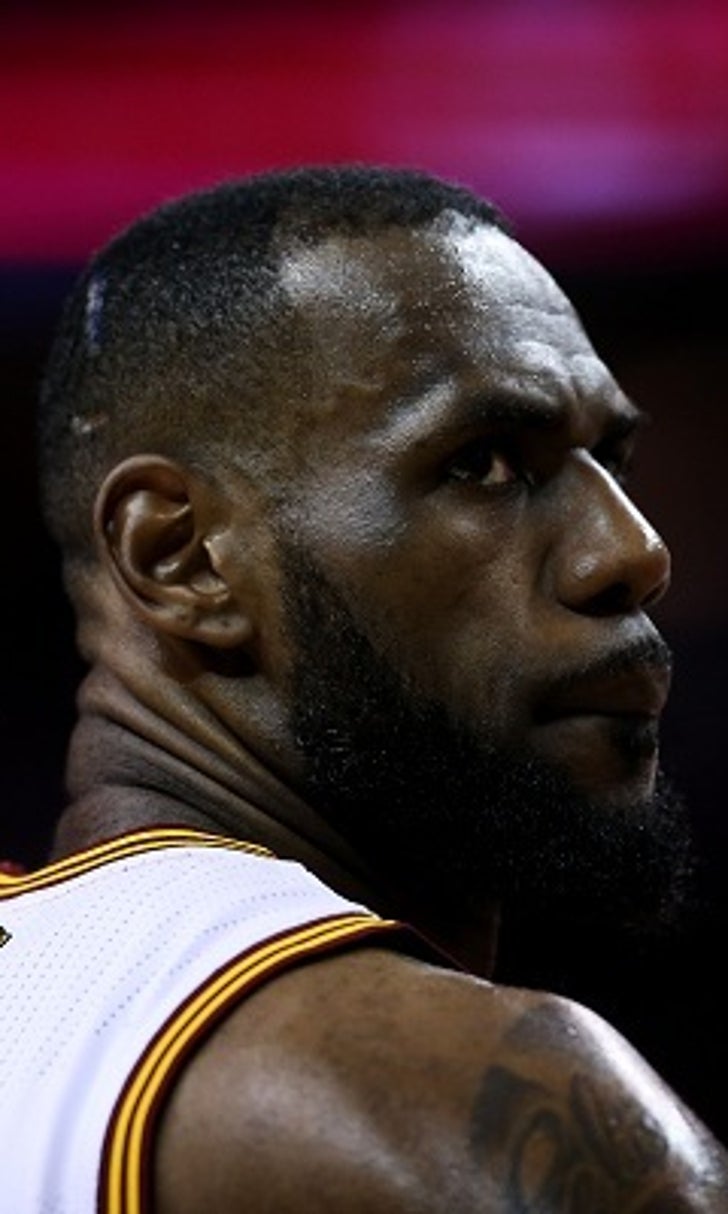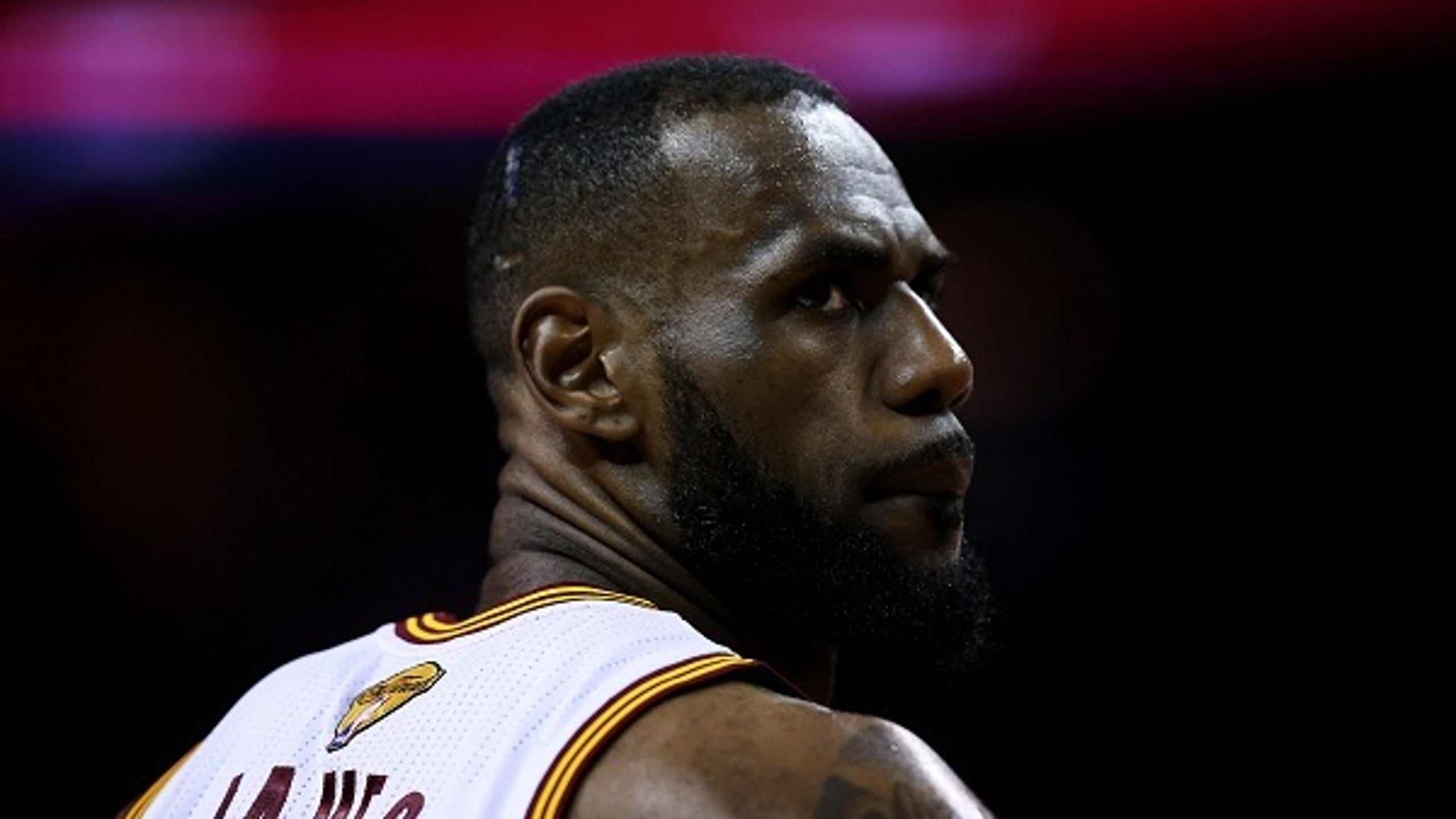 LeBron's Cleveland odyssey continues
BY foxsports • June 17, 2015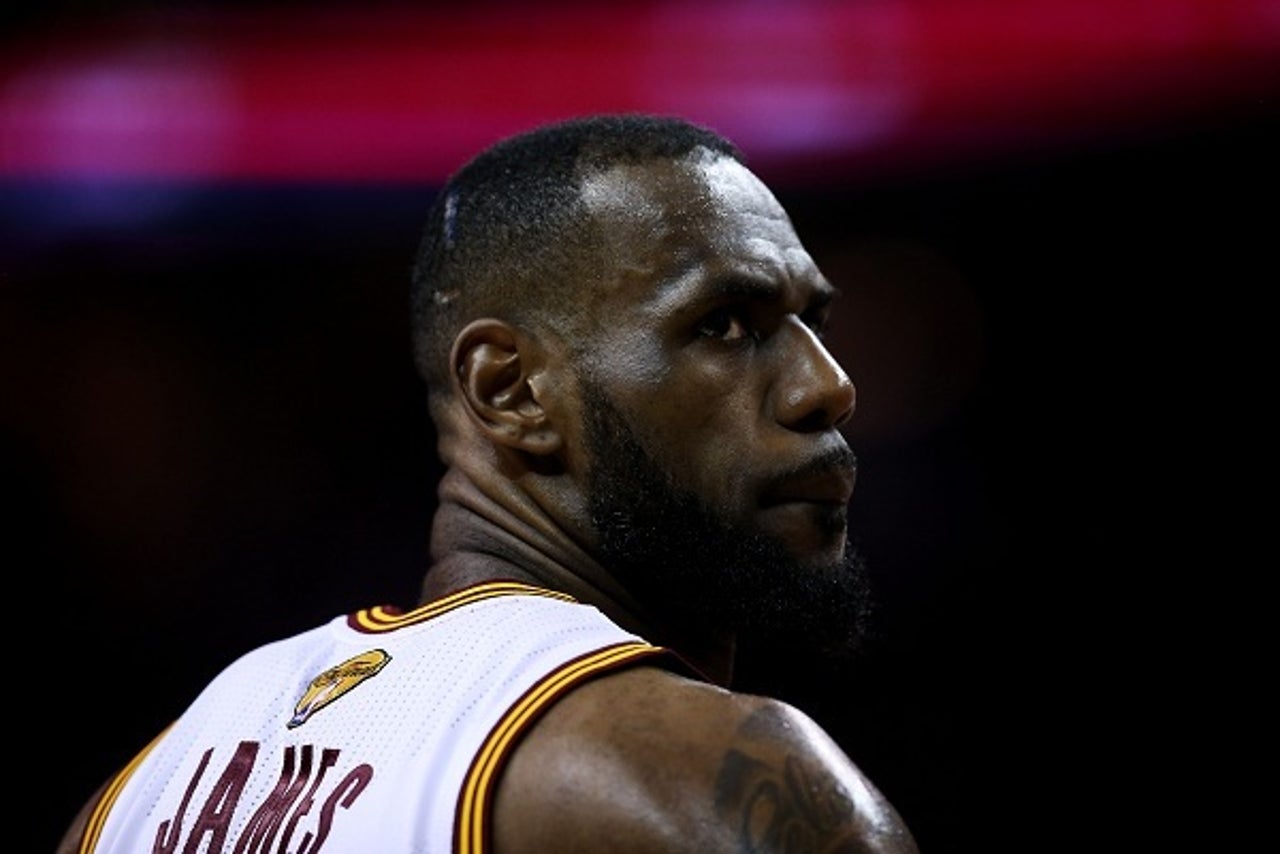 By Christopher Reina
LeBron James wasn't at the peak of his physical powers and wasn't quite as overwhelmingly dominant as he was during the playoffs in 2012 or 2009, but these playoffs were the master class of an auteur. We've never seen a solo project of such extravagant and successful proportions during the NBA playoffs as we have from LeBron these past two months. During the first half of Game 5, LeBron scored or assisted on 16 of Cleveland's 17 baskets; that's the microcosm of his series. During The Finals, LeBron averaged 35.8 points, 13.3 rebounds, 8.8 assists in 45.7 minutes per game with a usage rate of 39.6. What LeBron has lost in athleticism, he's made up for in experience, willpower and in becoming a half-Shaq, half-Magic physical and playmaking beast.
There has never been a player in NBA history who can play so many different roles and cover up for so many team deficiencies as LeBron, thus it is all the more disappointing how little imagination has gone into the roster building around him throughout his career.
During LeBron's first tenure with the Cavaliers, no help ever came via the draft and their big finishing piece move in 2010 was Antwan Jamison.
Even the Heat were a marriage of convenience more than strategic genius. It took the addition veteran role players to get Miami all the way there; Shane Battier before the 11-12 season to get past the Celtics and then the Thunder, and Ray Allen to defeat the Spurs in 2013. The Heat played a pioneering version of position-less basketball that the Warriors took to another level this season and that has been the only time LeBron has seemed to be maximized within a team offense. Chris Bosh thankfully developed the three-pointer that eluded Dwyane Wade and the Heat were able to play a version of five-out basketball. Even still, the whole was never greater than the sum of its parts despite how good the Heat were in their four Finals runs.
There was an understandable eagerness to maximize the Cavaliers' Year 1 title contention with LeBron hitting 30 last December, which led to the Kevin Love trade. It is unfair and impossible to judge that trade and Love on these Finals, but his absence did demonstrate how the Big 3 formula may not be the optimized way to construct a team around LeBron. There has been so much evangelism for the necessity of having multiple superstars in order to compete and win titles, most of it justifiable, but maybe LeBron was brought to the NBA to break that wheel.
By design following the injuries to Love and Kyrie Irving, the Cavaliers were stripped down and pragmatic and remained highly competitive with their out and out role players. It is painful to see the best player of his generation forced to operate within the confines of an offense that is so aesthetically limited. People will remember the way the Cavs played not because it was beautiful but because it was gritty combat and because the mental approach of LeBron was purely utilitarian and so surprisingly successful playing without two All-Stars.
The revisionist history of the Love trade will continue to resemble the James Harden trade for the Thunder and Sam Bowie over Michael Jordan for the Blazers in its perpetually repeated discussions. When LeBron returned to the Cavaliers, I was much more interested in seeing him play with Andrew Wiggins than I was Love. Watching these Finals, it is easier to see how well a player who can defend positions 2-4, hit corner 3's and cut to the basket like Harrison Barnes would make a more meaningful impact than Love in this specific situation with LeBron at the center of everything.
Love is a top-15 player in the NBA in the vacuum of #NBARank, but the Cavaliers are only using 75 percent of his offensive ability and his defensive liabilities are more meaningful than they would be if he was the franchise player on offense with strong defenders surrounding him on another team.
A supporting cast for LeBron with Irving and Love as the other two primary stars stunts the potential for team defense; this was one of the primary concerns the Warriors had when they evaluated a Love trade and foresaw he and Stephen Curry getting obliterated on defense by the 1-4 pick-and-roll. As unguardable as that Curry and Love combination would be on offense for the Warriors, it would have made remaining a top-10 defensive team next to impossible.
The Cavaliers also have a roster conundrum at the center and power forward spots with Timofey Mozgov, Tristan Thompson, Anderson Varejao and assumedly Love, and that's before even considering small ball minutes with LeBron playing forward or center. While the Thompson free agency will be uncomplicated, they will have more difficult negotiations with Iman Shumpert, Matthew Dellavedova and presumably J.R. Smith. Balancing out the roster, especially with what the Cavaliers' front office has learned during the playoffs is imperative and it will be difficult.
Playing this way for an 82-game regular season would result in a below league average offense and wear LeBron down to death, but an optimized version of this lineup is worth considering.
If the Cavaliers re-sign Love, running it back with most of the status quo in tact and figuring out the rotation between now and next June is a more than fine strategy. Three of the top-11 regular season five-man lineups in the entire NBA featured LeBron, Kyrie and Love.; one of those even had Shawn Marion and another had Dion Waiters. Two of the three were even better on defense than the vaunted Warriors' lineup of Draymond Green, Andrew Bogut, Andre Iguodala, Klay Thompson and Stephen Curry. The Cavaliers are capable of running one of the NBA's most diversified offenses with that Big 3 and the final memory of Irving before he broke his kneecap is capping off the best game he's played in his life on defense with a chase down block of Curry in the final seconds of Game 1.
LeBron has carried a suboptimal Cavs' supporting cast now to The Finals in 2007 and 2015. His odyssey to bring a championship to Cleveland continues for another year and it begins with the Cavs being called favorites for 2016.
More from RealGM - NBA:
---
---