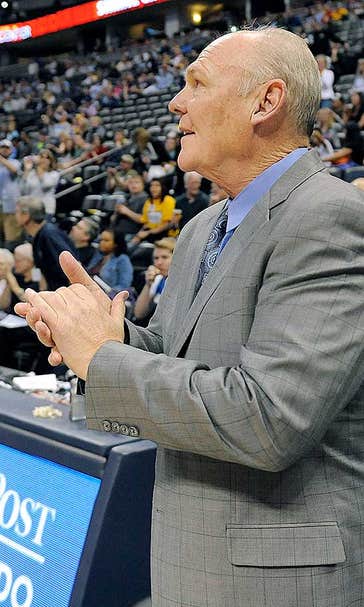 Kings unable to give George Karl a win in his return to Denver
April 12, 2015

George Karl was hoping for a triumphant return to Denver. He had to settle for a warm welcome from a friendly crowd.
Kenneth Faried scored a season-high 30 points and the Denver Nuggets spoiled Karl's return, beating the Sacramento Kings 122-111 on Sunday.
Wilson Chandler had 21 points and nine rebounds for the Nuggets in their home finale. At 19-22, Denver had a losing record at Pepsi Center for the first time since 2002-03.
That was two years before Karl arrived and turned around the struggling franchise. He won 423 games in nine seasons on the Denver bench, but was fired after losing in the first round of the 2013 playoffs. The Nuggets won a franchise-record 57 games that season and he was the NBA Coach of the Year, but his team failed to win a postseason series for the eighth time in nine years.
Karl said he did not harbor any resentment over his firing.
''I don't know if I had hard feelings. I had disappointment,'' Karl said. ''I didn't understand. I had too many good memories here. I wanted to end my life here. I wanted to end my career here. They took that away from me, but they gave me nine years and paid me well.''
Karl received a warm welcome from the fans when he was introduced before the game.
''It's still emotional,'' he said. ''It's an emotional moment in my life. I can't deny that I miss Denver. I miss the team. I miss the city. It's a place I love.''
Faried is one of four players left over from Karl's last team, and the forward acknowledged it was strange to see him sitting on the opposite bench. It didn't stop him from setting a season high in points for the second time in three games.
''It was awkward for me,'' Faried said. ''That was my first NBA head coach. He taught me a lot and we went to the playoffs every time I was with him. It was kind of bittersweet. I knew had to do a job today but it was also good to see my former head coach.''
Karl took over the Nuggets with 40 games left in the 2004-05 season and guided them to a 32-8 finish and the seventh seed in the playoffs. They lost to eventual champion San Antonio in five games but it began a run of nine straight postseason appearances for Denver.
He took the Nuggets to the 2009 Western Conference finals, where they lost to the Lakers in six games.
Karl hasn't had the same immediate success since taking over the Kings at the All-Star break. His injury-depleted squad is 9-19 under him, and the Kings played Sunday without stars DeMarcus Cousins, Darren Collison and Rudy Gay.
Omri Casspi had 22 points to lead the Kings. Sacramento has lost three straight and eight of nine.
Denver raced out to an early 14-point advantage, but Sacramento rallied to take a three-point lead late in the first half. The Nuggets led 60-59 at intermission
Faried, who was 12 of 14 from the field, had nine points in the third quarter to help boost the lead to 94-84. Seven quick points by Chandler to start the fourth gave Denver a 103-88 lead.
''They kind of got a jump start on us in the third, we were forcing things trying to get something going inside,'' Casspi said. ''We had a few turnovers and they kind of took a big lead and we had to come back.''
VOTE FOR HUNT
Faried has had a resurgence under interim head coach Melvin Hunt, so he is pushing hard for the organization to take the interim tag away and give him the job.
''I feel like we're back to the old Nuggets and it's exciting,'' he said. ''I hope they hire him and I hope he's our head coach next year.''
TIP-INS
Kings: Sacramento signed G David Stockton for the remainder of the season. Stockton, the son of Hall of Famer John Stockton, signed a 10-day contract Feb. 20 and scored one point in one game with the team. ... F Reggie Evans (right thumb injury) did not play.
Nuggets: Denver was without G Jameer Nelson (right hip flexor strain) and F Darrell Arthur (strained right calf). Both players are doubtful for the last two games of the season but haven't been officially ruled out. ... The Nuggets signed G Jamaal Franklin on Sunday. He played 3 minutes at the end of the game.
---
---