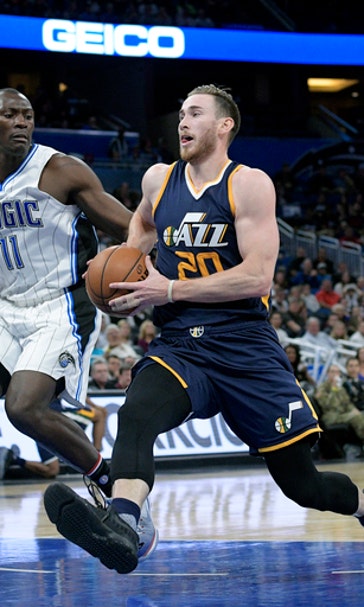 Jazz snap out of slump to defeat Magic, 87-74
BY foxsports • November 11, 2016
ORLANDO, Fla. (AP) It's been a grueling early season road swing for the Utah Jazz and it was pretty obvious during the first three quarters of their matchup with Orlando on Friday night.
The Jazz barely kept pace with the offensively challenged Magic, but that changed in the fourth quarter. Utah came up with stops and then knocked down timely shots late in the game to pull away for an 87-74 victory.
''I think it's (being sluggish) part of it,'' said Jazz coach Quin Snyder, whose team ends its five-game Eastern Conference trip Saturday at Miami. ''There are going to be games where you are. Tonight felt that way.''
Perhaps no player epitomized the Jazz more than guard Rodney Hood, who was fighting a cold and entered the decisive fourth quarter just 1 for 7 from field and with two points. Hood knocked down a 3-pointer, drove through the lane for a slam and scored on a 22-foot pullup jumper on three straight possessions early in the fourth quarter to turn a two-point deficit into a 75-71 advantage with 7:20 to play.
Utah (6-4) never trailed again in a game that had seen 10 lead changes and six ties up that point.
''It is always going to be times where a guy might not be feeling well or a guy might not be playing well, whatever it may be,'' said Hood, who finished with 13 points on 5-of-15 shooting. ''You just have to give your team minutes whether it is scoring, rebounding, defense, and it was big. This was a big win for us going into tomorrow.''
It was an even bigger loss for the Magic. Coach Frank Vogel changed up his starting lineup for the first time this season, inserting Jeff Green into the small forward spot ahead of Aaron Gordon. But it did little to change the Magic's offensive fortunes to prevent them from dropping their third straight game.
Orlando shot just 33 percent from the floor and went nearly nine minutes without converting a field goal in fourth quarter while being outscored 20-4 during that span. Nikola Vucevic and Serge Ibaka were a combined 5 for 24 on the night, leaving Evan Fournier and D.J. Augustin off the bench as the only consistent scorers on the night.
''We've just got to continue to work on our offensive execution, continue to try to gel and continue the effort we had tonight,'' said Vogel, whose team dropped to 3-6.
TIP-INS
Jazz: Point guard George Hill missed his third straight game due to a thumb injury. Dante Exum started in his place.
Magic: Forward Damjan Rudez entered into the rotation earlier than he has all season, coming for Vucevic with 2:01 left in the first quarter.
VETERANS DAY
Vogel downplayed the shift in his starting lineup that saw Green replace Gordon at small forward. He also dismissed point guard Augustin playing more minutes than starter Elfrid Payton.
He said it was about relying his veterans more than demoting the two younger players.
Augustin was certainly more productive than Payton on Friday, converting 6 of 10 from the field for 19 points off the bench while shooting 6 of 10 from the field and turning in three assists in 24:23 minutes. Payton had two points on 1-of-5 shooting and had no assists in 23:37 minutes.
UP NEXT
Jazz: Utah concludes its trip at Miami on Saturday.
Magic: Serge Ibaka returns to Oklahoma City for the first time to face Russell Westbrook and the Thunder on Sunday. The Magic also will play against Victor Oladipo for the first time since the draft-night trade.
---
---